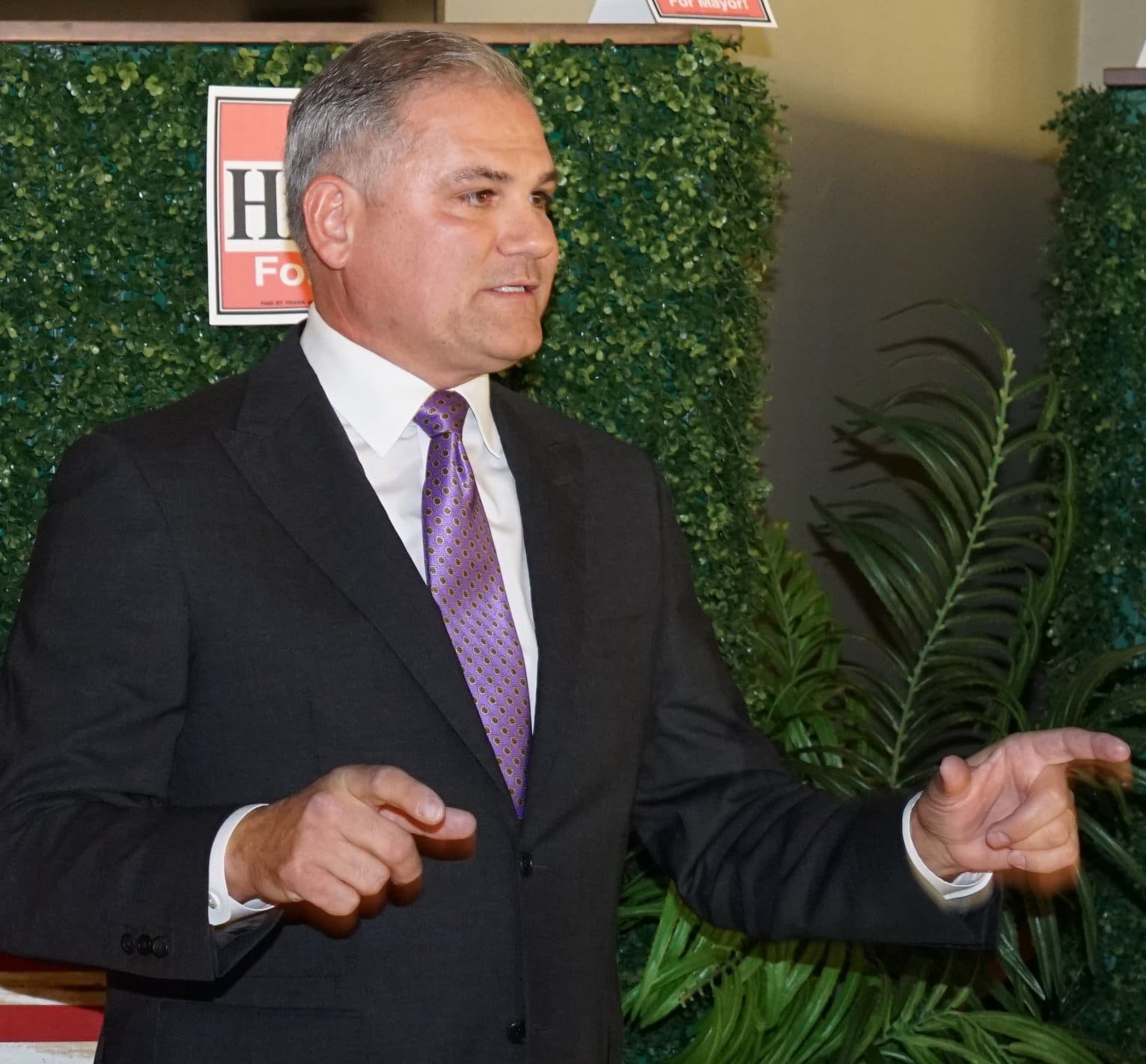 Hibbard scored a resounding victory.
Frank Hibbard will again be Clearwater's Mayor, serving the city at a time when transformational policies are coming.
Hibbard will guide the fate of the city's Imagine Clearwater overhaul, hire a new city manager and manage the city's relationship with the Church of Scientology as its members continue to scoop up land in the coveted downtown area.
Clearwater voters overwhelmingly elected Hibbard to replace current Mayor George Cretekos, sending him back to the seat he previously held from 2004 until 2012.
He earned a resounding win. Hibbard had nearly 57% of the vote
In what might be a shock to some, Elizabeth "Sea Turtle" Drayer was in second place with 24% followed by Bill Jonson with 16%.
Morton Myers brought in just 4%.
In addition to his elected leadership experience, Hibbard also currently chairs the Ruth Eckerd Hall board of directors where he helps facilitate music and drama courses for 37 schools throughout the Tampa Bay Area.
Hibbard is also a board member for the Homeless Empowerment Project, a group that provides low-income families struggling with housing security with food, clothing, support services and housing to help them become self-sufficient and improve their quality of life.
Hibbard ran on a platform committed to fiscal responsibility and building the city's reserves, leading a nationwide search for a new City Manager and City Attorney as both current employees are set to retire, creating jobs and a business-friendly environment and improving the quality of life for residents by increasing access to amenities like parks and libraries.
Voters also decided on two City Council seats.
Mark Bunker narrowly defeated Mike Mannino in the race to replace Jay Polglaze who did not seek reelection.
Bunker earned 27% of the vote compared to Mannino's 26% with all precincts reporting.
Bunker was born and raised in Oshkosh, Wisconsin. He spent his career in various posts throughout the country working in radio and film and is the only candidate in any of the races on the Clearwater ballot this year who has taken a vocal and firm stance on Scientology, a controversial issue pitting a powerful religious organization against its critics.
Bunker first came to Clearwater in 2000 when he accepted a position with the Lisa McPherson Trust managing multimedia for the group, which sought to expose deceptive and abusive practices within the Church of Scientology and assist people they believed were abused and defrauded by the group. Bunker recorded interviews with former Scientologists and protests against the group.
Bunker's campaign got a boost in the final days of campaigning when he earned a high-profile endorsement from "King Of Queens" star Leah Remini, who used to be a Scientologist.
Mannino served as the 2019 chair of Clearwater's Charter Review Committee and serves on the city's Municipal Advisory Code Board, the Citizens Advisory Committee for Forward Pinellas and is a 2017 graduate of Clearwater's Citizen Academy.
He ran on a platform of fiscal responsibility and low taxes. He plans to focus on job creation and growth, smart growth that manages development within the confines of the city's resources and fostering a business friendly environment.
Candidates Bruce Rector, Eliseo Santana Jr. and Lina Teixiera rounded out the race with 12%, 15% and 20%, respectively.
Kathleen Beckman landed a solid victory for seat 3, unseating incumbent Bob Cundiff.
A teacher, Beckman ran to restore the voice to Clearwater residents in dealing with their local government, which she believes is broken. She claimed 48% of the vote, trailed by Bud Elias who had 22%. Cundiff was in third place with 17%.
Beckman wants to identify ways to make the city's budget more lean, improve the environment and health outcomes for residents, increase the city's affordable housing stock and improve overall quality of life throughout the city.
Cundiff's main campaign priority included continuing work on the council to ensure taxpayer dollars are spent wisely in the city's nearly $500 million budget.
Elias is a more than four-decade resident of Clearwater who has served on numerous local boards including the Clearwater Regional Chamber of Commerce, the Clearwater Downtown Partnership and Leadership Pinellas. He ran on a platform of being the voice for every neighborhood.
Scott Thomas also ran and collected just 13% of the vote.
The ballot also included six referendums.
All but the charter review advisory panel passed.
They include two ballot questions asking voters whether to allow the city to give away or sell certain property for less than market value, a procedural question releasing the expired lease on Clearwater Marine Aquarium, whether to block former council members from holding paid positions with the city until two years after they've left office, moving the City Manager's annual report from September to November and whether or not the city should adopt a Charter Review Advisory Committee every eight years instead of every five years.