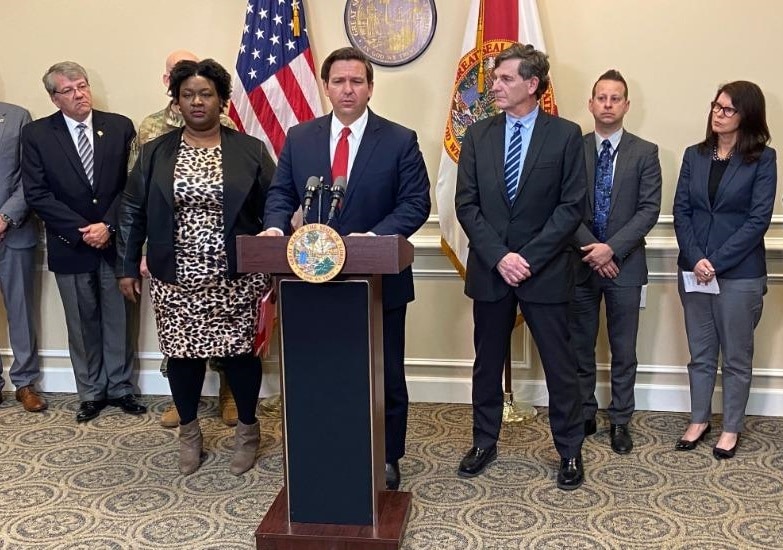 Democrats have been asking DeSantis for easier access to unemployment benefits and Medicaid.
House Minority Leader Kionne McGhee has sent a second letter to the Governor asking for unemployment relief for Floridians due to the novel coronavirus pandemic.
This letter asks Gov. Ron DeSantis to eliminate the delay in getting benefits when filing an unemployment claim and the requirement to prove recipients are searching for work. The letter requests the state develop a process for people to apply over the phone and speed up disbursing funds. McGhee also wants the state to increase the amount of unemployment benefits. His first letter asked the Governor to expand Medicaid and increase the eligibility for the program.
McGhee says in the second letter it currently takes as long as up to a month for people to collect unemployment benefits, which he argues is far too long for families who need help today. He also points out that the state has the fifth lowest maximum for unemployment payments at $275 a week.
"Tens of thousands of hospitality and tourism employees are left without a job and income due to workplace closures," he said in the letter. "Our residents are trying to deal with both a public health crisis and an economic crisis at the same time."
Gov. Ron DeSantis continued to ramp up restrictions Friday afternoon in order to stop community spread of COVID-19, the coronavirus.
The Governor issued an Executive Order closing restaurant dining rooms and gyms for the duration of the state's state of emergency, which expires May 8, but can be extended.
In the order, DeSantis pointed to a need for "social distancing" to try to prevent the spread of the highly contagious and deadly virus known as COVID-19.
"I am committed to supporting retailers, restaurants and their employees as they pursue creative business practices that safely serve consumers during this temporary period of social distancing and … as Governor, I am responsible for meeting the dangers presented to this state and its people by this emergency," part of the order said.
The announcement will affect a huge part of Florida's economy and workforce. It will last as long as Florida is in a state of emergency, which DeSantis declared March 9. The state Department of Business and Professional Regulation will have enforcement power.
DeSantis also  closed beaches and more in two hard-hit South Florida counties.
The Governor has directed all movie theaters, concert houses, auditoriums, playhouses, bowling alleys, arcades, gymnasiums, fitness studios and beaches to close in Broward County and Palm Beach County. It will remain in effect until the state of emergency ends.