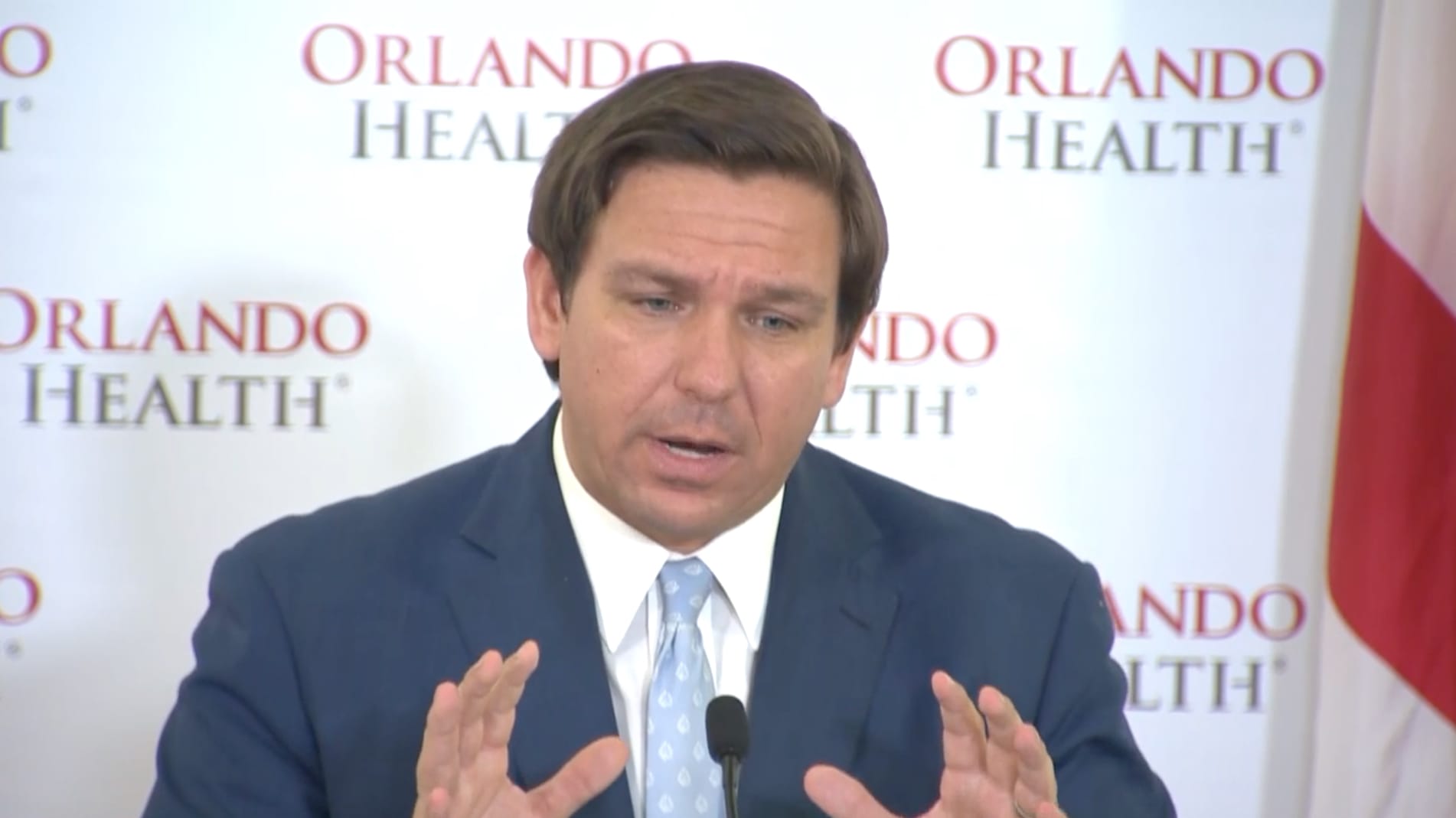 DeSantis called the influx of jobless claims a tsunami the system was not built for.
Gov. Ron DeSantis said there's likely no point in Florida history when so much effort has gone to delivering unemployment assistance.
"Understand, this has been a tsunami this system was not built for," DeSantis said.
Some 267,000 Floridians have received payments now, and he hopes to report more Monday. But that's notably just over half of the number of applications the Department of Economic Employment received last week.
At an Orlando press conference on Sunday, DeSantis offered both assurance and deflection about the highly criticized claims processing speed.
Under normal circumstances, claimants can wait four weeks to be paid. The system put in place by predecessor Rick Scott has proven severely lacking. The state has redirected 2,200 state employees away from normal work to help process applications faster.
DeSantis alluded to inheriting a system that cost $77 million, many believe with the express intent of making it harder to file claims.
"I don't know why they paid that money for it," DeSantis said.
The architecture of the system has crumbled in the face of a deluge of unemployment applications from workers furloughed or laid off amid the coronavirus crisis.
But even if the site was perfect, DeSantis said, no system would likely be prepared for the pressures of "the economy voluntarily ceasing."
DeSantis on April 1 issued a statewide stay-at-home order. But even before that, many local governments ordered non-essential businesses closed. Social distancing guidelines, fears of spreading the virus or contracting COVID-19 and the collapse of trading markets have forced many Floridians out of work.
The state's unemployment system withered severe scrutiny for nearly two months, with many state and federal lawmakers saying unemployment concerns were the top generator of constituent calls.
DeSantis said outside the public health crisis itself, addressing unemployment has been his administration's top priority. Along the way, he sidelined Department of Economic Opportunity Executive Director Ken Lawson and put Department of Management Services Secretary Jonathan Satter in charge of the unemployment process.
Redirecting 2,200 state workers to unemployment processing helped speed the process, but DeSantis stressed those workers had not previously been trained for the work. A system that under normal circumstances would process 1,000 claims on a particularly busy week, has now addressed hundreds of thousands of applications in about six weeks.
The Governor also stressed that many of the application don't come from individuals who qualify for benefits. The state has received many applications from individuals who were not employed before the COVID-19 pandemic, for example.
At the press conference, DeSantis continued to express optimism that Florida was past the worst as far as spread of the pandemic. But he also made clear any reopening of Florida businesses would be phased in, not a "light switch" turned back on.
"Even if we could flip the switch, if people don't have confidence, the economy is not going to work," he said.
It could still be some time before mass gatherings at concerts and sporting events resume, for example.
Looking back at March, DeSantis said fears in society about the disease were worse than after 9/11 and economic anxiety worse than the Great Recession.
"There were predictions Florida was the next New York or Italy, but those have proven to be false."