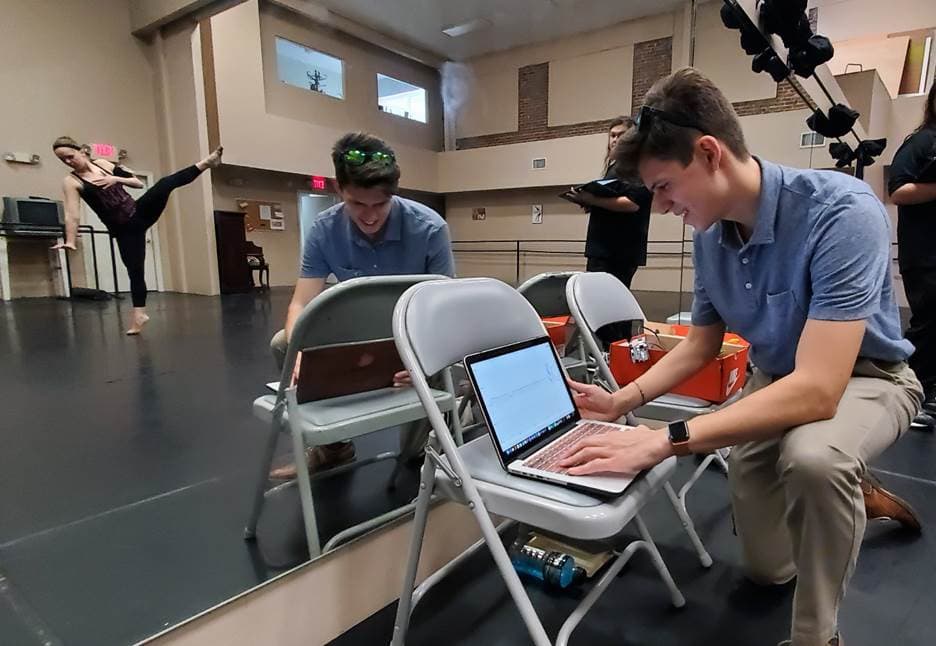 Dance movements are recorded and transposed into colorful fractals.
A team of Florida Polytechnic University students is using technology to turn dance moves into digital art.
Jamie Davis, an electrical engineering junior at the school, and Matthew Giallourakis, a 2020 master's graduate, are teaming up with Florida Dance Theater to record dancers' movements and transpose them into visual art.
Davis sewed lightweight biosensors into dancers' sleeves to measure acceleration, muscle, and cardiovascular activity.
The data is then transmitted to his computer where the activity is displayed as line tracings similar to electrocardiogram waves.  Giallourakis then converts the data in real-time into colorful fractals that can be projected onto a screen.
"We wanted to take the arts and STEM and combine them in this amazing way," Davis said. "It's become more than I ever thought it could be."
"Fractals are already known for being a good combination of art and science, so I thought it was a perfect medium for taking an art form, processing it into scientific data, and bringing it back into another form of art," added Giallourakis, who is completing his master's degree in electrical engineering.
The effort stemmed from a discussion with Florida Dance Theatre executive director Jermaine Thornton, and Victoria Lowe, adjunct professor of art appreciation at Florida Poly. Project organizers planned to unveil it during a demonstration in March and a performance in June, but COVID-19 restrictions have postponed the events.
Thornton said the project, funded by a state grant to Florida Dance Theatre, will eventually be converted into a lecture-demonstration for students in Polk County Schools.
"One of my goals is that we would not only be known as a place for arts and entertainment," Thornton said. "We want to show it's OK if we start tapping into things like science, technology, engineering, and math."