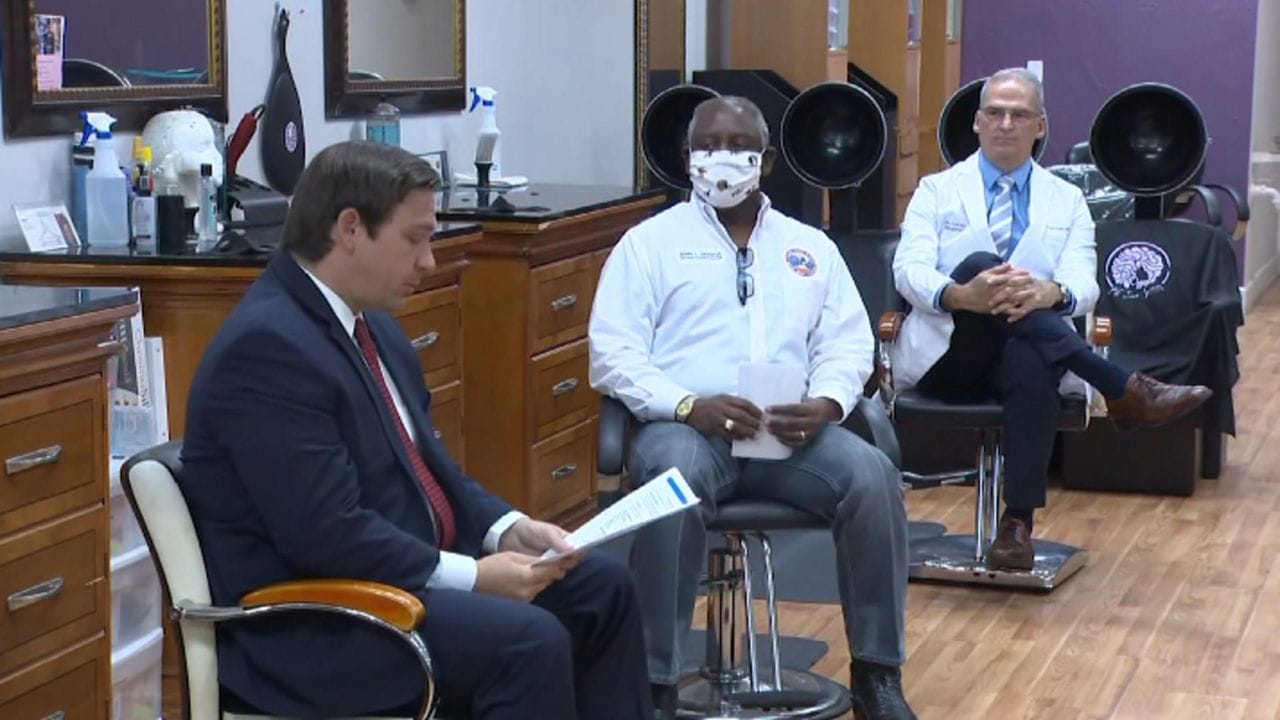 Barbershops and salons can open Monday in most of the state.
Gov. Ron DeSantis will allow barbershops and salons to reopen Monday in any county under Phase One reopening guidelines.
DeSantis also announced he was removing Palm Beach County from the three counties excluded from Phase One, leaving just Miami-Dade and Broward still under the original stay-at-home order and not subject to new reopenings. The three counties have long been the epicenter of Florida's infections, but Palm Beach has been steadily declining compared to its South Florida neighbors.
DeSantis said he would also like to move Miami-Dade and Broward into phase one, possibly starting May 18, as they've also had "good trends" in efforts to control the virus.
"I think that there was a sense that they needed a little more time to be ready to reopen," DeSantis said during an appearance at FITTEAM Ballpark of the Palm Beaches in West Palm Beach. "And I think that that's fine. We want them to do it in a way that it's going to be successful. It's going to be smart. It'll be step by step. But we really want people to have confidence in what's going on."
The Governor tweeted the announcement Friday after teasing possible news during a press conference earlier in Jacksonville.
"We're being very judicious on everything we're doing, but I absolutely see a path, and I think if people watch out, I think that you'll be hearing something on that very soon," the Governor said during the news conference.
When the state began to reopen Monday as the fight against COVID-19 turned to the economy, DeSantis extended the ban on close-contact personal services. A week later he pulled the trigger for barbershops and salons.
"We considered this for Phase One," DeSantis said in Jacksonville, "And my view is, OK, we need to talk with doctors, we need to talk with the industry, we need to figure out what would make sense to reduce risk."
On the day his task force discussed ways to reopen barbershops, President Donald Trump, in a Twitter denial that he gave Georgia Gov. Brian Kemp the OK to open businesses in his state, listed salons and barbershops as businesses that shouldn't open as readily.
"Spas, beauty salons, tattoo parlors, & barber shops should take a little slower path, but I told the Governor to do what is right for the great people of Georgia (& USA)!" Trump tweeted.
Although salons did not reopen Monday, DeSantis sat down with Orlando Mayor Jerry Demings and industry and health experts over the weekend at Demings' request.
"They were all talking about 'here's what we would do,' and I think the ideas were great, so those ideas have been taken, they've been internalized," the Governor said Friday. "The Health [Department] has looked at them, other physicians have looked at them, so I think it's going in a really good direction."
Some of those suggestions included using masks and the cleaning expectations necessary to keep the close-contact industry sanitary.
"But my view is if you have somewhere there's interaction, if you can do things like mask and other things that would make it low risk, then we've got to figure out a way to do that," DeSantis said.
He didn't give an indication of whether the reopening would come during Phase Two or if he might issue an in-between step. But the Twitter announcement, featuring John Henry of J Henry's Barber Shop in Orlando, leaves no room for interpretation: Haircuts will be OK starting Monday.
"We are ready to get back to work and make some money," Henry said in a video announcing the reopening. "But getting back to work, we want to be safe to continue to wear gloves, wear masks, bookmark appointments and continue to keep the community safe. I know everyone is happy to come out and support the barbershop, and we want to continue to keep one thing in mind, safety is always first."
Henry was among a number of barbers and cosmetologists who sat down with DeSantis last Saturday to push for their professions to be included in the reopening. They highlighted advanced cleaning protocols for work stations and tools, along with in-store physical distancing requirements for customers.
Here's a major announcement from my friend J Henry, owner of J Henry's Barber Shop in downtown Orlando. ⬇️ pic.twitter.com/KnXFaMRVns

— Ron DeSantis (@GovRonDeSantis) May 8, 2020
Content from the News Service of Florida was used in this report.