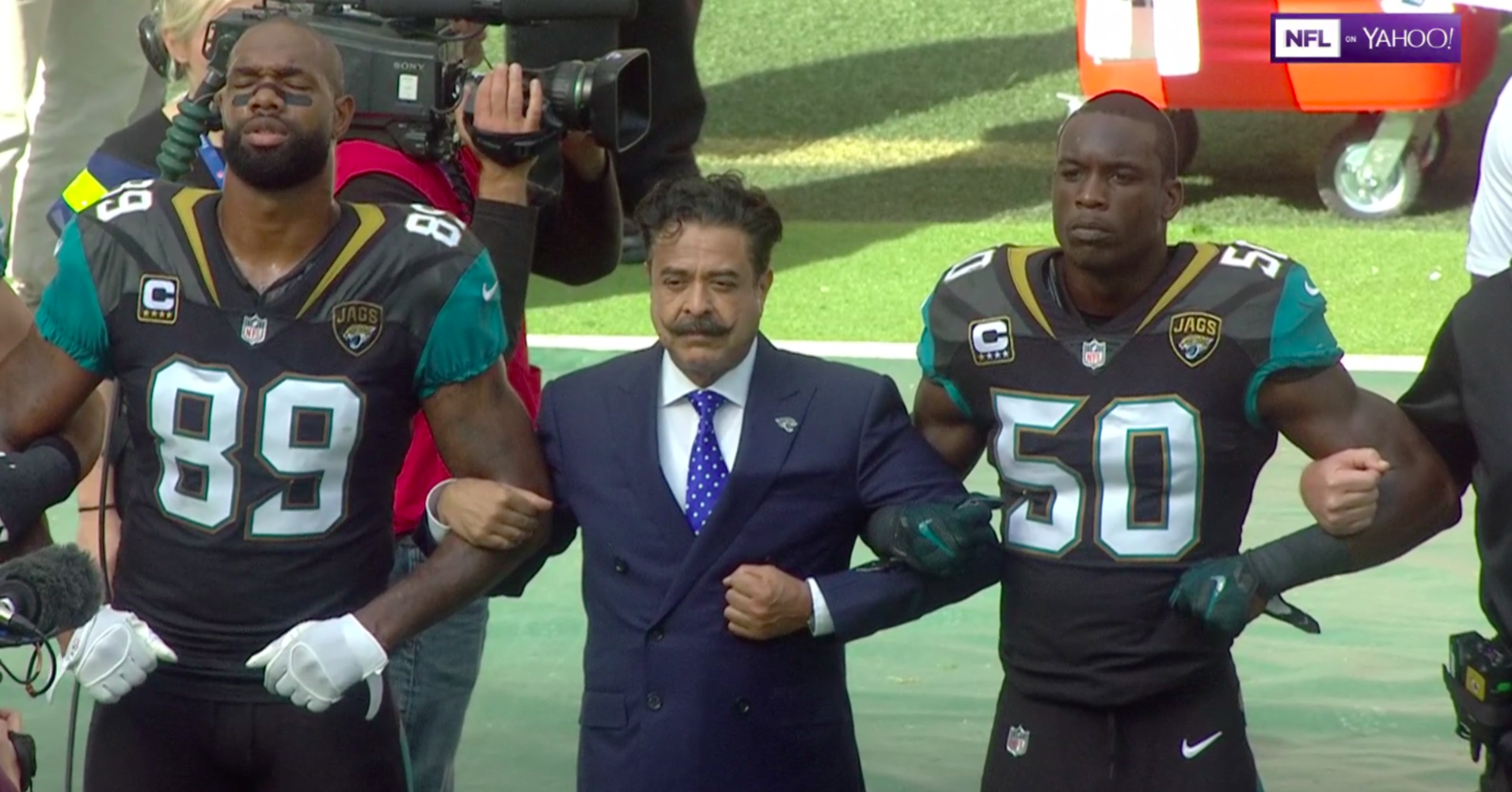 Shad Khan overruled his staff.
Three years ago, the Jacksonville Jaguars played a game in London, and polarized the city briefly with the decision of some players to kneel during the national anthem.
As the London Guardian reports, at least one former player said that he was pressured not to kneel, however.
"The statement issued by the @nfl is complete trash," Thompson wrote on Twitter on Monday. "I specifically remember [Jaguars executive vice president] Tom Coughlin and [head coach] Doug Marrone telling us we couldn't kneel. Thank God we had an owner of minority [Shad Khan] who weighed in and got us to kneel together! My job security was on the line if I supported my people."
Thompson was responding to a statement over the weekend from the National Football League, in which the organization indicated its sadness over the police killing of Minneapolis' George Floyd.
His statement has the unique quality of shedding light on an episode in Jaguar history that saw the team reviled by some on the political right, until late-season success on the field obscured the initial impact of one of the boldest political statements in team history.
A number of Jacksonville Jaguars knelt in a protest against President Donald Trump's provocative comments about protesting players.
Trump said at a rally: "Wouldn't you love to see one of these NFL owners, when somebody disrespects our flag, to say, 'Get that son of a b***h off the field right now … he is fired'."
Jaguars' owner Shad Khan spent a million dollars supporting Trump's inaugural, but Trump's tempest was too much for him to support during the NFL season.
"I met with our team captains prior to the game to express my support for them, all NFL players and the league following the divisive and contentious remarks made by President Trump, and was honored to be arm in arm with them, their teammates and our coaches during our anthem," Khan, who stood with players and locked arms with them during the anthem, said at the time.
The take-away from Thompson's Tweet? If a different owner had been in control, the question may have been resolved differently.