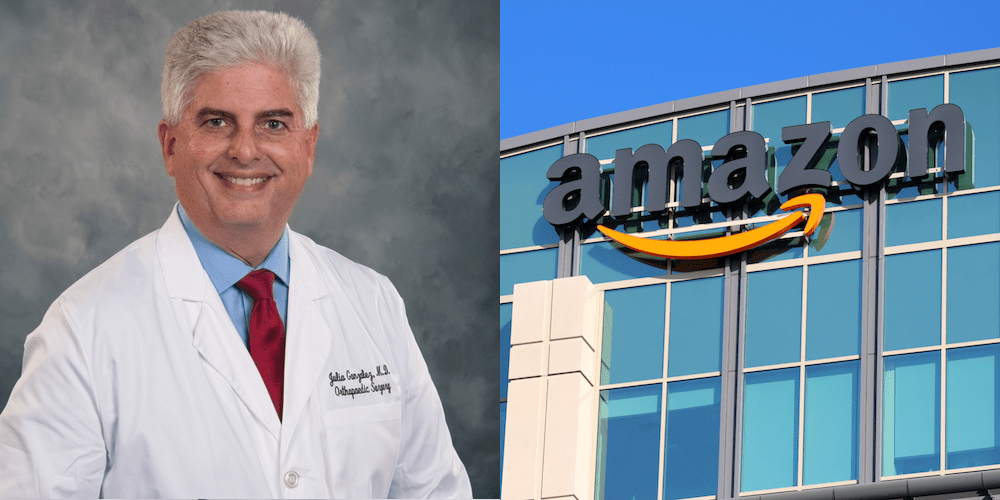 Senator called publishing giant after is refused to release former lawmaker's book.
After intervention by Sen. Marco Rubio, Amazon is reversing course and will publish a book by former Rep. Julio Gonzalez that examines the response to COVID-19.
Grateful for the help, Gonzalez said he remains frustrated that Amazon appears to be censoring "a certain political view."
"That makes the audacious claim you can be a better judge of political speech than the general public," he said.
The publishing giant originally told Gonzalez, an orthopedic surgeon, said it would not carry "Coronalessons," an e-book exploring the constitutionality and results of policies enacted around the spread of the novel coronavirus.
But Gonzalez said he reached out to Rubio's office on the matter and the decision was quickly reversed. Rubio's office confirmed it stepped in.
"Sen. Rubio's office inquired with Amazon on behalf of a constituent, and is pleased Dr. Gonzalez and Amazon were able to resolve the dispute," a Rubio spokesperson told Florida Politics.
Of course, Rubio and Gonzalez have long been political allies. Gonzalez supported Rubio's Presidential campaign in 2016. In turn, Rubio endorsed Gonzalez's unsuccessful run for Congress in 2018. But the relationship predates that too, with Rubio backing Gonzalez's initial campaign for state House in 2014 during a feisty primary with Richard DeNapoli, a contest in which Gonzalez prevailed.
Gonzalez said he feels Amazon has an obligation to carry the book as the largest distributor of e-books in the world.
"Amazon makes such a big deal in their encouragement of people and authors to publish under their flag," Gonzalez said, "and they make a big deal about the ease with which authors can publish and the wide-open access they offer. Yet when there is an issue of a political view, and over an issue of the political position I take, they shut me down."
Amazon originally sent an email to Gonzalez stating it will only publish information coming from official sources. That's a position the company took near the beginning of the COVID-19 pandemic after receiving criticism about electronic books with misinformation and plagiarism appeared on the site and appeared to be reaching a large audience. Quartz in March published an expose saying books about prayer healing and holistic cures had become top search results for those looking for books on the virus.
Gonzalez said his book shouldn't be censored for simply discussing the coronavirus. He also stressed the book isn't on the virus itself as much as the policy discussions around it. He criticizes certain lockdown practices and praises travel restrictions put in place by states and countries in the past several months.
But copyright experts say authors have no right to sell their work through Amazon, and Gonzalez's use of the term censorship is inappropriate.
"The term 'censorship' is a canard to intimidate publishers from objecting to the content," said Susan Nilon, executive director of the International Intellectual Property Institute. "If you argue that Amazon is a publisher, publishers have strict rules about ensuring the validity of the assertions being made. If you argue that Amazon is a retailer, any retailer has a right to control what they sell."
Gonzalez has published books through Amazon before. In the case of "Coronalessons," he wanted to publish electronically in order to reach the market in a timely fashion.
As the largest distributor of e-books in the world thanks to its Kindle platform, Gonzalez said the company wields control over whether authors can reach audiences. He argued the distribution channel serves as a platform, not simply a publishing outlet.
It's a similar argument that's been made as to why social media giants like Facebook and Twitter should not be allowed to censor posts.
He drew a direct comparison to Amazon's initial decision not to publish Alex Berenson's "Unreported Truths about COVID-19 and Lockdowns: Part 1" until after Elon Musk, the high-profile founder of Tesla, criticized the decision.
"Obviously I'm deeply concerned it takes an individual like a Sen. Marco Rubio or an Elon Musk to get a piece of nonfiction literature to be published by Amazon," Gonzalez said.