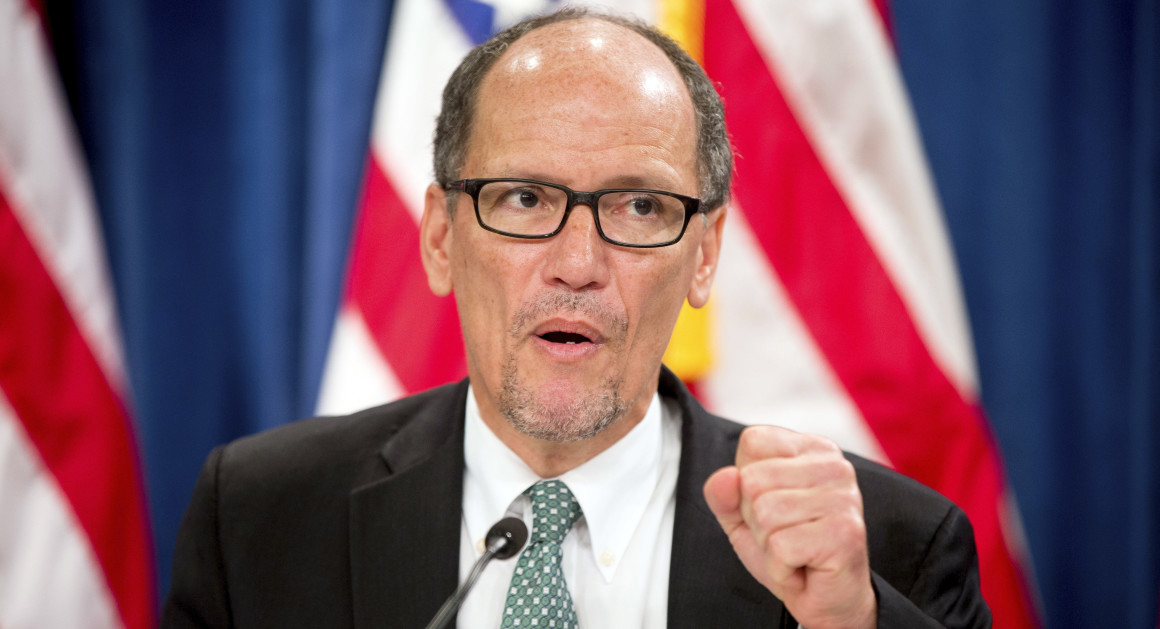 DNC Chair Tom Perez called the Jacksonville RNC Trump's 'ego gratification.'
National and Florida Democratic leaders condemned President Donald Trump's effort to move his acceptance speech at the Republican National Convention to Jacksonville, calling it an "ego gratification" at the cost of public health.
In a press call Tuesday, Democratic National Committee Chair Tom Perez, Florida Democratic Party Chair Terrie Rizzo, and Orlando's Rep. Val Demings, who might become the Democrats' vice presidential nominee, blasted Trump for that move and pretty much everything else he has done, up to and including the executive order he signed Tuesday calling for police reform.
In many ways the trio's theme sought to portray Trump as working for himself at the expense of the public, summed up by the decision announced last Friday. The Republican National Committee, at the insistence of Trump, announced it was moving Trump's 2020 presidential nominee acceptance speech, the highlight of any presidential convention, out of Charlotte and into Jacksonville. The reason: North Carolina's Governor could not promise Trump a big crowd because of concerns about the coronavirus pandemic, while Gov. Ron DeSantis could.
"It's an extremely concerning development. Today, I believe we have 2,783 new cases [of COVID-19] and have passed 80,000 cases in the state of Florida," Rizzo said.
"He continues to put politics over public health," Perez said. "It's really simple. It's all about ego gratification."
Perez said North Carolina pressed Trump and the Republican National Committee to answer questions about how they could hold a safe national convention amid a still growing pandemic. The RNC wasn't interested. Perez said the DNC is having the same conversation with its designated convention host city, Milwaukee, adding, "We're not going to abandon Milwaukee."
"The President has made the decision to go to my hometown in the middle of a pandemic," said Demings, a Jacksonville native. "I really wish that he and the Governor would remember that their number-one responsibility is the health, safety, welfare that they represent. His lack of leadership is really bigger than deciding to have a convention without safeguards in the middle of a pandemic."
That "really bigger," from the perspectives of Perez, Rizzo, and Demings, was fleshed out on a variety of issues during an hour-long press call Tuesday, as Democrats marked the five years since Trump first descended an escalator at the Trump Tower in New York City to announce his candidacy for President. Much of the call was used to itemize what Rizzo called a long list of broken promises.
It also was a chance for the two Democratic party leaders and the potential vice presidential candidate to tout Democratic nominee Joe Biden as a clear upgrade.
Republicans provided rebuttal in advance.
"While Joe Biden is hiding in his basement, President Trump is working to rebuild the greatest economy in the world, and last month's incredible jobs report proves that the Great American Comeback is underway. Enthusiasm for President Trump continues to grow throughout the country, and Floridians are energized to re-elect President Trump and Republicans up and down the ballot come November. Florida Democrats have a record of defeat in the Sunshine State for a reason,"  Trump Victory spokesperson Emma Vaughn said.
Perez, the former Labor Secretary and former Assistant U.S. Attorney General for the Civil Rights Division, both under President Barack Obama, blasted Trump's new executive order calling for national standards for police reform, and a national database of officers who'd been fired for bad behavior. Trump issued the order Tuesday after both House Democrats and Senate pursued legislation seeking to provide police reform in response to more than three weeks of angry protests about police abuses and racism in the wake of the slaying of George Floyd in Minneapolis.
Perez, who'd spent 15 years in enforcement in the Civil Rights Division, said the Trump administration has been deliberately not trying to address police reform. Specifically, Perez cited what he said was the administration's abandonment of "pattern and practice" investigations that the Department of Justice used for decades to look into whether local police departments had systemic racism or police brutality issues, and to force reforms through the courts.
"What he ought to do is order his Attorney General to do his job. Attorney General [William] Barr is not only not enforcing or using the pattern and practice tool, he's affirmatively hostile to the tool. He has this old-school belief that you're either on the side of the community or you're on the side of the police," Perez said. "That is a false choice. The most important tool that any police department has, and I am speaking as someone who has gone into four or five dozen police departments … is the trust of the community."
Perez said the pattern and practice tool was created by legislation Biden sponsored.