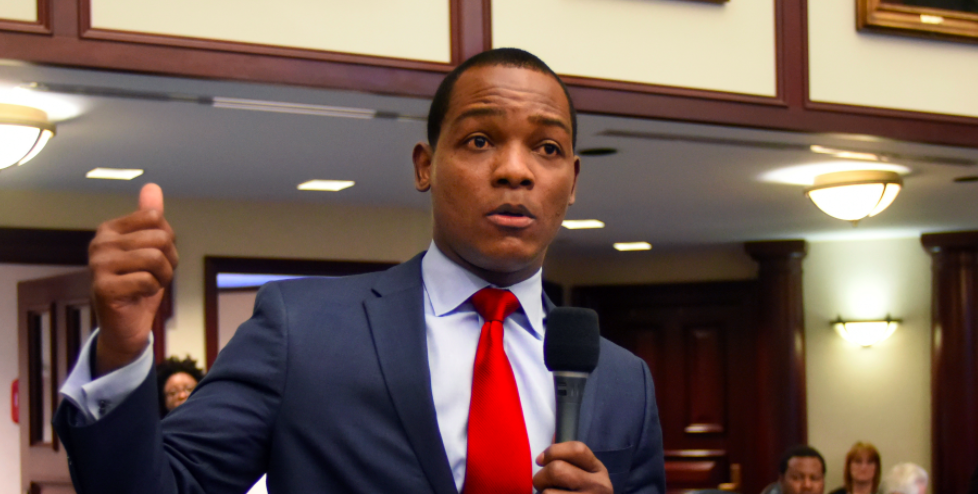 One of Jacquet's primary opponents accused him of using the slur last week.
Rep. Al Jacquet is denying using an anti-gay slur directed at Commissioner Omari Hardy after Hardy accused him of using the language last week.
Hardy is one of four Democrats challenging Jacquet in the House District 88 primary. Hardy made the allegations last Thursday.
"A Haitian-American supporter called me this morning and informed me that he heard my ad on Haitian radio yesterday, and that Rep. Jacquet called the radio station after my ad was played and told listeners to disregard my radio spot because it was a 'gay' spot," Hardy said.
Hardy says Jacquet called in to Sak Pase FM. Jacquet did not respond to comment when reached by Florida Politics.
Now, days later, he is citing a letter from Sak Pase FM — which broadcasts a show hosted by Jacquet — denying making the remarks. "This account is 100% false," the letter reads.
"It did not happen. It would not happen. It could not happen. Our station airs paid ads for small businesses throughout this region as well as political ads. We would not jeopardize the integrity of this station to allow someone to disparage one of our paid customers in such a negative way. The ethics of our radio station would not tolerate that."
Jacquet was caught on video earlier this year, however, directing a separate anti-gay slur at Hardy. That incident was broadcast on Sak Pase as part of his radio show. The segment was also simulcast on Jacquet's Facebook page.
Florida Politics has reached out to follow up with the station and will update this piece if a reply is received.
Jacquet issued the most recent denials in an email to his Democratic House colleagues.
"Members, you may have heard about, and sadly some of you reacted to, a LIE told by an opponent in my current re-election campaign," Jacquet said (emphasis in original).
"But even more disturbing, some of my colleagues seized upon this FAKE third party hearsay and went as far as to make public statements based on pure ignorance. Even if the opponent is void of ideas upon which to run, this is no excuse for sitting members of [the] same party to target my community and other black Democrats."
Indeed, Hardy's claims led to a wave of Democratic lawmakers in both the House and Senate voicing their support for Hardy in the HD 88 campaign.
"He's an excellent public servant who shows up to work, cares about his constituents, supports public schools [and] doesn't traffic in homophobia," said Rep. Carlos Guillermo Smith of Hardy, adding an indirect dig at Jacquet. "Donations on the way!"
The first incidet earlier this year led Jacquet to lose his position as Ranking Member on the House Rules Committee.
Hardy released a statement at the time citing his upbringing. "While I am not gay, I was raised in a same-sex household by my two mothers, and I am offended for them and for the broader LGBTQ community here in Palm Beach County, where I serve," Hardy said.
Jacquet issued an apology at the time. "In the heat of the moment, I said something I should not have said," Jacquet said. "I apologize for my words that have offended some of my colleagues." That was not enough for some, such as Smith, who called the apology "weak."
After denying this second round of accusations, Jacquet challenged those who endorsed Hardy to pull back on their criticism.
"I look forward to seeing the social media retractions from those of you that commented," Jacquet said. "Ignorant tiki torch self-destruction based on lies, trumped up accusations, and mob-like justice, creates division."