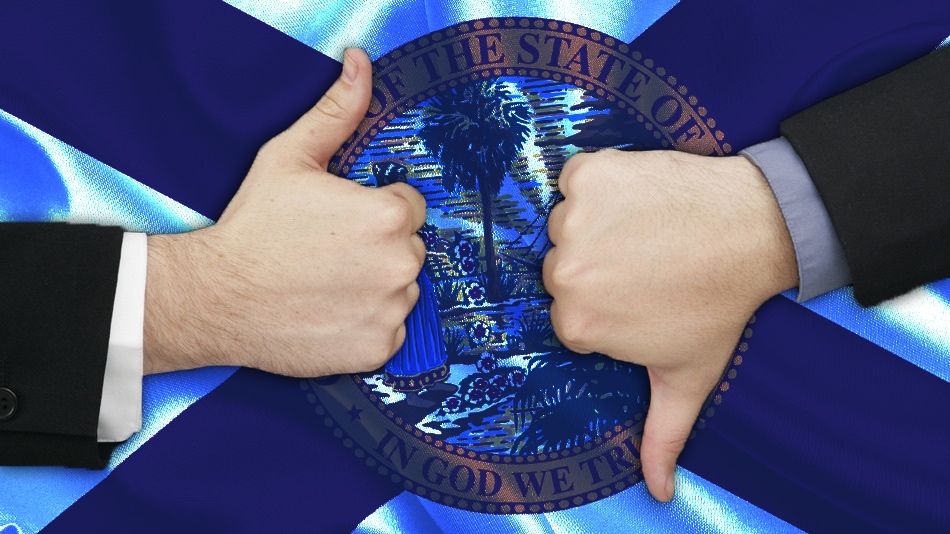 Before we begin our weekly naming of political winners and losers, we take a moment of pause at the passing of a civil rights icon.
John Lewis accomplished enough for the common good to fill 10 lifetimes.
The sun of an Alabama sharecropper, Lewis was an unflinching champion for the downtrodden. He raised a thundering voice for those who had none.
He helped found the Student Nonviolent Coordinating Committee. That group pushed for voter registration drives and used lunch counter sit-ins to highlight racial inequality.
At age 21, he led what began as a peaceful march to further voter registration. It ended with the horrific scene at the Edmund Pettis Bridge. Alabama law officers savagely beat and teargassed the marchers. It became known as Bloody Sunday. Lewis suffered a concussion and a fractured skull after the melee.
Support is building to rename that bridge in Lewis' name.
Lewis continued a life devoted to justice and change. He became known as the conscience of the Congress, where he served continuously since his election in 1986.
When the Trump administration authorized the separation of migrant children from their parents at the U.S. border, Lewis responded with a blistering rebuke that spoke to the nation's soul.
"How can members of this administration persecute those fleeing violence?  How can they ignore their anguish, pain, and suffering?  he said.
"This so-called 'zero tolerance' policy is not keeping with the values and the principles of our country. The administration could and should end it today – not double down and torment families and children fleeing violence and persecution.
"Today's actions prolong the shame and the disgrace that this administration has brought on our country and our people.  History will not be kind in its judgment of those who are party to these inhumane and hateful policies."
No, it will not. But history will be kind to you, John Lewis.
Rest in peace, good sir.
Winners
Honorable mention: Florida counties. They're in line to receive $75 million from the CARES act. The money will help address those in need of rental or mortgage assistance.
Florida Housing Coalition President and CEO Jaimie Ross spoke on behalf of the 32-member-strong Sadowski Coalition, which promotes affordable housing initiatives and funding within the state.
"Hundreds of thousands of Floridians who may have already had difficulty making ends meet are now suffering even more, losing a job, not being able to find a job, having to figure out how to pay for childcare while schools are in distance learning," Gov. Ron DeSantis said. "This has been a profound disruption to people's lives, and we have a responsibility to help meet needs in this regard."
Florida Housing Coalition President and CEO Jaimie Ross praised the move.
 "We cannot say enough good about Governor DeSantis and his support for affordable housing," Ross said.
Almost (but not quite) biggest winner: Jimmy Patronis. Florida's CFO hopes to convince Tesla founder Elon Musk to set up shop in Florida.
In a letter to Musk, Patronis cited Florida's business-friendly environment compared to what Musk has in California.
"As Florida's Chief Financial Officer, I'm here to remind you that there is no time like the present to consider moving your businesses to the Sunshine State," Patronis wrote. "Your passion for changing the world for the better can best succeed in a state that supports and promotes free enterprise."
Musk is familiar with Florida. His SpaceX rockets often take off from Cape Canaveral.
OK, so the notion that Musk might move the rest of his operation here is a long shot. You can't fault Patronis for trying, though. As hockey great Wayne Gretzky said, you miss 100 percent of the shots you don't take.
The biggest winner: Ashley Moody. Florida's Attorney General had a good week.
She worked with the Federal Trade Commission to provide checks to more than 27,000 victims of a scam by the Helping America Group.
The company is accused of "convincing victims to pay hundreds or thousands of dollars a month by falsely promising to pay, settle or obtain dismissal of debts and improve payers' credit scores," Moody's office said.
"It infuriates me that anyone would take advantage of people trying to pay off their debts and improve their financial situations," Moody said.
Moody also reminded victims of tech scams that time is running out to get their share of a $7.2 million settlement with illicit companies.
"Our Consumer Protection Division has worked hard to secure restitution for victims of tech support scams and they continue to diligently reach out to eligible consumers," Moody said.
"We need your help to make sure victims know restitution is still available. If you or someone you know was the victim of a tech support scam, please file a claim before the August 30 deadline."
Only $179,000 has been claimed so far.
Losers
Dishonorable mention: The Republican Party of Florida. Attendees at a GOP fund-raiser in Ponte Vedra Beach were informed that a lobbyist at the event tested positive for COVID-19.
"I have called every member present and we are in the process of calling every attendee to notify them," House Speaker-designate Chris Sprowls said.
"We are encouraging all of them to self-quarantine and/or get tested as soon as possible. While there were precautions made available, further gatherings in the near future have been canceled."
Multiple account confirmed that many people in the room had no mask. Social distancing did not appear to be fully enforced.
Almost (but not quite) biggest loser: Florida prisons. COVID-19 cases continue to climb throughout the state's prison system.
ABC News reported that at the federal prison in Miami, 91 inmates have tested positive.
In Tallahassee, the state Department of Corrections said more than 1,000 corrections workers have tested positive, along with 3,520 inmates. Thirty-two inmates died of the disease.
Columbia Correctional Institution recorded 455 positive cases among inmates Friday.
The biggest loser: Brad Parscale. President Trump's debacle of a rally in Tulsa put Parscale, Florida man, on the hot seat.
That, plus Trump's skidding poll numbers, turned that seat into an inferno. Trump removed Parscale as the campaign manager with less than four months remaining before the general election.
He ran digital operations for Trump's 2016 presidential campaign and was rewarded with a promotion to campaign manager for the re-election bid. Many insiders considered Parscale was over his head in that role.
He remains on the team in his more familiar digital role, but it's still a major step backward.