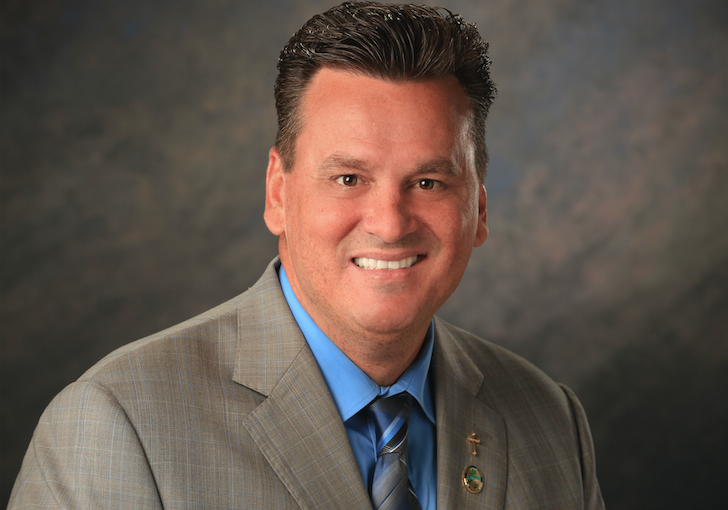 Hawkins wins GOP primary easily over three foes.
Suspended Osceola County Commissioner Fred Hawkins, arrested and charged with felony impersonation of a law enforcement officer last month, has won the Republican primary to run in House District 42.
Hawkins, who denies he did anything wrong in the November 2019 incident that led to the charge, solidly defeated three Republican challengers Tuesday across both Osceola and Polk counties.
He won with 47%, compared with 30% for Dianna Liebnitzky, 18% for Gary Scott, and 6% for Benny Valentin.
He now faces Democrat Barbara Cady in the November General Election. They both seek to succeed Republican Rep. Mike La Rosa, who is leaving due to term limits. Republicans have held the district for many years, but Democrats hold a 6-point advantage in voter registration.
"Thank you to the voters of House District 42 for their unwavering support of my candidacy, and to our campaign team in Osceola and Polk County for their tireless efforts," Hawkins said in a written statement. "Together, we will continue to run an issues-based campaign working toward protecting Florida's water and natural resources, public safety and education. I appreciate your continued support as we head toward the November general election."
Hawkins had drawn strong backing from the region's business community, including an endorsement from Business Force and numerous major campaign donations. He dominated in campaign money, raising and spending more than $220,000, including spending $93,000 on mailers in the first 13 days of August. None of the others spent as much as $10,000, at least through the Aug. 13 campaign finance reports.
Yet Hawkins went into the primary facing a felony charge that he had impersonated a law enforcement officer while attending a raucous homeowners association election in November and forcing his way into the election area. He insisted he was trying to get to the back room to try to settle down an angry crowd.
That was not the only negative Hawkins managed to overcome Tuesday. He also had been politically tied to two widely unpopular Osceola County initiatives: the disposal of Puerto Rican coal ash in the county landfill and a county transportation tax proposal that crashed hard in an initiative election last year.
Those issues appeared to hurt him in Osceola County, but not in Polk County. His vote edge over Liebnitzky was much tighter in Osceola, 39% to 35%, than in Polk, where he won by a landslide, 63% to 17% for Liebnitzky.
Liebnitzky, a health care administrator and adjunct professor from St. Cloud, was among the leaders in opposition of the transportation tax, as was La Rosa, and, for that matter, Cady.