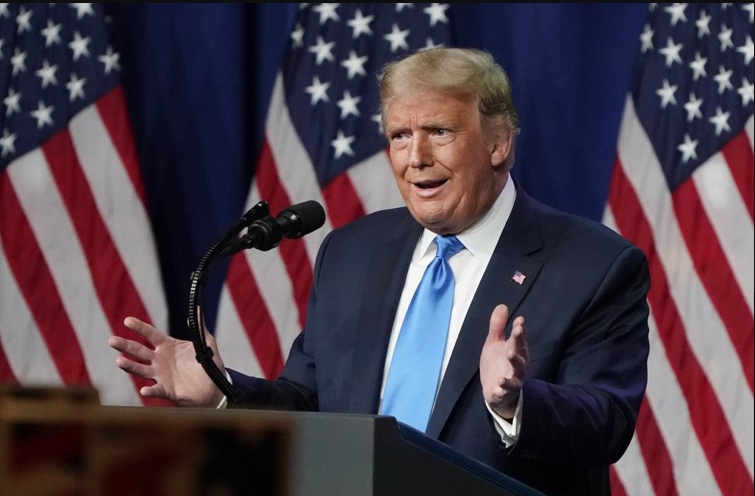 Trump made surprise appearance at RNC, challenging election integrity.
President Donald Trump turned a surprise opening-day appearance at his party's scaled-down national political convention into an new opportunity to cast doubt on the integrity of the fall election just moments after delegates nominated him for a second term.
"The only way they can take this election away from us is if this is a rigged election," Trump said Monday as the convention kicked off with a day of "official business" in Charlotte, North Carolina, before moving to Washington, D.C., for prime-time programming.
Trump has sought to minimize the toll of the coronavirus pandemic. But its impact was plainly evident at the Charlotte Convention Center, where just several hundred people gathered instead of the thousands once expected to converge on this city for a week-long extravaganza. Attendees sat at well-spaced tables at first and masks were mandatory, though many were seen flouting the regulation.
The GOP convention is a crucial moment for Trump, who is trailing in national and battleground state polls and under intense pressure to turn the race around. Just 23% think the country is heading in the right direction, while 75% think it's on the wrong path, according to a new poll from The Associated Press-NORC Center for Public Affairs Research.
Trump said he had made the trip to contrast himself with his Democratic rival, Joe Biden, who never traveled to Wisconsin, the state where the Democratic convention was originally supposed to be held.
And in a nearly hour-long speech, Trump once again sowed doubts about the integrity of November's election as he laced into mail-in voting, which experts say has proven remarkably safe.
"Be very very careful," he told the attendees, who crowded close to the stage when Trump spoke. "This is the most important election in the history of the country. Don't let them take it away from you."
While Trump was appearing in Charlotte, his Postmaster General testified before a congressional hearing and distanced himself from some of the President's charges that voting by mail would be corrupted and jeopardize the integrity of the November election.
Postmaster General Louis DeJoy told lawmakers Monday that he has warned allies of Trump that the president's repeated attacks on mail-in ballots are "not helpful," but denied that recent changes at the Postal Service are linked to the November elections.
DeJoy was testifying for a second day on Capitol Hill, facing tense questions from lawmakers over an uproar in mail delivery delays since he took the helm in mid-June.
"I am not engaged in sabotaging the election," DeJoy said, adding that, like Trump, he personally plans to vote by mail.
The hearing quickly became a debate over delivery disruptions being reported nationwide. Democrats said the changes under DeJoy's watch are causing widespread delays, but Republicans dismissed the worries as unfounded and part of a Democratic "conspiracy" against Trump.
In Charlotte, Trump also panned the state's Democratic governor for restrictions put in place to try to prevent the spread of the virus, which has killed more than 175,000 people and infected millions nationwide. Trump accused Gov. Roy Cooper of "being in a total shutdown mode" and claimed the restrictions were aimed at trying to hurt his campaign.
Trump's remarks stood in contrast to the positive message he and the party had said would be on display this week after they criticized the Democrats as being too negative at their convention.
____
Republished with permission from The Associated Press.