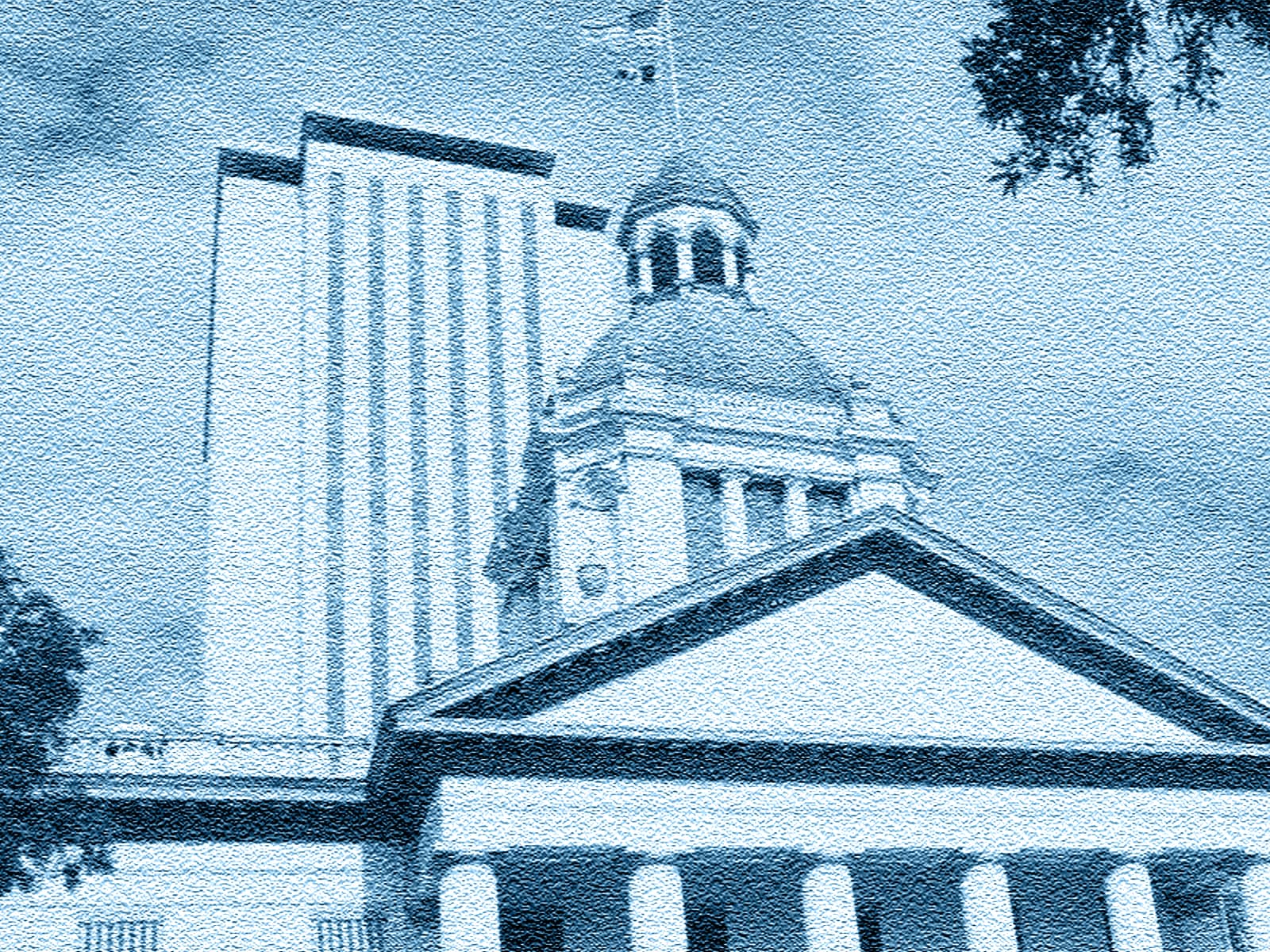 Marsy's Law is causing some unforeseen difficulties.
Murder in Tallahassee
Forget six degrees of separation. In Tallahassee, the joke is that in this city there is just one. In Leon County, with a population pushing 300,000, everybody knows everybody.
This is why Marsy's Law, enshrined in the state constitution after voters approved it with 62% of the vote in November 2018, is proving to be a sticky wicket in the capital city.
While much of Marsy's Law deals with victim notification during the court process, there is one section that mandates preserving the confidentiality of the victim and their family, including addresses and other information a perpetrator could use to harass them.
So, when the Leon County Sheriff's Office (LCSO) sent out a bulletin that they were working a "fatal home invasion" at a home Thursday night in the upscale Ox-Bow community, ears perked up. Because when official information released only said a deceased 25-year-old was found inside a residence in the 7000 block of Ox-Bow Circle, the area rumor mill began working overtime trying to fill in the mile-wide gaps in information.
For starters, the "block" mentioned in the release includes about 50 homes. Could it be a friend? In a neighborhood with spacious homes selling all the way up to $1 million-plus, was this the start of a crime wave? Or perhaps nefarious dealings going on in the home of a neighbor?
The group emails and Nextdoor posts were full of speculation:
It was a sex crime. The murderer was known to the family. The victim was known to carry cash collected from the family's chain of convenience stores.
Details were sparse and doled out sparingly by cops over the next few days. It was a male. He was shot.
Local media deployed reporters to suss out additional information using old-school shoe-leather, door-knocking reporting as well as online resources. The Tallahassee Democrat identified the victim as Parth Patel, and he was found in his parents' home.
A lengthier Aug. 31 release announced the arrest of a suspect, 24-year-old Yuri Alexander Harris, in Independence, Missouri by a U.S. Marshals Service Task Force. He was charged with murder, home invasion robbery, burglary with a person battered, and possession of a weapon by a felon. The Democrat reported Harris served time for a series of burglaries in 2014, including one at the home of then-Agricultural Commissioner Adam Putnam. He was released in March.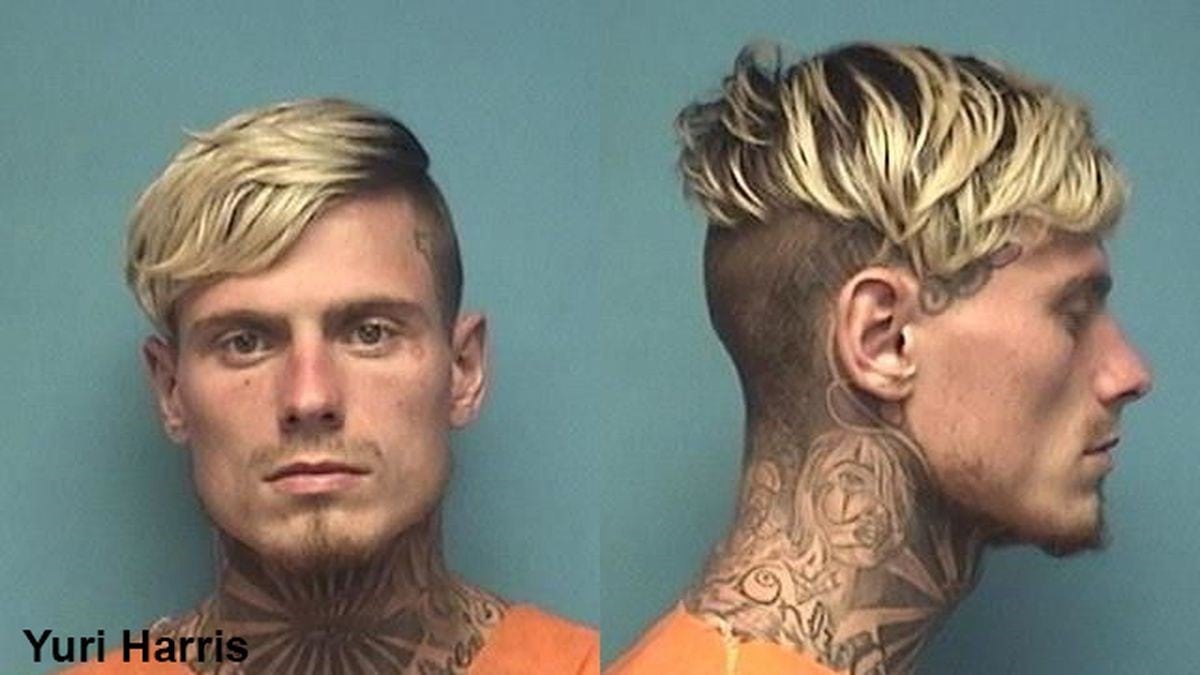 In a rather astounding twist, a day after Harris' arrest, the LCSO attempted to put the toothpaste back in the tube, withdrawing his mug shot and identifying information, and sealing his ongoing case records as well. They cited Florida Statute 119 (which protects the personal information of law enforcement officers) as the reason, indicating Harris was related to someone in law enforcement and therefore covered by its exemption to the public records law.
"One of the things we've seen after Marsy's Law and the growing list of public records exemptions is the vacuum of information that often develops," said Tallahassee Democrat Editor William Hatfield. "That vacuum often gets filled with rumor, social media assumptions and fear. It's one of the reasons we have redoubled our efforts at the Tallahassee Democrat to provide readers with that vital public safety information."
Hatfield praised the award-winning efforts of two reporters, Jeff Burlew and Karl Etters, for their "relentless, victim-centered crime reporting in the middle of what's been an information blackout at times."
Apparently, the Patel family invoked Marsy's Law, not wanting information about Parth Patel to be released by the sheriff's office.
But one doesn't have to look very hard to find that he loved his parents and brother, was a good and proud Indian man, happy and smiling, and prone to using lots of exclamation points. He grew up in Tallahassee, and was a good student and a good friend, graduating from Rickards High School's IB program. As a senior, he was given a prestigious Best and Brightest first-place award in Business.
He attended Nova Southeastern University and earned a Master's Degree in IT from Florida State University, worked for a software firm and somewhere along the line took a selfie with U.S. Sen. Rick Scott.
___
Coming up, the usual assortment of tidbits, leftovers and not-ready-for-prime-time moments by Peter Schorsch, Drew Wilson, Renzo Downey, Jason Delgado and the staff of Florida Politics.
Take 5
The "Takeaway 5" — the Top 5 stories from the week that was:
Ken Lawson replaced with Dane Eagle — The embattled Lawson submitted his resignation Monday as executive director of the Department of Economic Opportunity. The departure comes months after Gov. Ron DeSantis sidelined Lawson amid criticism surrounding an unemployment system overwhelmed by claims during the coronavirus crisis. Eagle, the outgoing House Republican Leader, formally takes over the job on Sept. 14. The Cape Coral elected official recently ran for Congress in Florida's 19th Congressional District but lost in the Republican primary to fellow House member Byron Donalds. Before serving nearly eight years in the House, Eagle worked as Deputy Chief of Staff to Gov. Charlie Crist.
Governor vows no more lockdowns — Gov. DeSantis this week tried to temper expectations a new vaccine would quickly end the COVID-19 pandemic, but also said the state would not return to containment strategies employed early on. At a stop in The Villages, he promised Florida "will never do any of these lockdowns ever again." The comments came at a time infections have begun to wane after a later summer surge that saw Florida's caseload balloon by hundreds of thousands. Regarding a vaccine, DeSantis said if one does get approved soon, the first manufactured doses will be deployed among high-risk populations first, including medically compromised seniors and those with high potential comorbidities.
Quest Diagnostics data backlog draws backlash — The Florida Department of Health and Division of Emergency Management ended relationships with Quest Diagnostics. The abrupt break happened after the provider released a backlog of nearly 75,000 previously unreported test results, some dating as far back as April. Various Quest sites around the state have delivered about 1 million of the COVID-19 6.3 million diagnostic tests completed in Florida. The data dump came about a month after another provider, Niznik Lab Corp., in a single day sent in more than 4,000 reports. State law requires all test providers to report results to the state in a timely manner.
Ingram departs state teachers' union — Florida Education Association President Fedrick Ingram stepped down Tuesday to take a post as secretary-treasurer of the American Federation of Teachers. That will require a move on Ingram's part to Washington, D.C., where for the first time a Florida teacher will move into one of the top three positions for the national teacher organization. Ingram was elected two years ago as president of the Florida teachers' union, defeating prior FEA JoAnne McCall. Vice President Andrew Spar will now take over as president of the Florida organization while Secretary-Treasurer Carole Gauronskas moves into the vice president post.
SAT, ACT Bright Futures deadline extended — Students who graduated in the 2019-20 school year have until Dec. 1 to meet the minimum qualifying score for Bright Futures scholarship. Gov. DeSantis extended the deadline after SAT and ACT testing dates were canceled nationwide because of COVID-19. The deadline to qualify for the state scholarship programs had previously been extended to July 31. Scores can determine the percentage of tuition costs that will be covered by the state for Florida graduates attending higher education in the state. The Governor's order also suspends rules applying to the Gold Seal Vocational Scholars award and Postsecondary Education Readiness tests.
Coronavirus numbers
Positive cases:
— 633,060 FL residents (+23,986 since Aug. 28)
— 7,151 Non-FL residents (+419 since Aug. 28)
Origin:
— 4,892 Travel related
— 213,072 Contact with a confirmed case
— 5,196 Both
— 409,900 Under investigation
Hospitalizations:
— 39,667 in FL
Deaths:
— 11,903 in FL
Florida Preparedness Month
September is Florida Preparedness Month, as declared by DeSantis and Division of Emergency Management Director Jared Moskowitz.
The month highlights the need for Florida residents and visitors to prepare for natural and human-made hazards.
"Ensuring every Floridian prepares for disasters is incredibly important," DeSantis said. "As we continue through a very active hurricane season, I encourage all residents and visitors to gather seven days of critical supplies and make a plan."
The hurricane season lasts until Nov. 30, and DEM encourages every family and business to develop their disaster plans. Both should keep a stocked disaster supply kit with enough supplies to last at least seven days.
"As we continue to respond to COVID-19 during the peak of hurricane season, it is more important than ever before for Floridians to prepare for all disasters," Moskowitz said. "During this active hurricane season, I urge everyone to have at least seven days of supplies and to know their zone and know their home. If a hurricane impacts our state, we need every Floridian to be ready and have a plan."
The state recognizes Florida Preparedness Month alongside National Preparedness Month, which the Federal Emergency Management Agency's "Ready" Campaign observes every September.
"This year is especially important for Floridians to prepare and have a plan in place as we are still dealing with the effects of COVID-19," Chief Financial Officer Jimmy Patronis said in a separate statement. "We are currently in the peak of hurricane season and experts have predicted a historically active season, so now is the time to prepare if you have not done so already."
Help is a call away
The Governor and First Lady Casey DeSantis announced the launch of the MyFloridaMyFamily website, which will help connect families in need with community organizations and faith institutions.
"We strongly encourage Florida families who have been affected by this pandemic and need rental or mortgage assistance to reach out to housing offices within their local governments for more information on how they might receive assistance," said Ron DeSantis. "As we continue to implement additional funding resources, our work with Florida Housing aims to alleviate some of the stress we know individuals are facing as a result of COVID-19."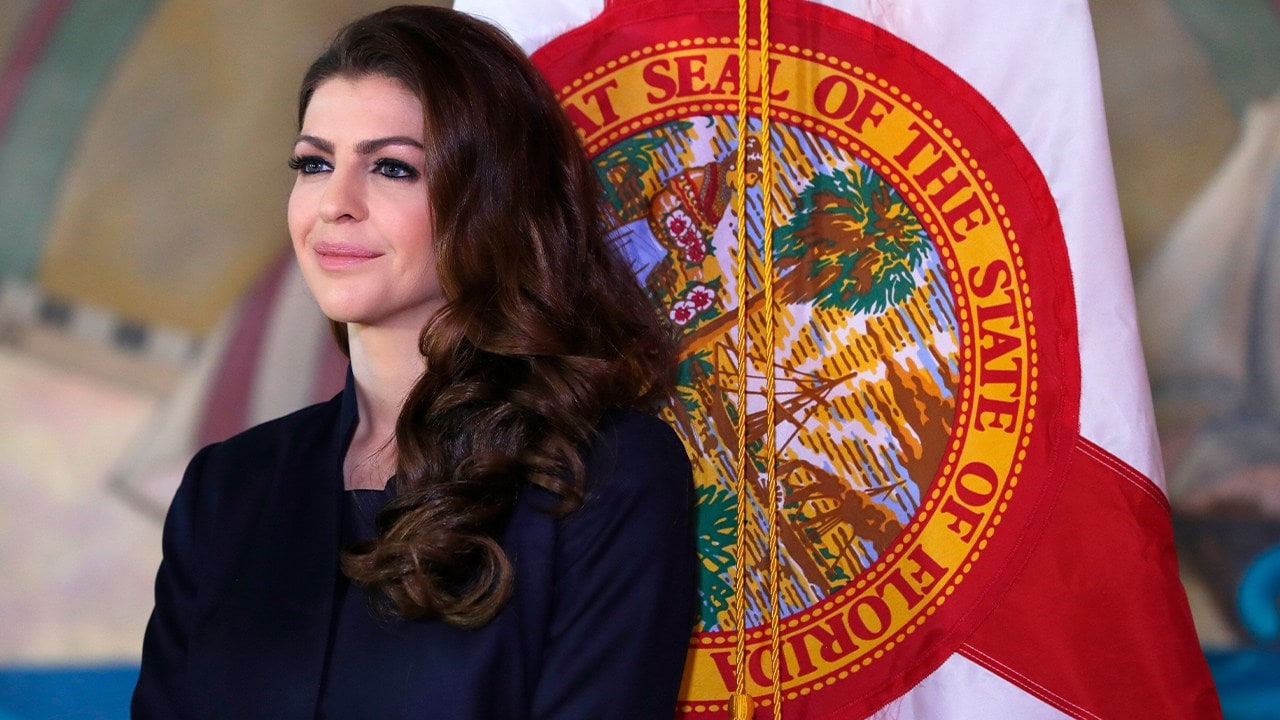 The website later this month will start directing visitors to Florida's Foster Information Center. The FFIC is a hotline staffed with current and former foster parents who can help answer questions and provide more detail about fostering.
There are about 23,000 Florida children who are currently in out-of-home care.
"As a mother of three young children, I want Florida families to be able to get the help they need quickly, and most importantly, without facing seemingly endless obstacles," Casey DeSantis said. "MyFloridaMyFamily allows for just that, and eventually, through Florida's Foster Information Center, it will enable prospective foster parents to hear firsthand testimony about the rewards and challenges of taking on this life-changing responsibility."
Department of Children and Families Secretary Chad Poppell added, "MyFloridaMyFamily is the product of a lot of thoughtful collaboration, and it's the long-overdue fulfillment of a pretty obvious need. I'm grateful to the Governor and his team, as well as the First Lady, for getting this project off the ground so we can better serve Florida families and help more children find stable, loving homes."
Housing help
The Florida Housing Finance Corporation Board of Directors approved this week the remaining $45 million of the $120 million CARES Act package for COVID-19 rental and mortgage assistance.
The additional funds were previously approved to help tenants living in multifamily and special needs developments.
"We strongly encourage Florida families who have been affected by this pandemic and need rental or mortgage assistance to reach out to housing offices within their local governments for more information on how they might receive assistance," DeSantis said. "As we continue to implement additional funding resources, our work with Florida Housing aims to alleviate some of the stress we know individuals are facing as a result of COVID-19."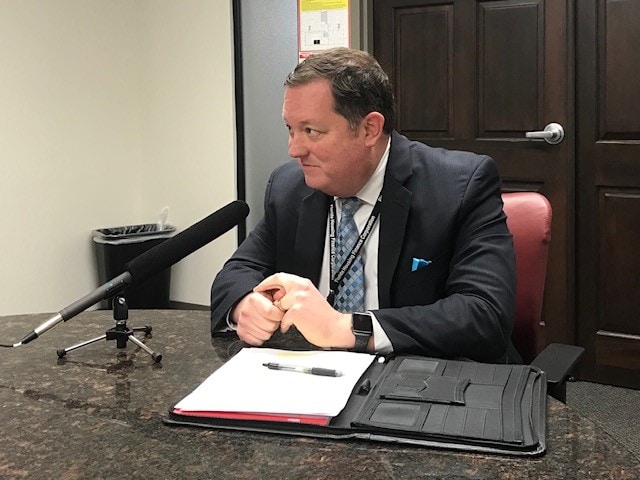 The approval comes after DeSantis and Florida Housing were first awarded $250 million in June to assist Floridians impacted by COVID-19 with rent and mortgage payment.
Since then, over 80% of local governments have signed funding agreements and begun providing assistance to those impacted by the COVID-19 pandemic.
"We are thrilled to offer these programs that will be able to assist Floridians," said Executive Director of Florida Housing Finance Corporation Executive Director Trey Price. "We hope property owners and local governments will use these resources to ensure all Florida residents can remain in their homes, especially during this difficult time."
'Project Save Lives'
Attorney General Ashley Moody presented a resolution this week to Project Save Lives to recognize Aug. 31 as International Overdose Awareness Day.
The resolution was signed by Gov. DeSantis and the Florida Cabinet.
"I am honored to sponsor this important resolution bringing awareness to the opioid epidemic that took nearly 68,000 lives in 2018 alone," Moody said. "As Florida's Attorney General and the Chair of the Statewide Task Force on Opioid Abuse, I'm working tirelessly to combat this deadly crisis, and I have remained steadfast in my commitment to provide information, resources and support for all of those affected by drug abuse. With new data suggesting a spike in overdoses as a result of the COVID-19 pandemic, we must remain vigilant in our fight."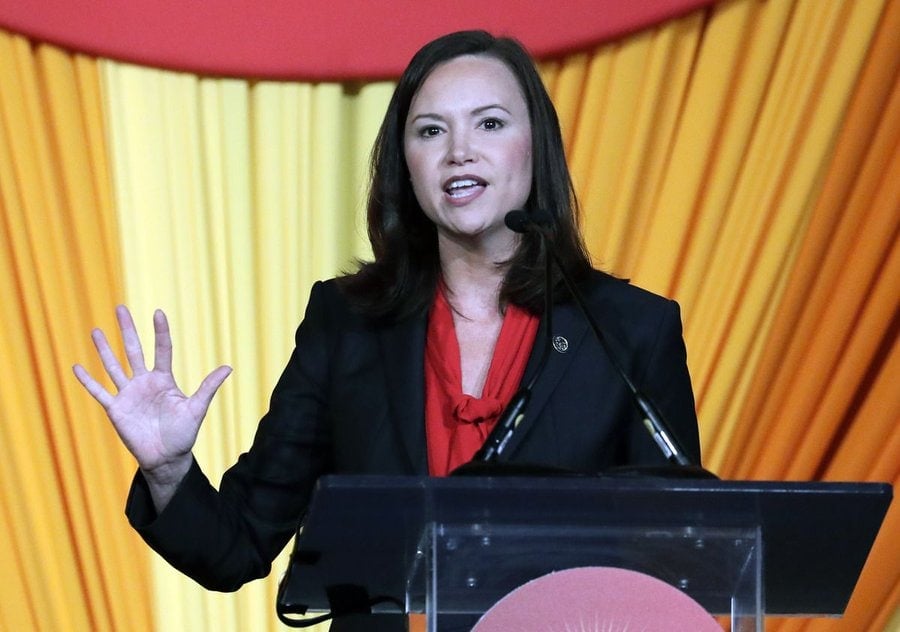 Project Save Lives is a Duval County program that coordinates treatment for opioid addiction and misuse.
Moody said she is grateful for the program and its data-proven results.
"They have been a beacon of hope to many who suffer from addiction and have made a great impact in helping people get on the road to recovery," Moody said. "It is an honor to present them with this resolution today."
Treasure trove
Chief Financial Officer Patronis announced this week that more than $39 million in unclaimed property was returned to Floridians in August, making it the second-highest month ever.
"My Division of Unclaimed Property has been steadfast in their commitment to return as much money as possible back to Floridians in 2020, and I'm extremely pleased that in the past two months we have reached our two highest months ever in returns," Patronis said. "We have now returned more than $190 million since the COVID-19 pandemic began directly impacting the lives, jobs and businesses of Floridians in March."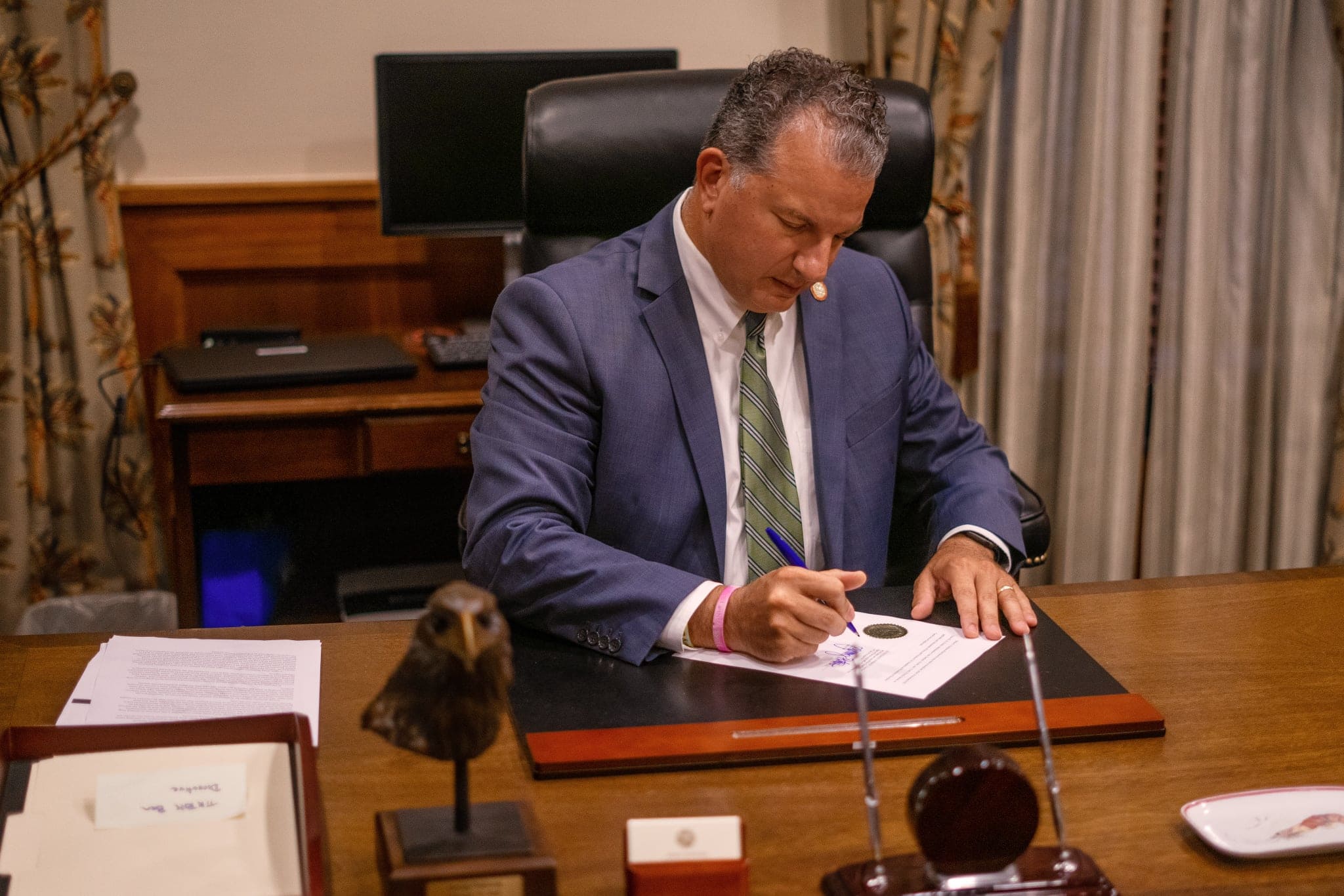 The $39 million is second highest to the July 2020 record, when $42.9 million was returned.
More than $1 billion has been returned to Floridians in Unclaimed Property since Patronis took office.
"This news is critical as we are continuing to deal with the economic impacts of COVID-19, and as your CFO, I will do everything I can to financially help Floridians get through these tough times," Patronis added. "I encourage all Floridians to search now for unclaimed property at FLTreasureHunt.gov."
Unclaimed Property is a financial asset that is unknown or lost, or has been left inactive, unclaimed or abandoned by its owner.
More meals
Agriculture Commissioner Nikki Fried applauded a recent decision Tuesday by the U.S. Department of Agriculture to provide free meals to school kids through the end of 2020.
"As we continue navigating the COVID-19 pandemic, it's crucial that we continue to prioritize fighting food insecurity among students, and that means making sure Florida's children aren't wondering where their next meal will come from," Fried said. "We're grateful that the USDA has extended these waivers, allowing summer meal program operators to continue providing healthy, nutritious meal options for students. FDACS remains focused on supporting Florida's students and families — we will get through these challenging times together."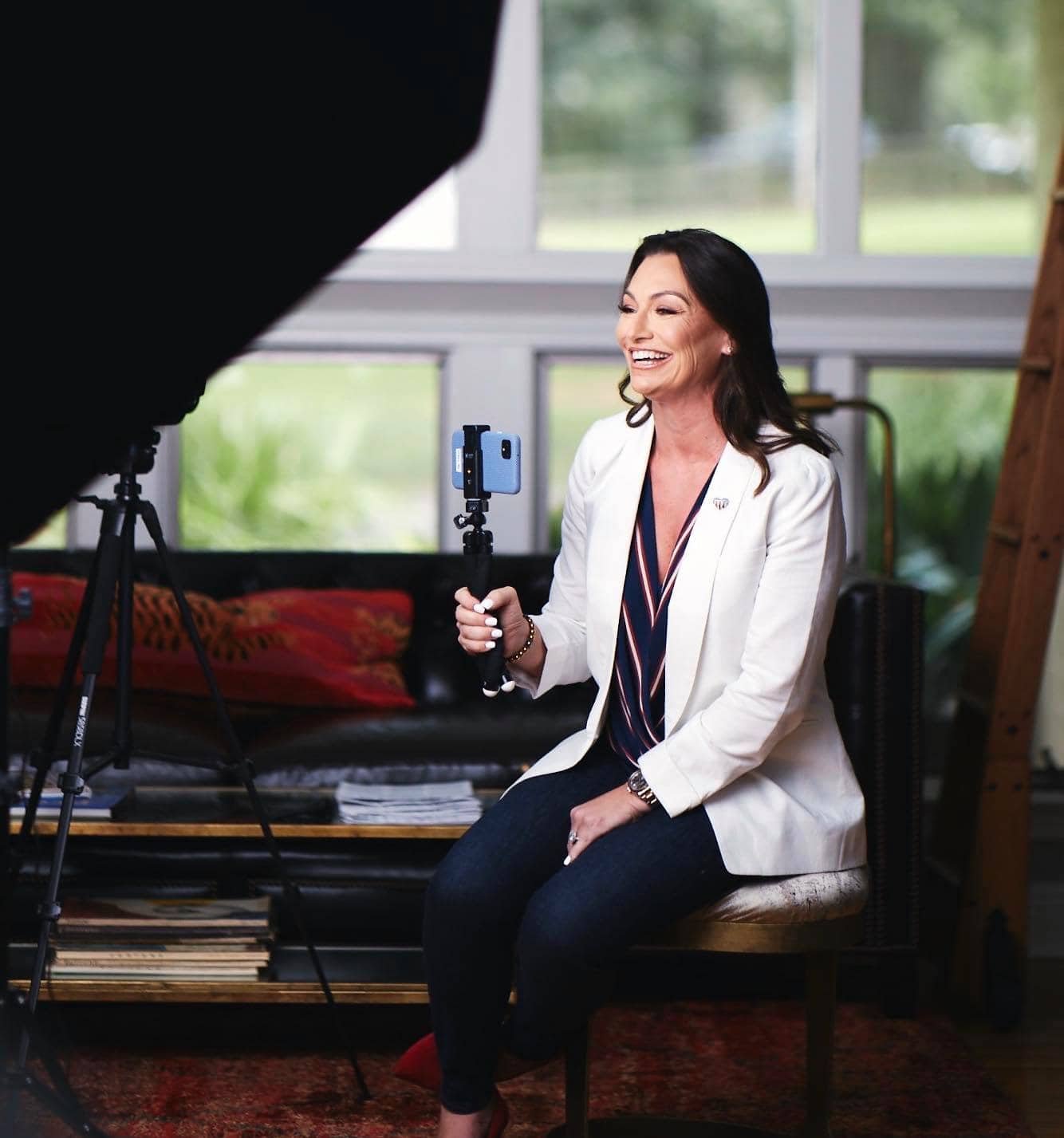 In a news release, Fried said the Summer Food Service Program (SFSP) and Seamless Summer Option will now allow free meals to be picked up for children by parents and guardians. The release also said meals can be served outside of the typically required group settings and mealtimes.
The programs, known collectively as Summer BreakSpot, were launched in response to COVID-19 related school closures. The programs have served 59,247,081 meals at 3,775 sites in Florida from March to June.
FDACS' Division of Food, Nutrition and Wellness receives $1.3 billion in federal funds to administer Florida's school lunch program.
Check the list
Fried urged Floridians this week to verify new disinfectant products claiming to be effective against COVID-19.
"With an abundance of new products flooding our shelves and online marketplaces during this pandemic, it's important that consumers and businesses do their homework before purchasing disinfectant products," she said. "While many disinfectants are effective against COVID-19, others are not and can be harmful if misused. Consumers should verify that the product they're purchasing is registered with the EPA and FDACS and is proven to be effective."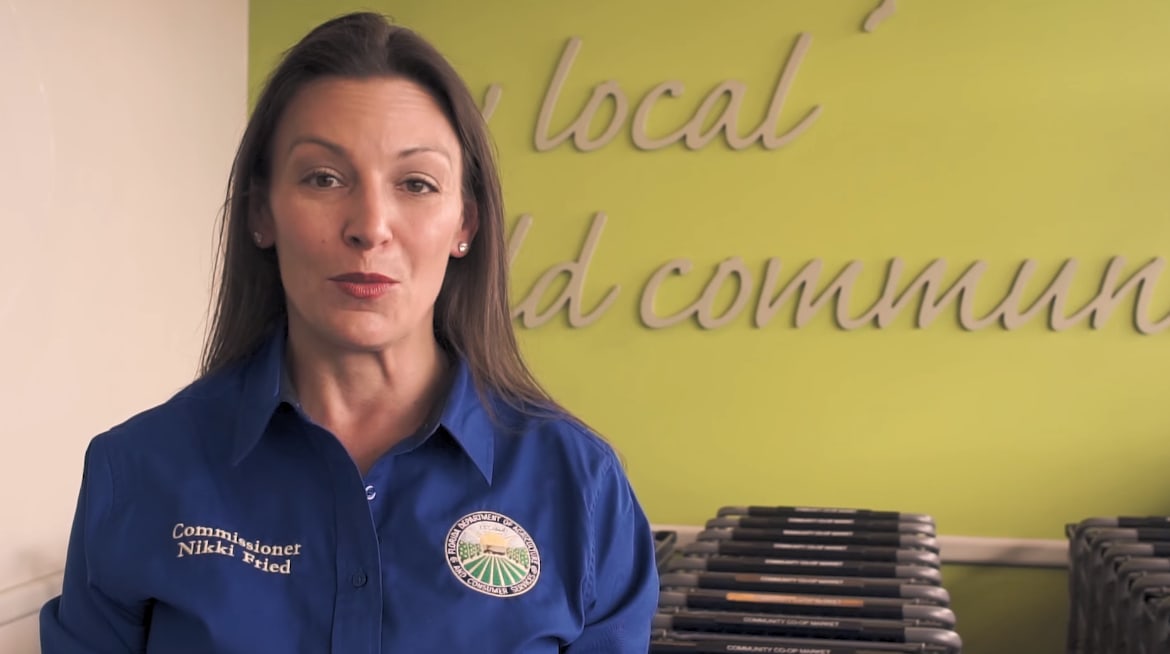 Fried added that consumers, when purchasing a disinfectant, should choose products that qualify for use against SARS-CoV-2, the virus that cases COVID-19. She also encouraged businesses and consumers to review the Environmental Protection Agency's list of EPA-registered disinfectant products. All products on the list meet the EPA's criteria for use against COVID-19.
The EPA added that consumers should follow the manufacturer instructions for all cleaning and disinfection products. In particular, consumers should read the product label for the correct concentration, application method, and contact time.
Grand reopening
Fried also announced the Sept. 8 reopening of a regional licensing office in North Port, Sarasota County.
The North Port regional office will feature safety precautions such as Plexiglass barriers, mask requirements and appointment-only services.
"Despite the serious challenges posed by COVID-19, our department has been committed to serving Floridians throughout the pandemic," Fried said. "Following the reopening of our North Port and Tallahassee regional offices with enhanced safety measures, we are continuing with a cautious, science-based reopening plan, which includes evaluating regional and county-level COVID-19 data as we consider additional office openings. Meanwhile, the vast majority of our services have remained available throughout this crisis."
FDACS closed nine regional offices on March 19 out of COVID-19 concerns. The first FDACS office to reopen was in Tallahassee on June 15.
"As we continue to reopen, public safety remains our top priority — that's why we will continue to operate by appointment only in order to safely accommodate as many customers as possible," said FDACS Division of Licensing Director Steve Hurm. "We're excited to reopen the North Port office to the community and we're looking closely at when and where we can safely continue reopening."
Instagram of the week
The week in appointments
Department of Economic Opportunity — DeSantis on Wednesday appointed Rep. Eagle as executive director of DEO. The appointment came two days after Ken Lawson resigned from the post. Eagle, a Fort Myers Republican, has served in the House since 2012 and was Majority Leader for the past two Legislative Sessions. He is an alumnus of the University of Florida, where he earned an undergraduate degree in economics. Outside of the Legislature, he has worked as a commercial real estate broker.
Hispanic Heritage Month
First Lady DeSantis unveiled this week the theme for Hispanic Heritage Month and gave details on several education contests for students.
The month's theme will be "Celebrating Untold Stories and Contributions of Hispanic Americans in Florida" and students will have the opportunity to enter an essay or art contest.
"This year's theme encourages students to take a deeper look into the local leaders, innovators and community members who have contributed to Florida's successful history and bright future," DeSantis said.
The art contest is open to all K-3 Florida students. Each student will submit original, two-dimensional artwork based on this year's theme. Two winners will be selected.
To watch a video of the announcement, click on the image below:
The essay contest is open to fourth through twelfth grade Florida students. Students will submit a 500-word essay on this year's theme and a winner will be chosen from elementary, middle and high school. Each winner will receive each 4-year Florida College Plan Scholarship.
Full-time educators can also be nominated for the Excellence in Education Award. Three winners will be selected for the award, one from elementary, middle and high school. Nominations can be submitted by a principal, teacher, parent or student.
Nomination details can be found online.
Rural grants ready
This week, the Department of Management Services announced the deadlines to apply for funding to install and maintain Enhanced 911 systems.
All counties are eligible to apply for funding through the E911 State Grant Program, and counties with populations of less than 75,000 are eligible to apply for additional funding through the Rural County Grant Program.
"Under Gov. DeSantis' leadership, we are committed to improving interoperability among emergency communication systems across our state," DMS Secretary Jonathan Satter said. "These grants are available to all Florida counties — including additional assistance to our rural communities — to continue investing in a safer Florida."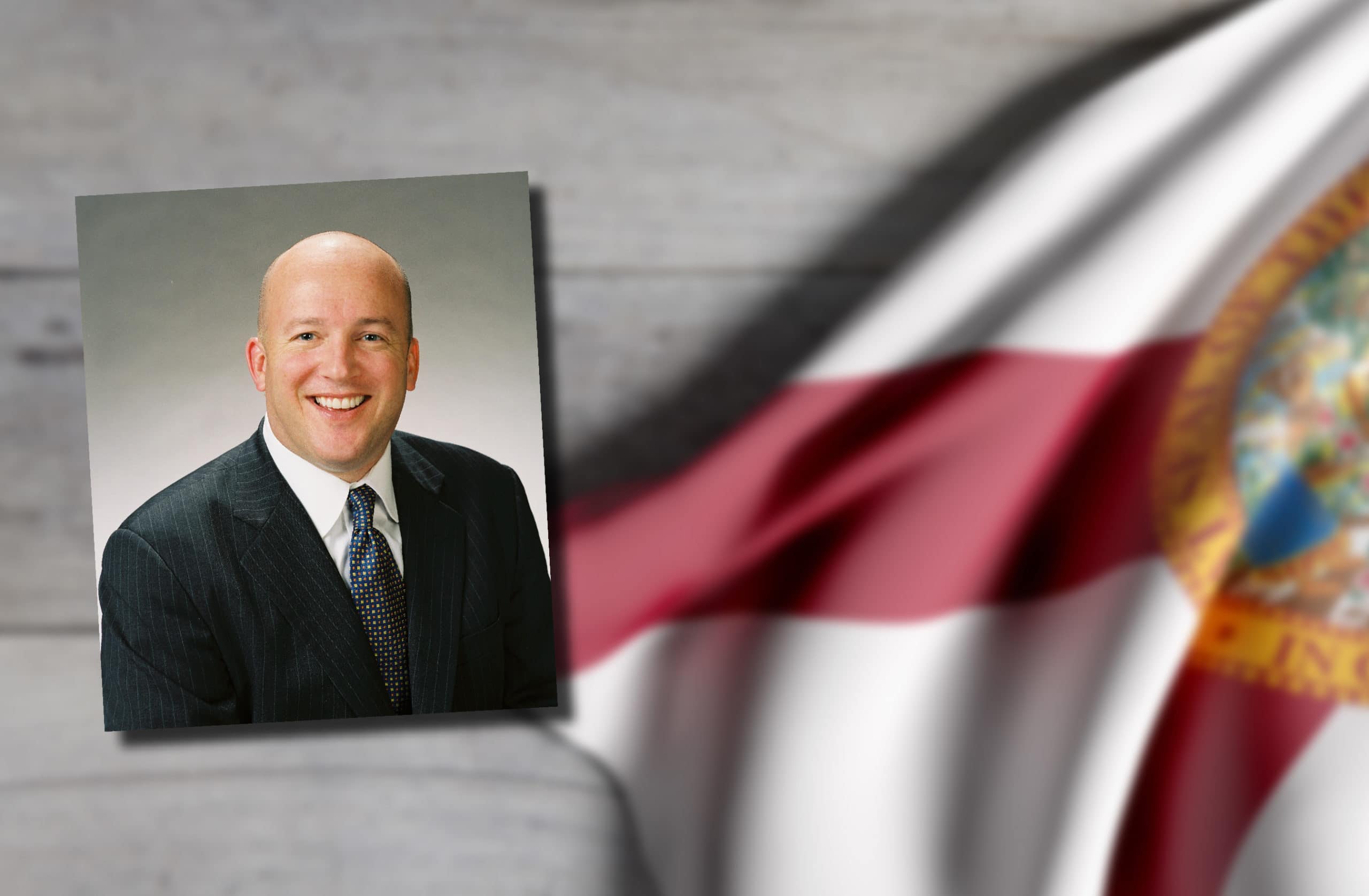 Counties have until Tuesday to submit their applications for E911 State Grant Program funding. Rural counties have until Oct. 1 to apply for funding through the Rural County Grant Program. Application instructions and submissions as well as information on past grant recipients is available on the DMS website.
DMS said that since January, more than $5.3 million has been awarded to 33 Florida counties, including 25 rural counties, to advance public safety in Florida.
Rebuild Florida
The Department of Economic Opportunity is making $111.5 million available through Rebuild Florida for communities impacted by Hurricane Michael.
State agencies and local governments within the federal and state Most Impacted and Distressed areas are eligible to apply for funding. School districts, nonprofit or not for profit organizations and non-governmental organizations have until Nov. 30 at 5 p.m. to apply.
Bay, Calhoun, Franklin, Gadsden, Gulf, Jackson, Liberty, Wakulla and Washington counties are the federally designated counties while Holmes, Leon and Taylor counties have been designated by the state.
The Rebuild Florida General Infrastructure Repair Program provides funding for local governments to rebuild and harden infrastructure to prevent or reduce losses from future disasters.
The U.S. Department of Housing and Urban Development's Community Development Block Grant-Disaster Recovery program has allocated $223 million to Rebuild Florida. The program will be implemented in two cycles with the second half being dispersed at a later date.
The minimum amount of funding for each project is $250,000 and it does not require local governments to match the funding.
DEO will host a webinar on Sept. 17 to provide potential applicants with additional information about the repair program.
Grand juries resume
For the first time in six months, grand juries convened in person this week in the 2nd Judicial Circuit.
Weeks of planning and coordination between court personnel, the State Attorney's Office, the Clerk of Court, Leon County government and the Leon County Sheriff's Office allowed the return.
The court gave potential jurors masks, gloves, and sanitizer, if needed. Potential jurors also went through temperature checks and screenings, and some possible jurors were denied entry and sent home.
2nd Circuit Trial Court Administrator Grant Slayden said the prospective jurors were staged in seven courtrooms throughout the Leon County Courthouse to allow for appropriate social distancing.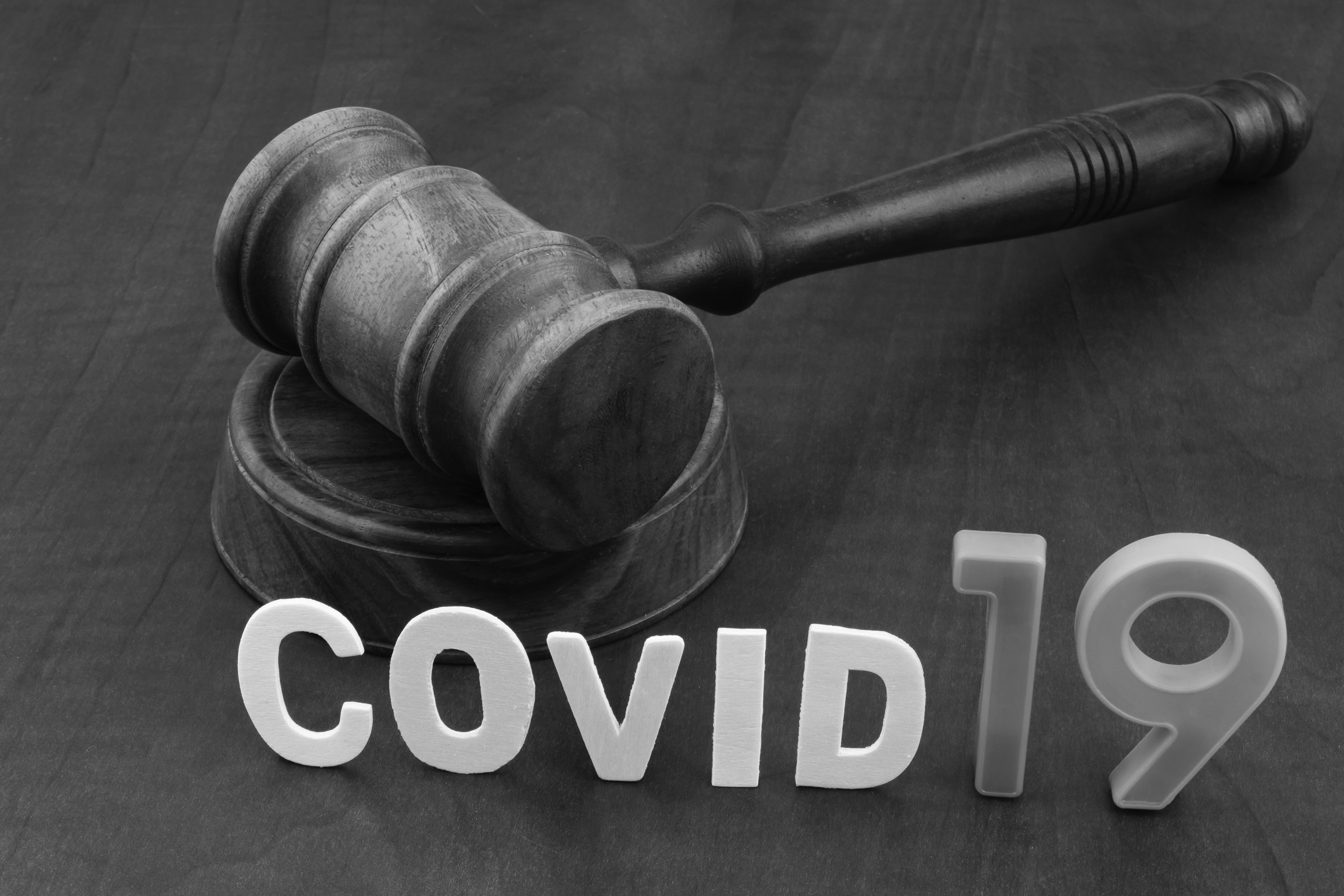 "Data concerning the public health emergency has convinced us that it is prudent to recommence limited in-person proceedings beginning with the grand jury," Slayden told the Tallahassee Democrat. "We have taken precautions to protect the health of prospective jurors, to comply with directives of the Centers for Disease Control, Florida Department of Health and the Florida Supreme Court."
Grand juries do not determine innocence or guilt but instead begin criminal prosecutions. The state presents a grand jury, composed of 15 to 21 members, evidence to determine if probable cause exists that the accused committed a crime.
Members usually meet intermittently for five or six months.
Criminal jury trials have been held or begun in Flagler and Bradford counties. Civil trials have been conducted in Miami and Jacksonville using remote technology.
Give them space
If you're beach-bound this holiday weekend, watch your step.
The Florida Fish and Wildlife Conservation Commission this week reminded Floridians that nesting season for sea turtles began in March runs through the end of October.
Ensuring baby sea turtles make it to the ocean is no harder than social distancing. Don't touch or otherwise interfere with them, just stand back and give them space. Nature will take care of the rest.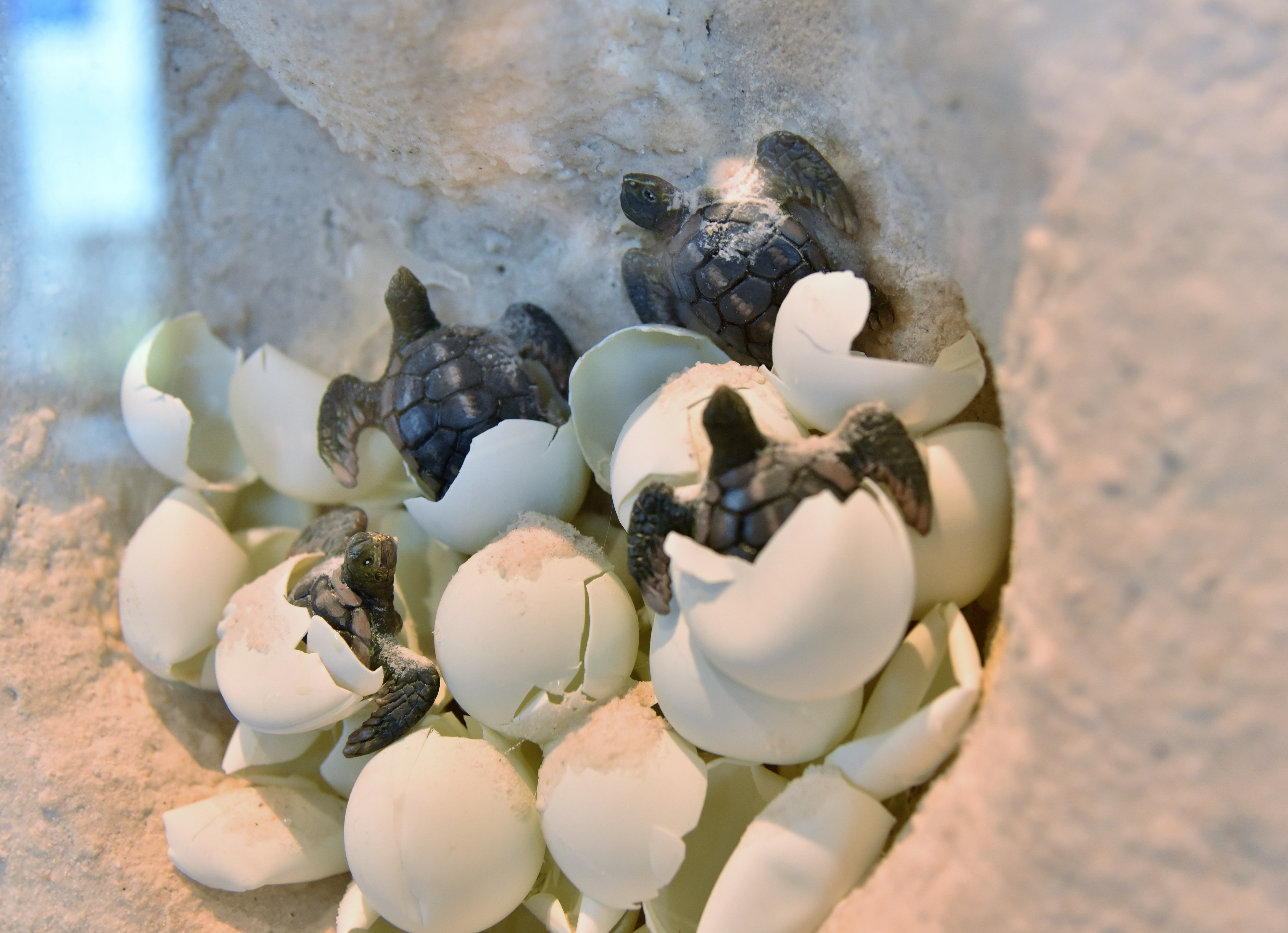 FWC also implores beachgoers to clean up after themselves. Beach furniture, canopies, boats and toys left behind on the sand can become obstacles that block nesting and hatchling turtles. Fill in any holes dug in the sand, too, as they can trap turtles.
And while it may be tempting to whip out your smartphone and snap a photo or video of their march into the ocean, sea turtles are sensitive to light and if a flash goes off it could disorient them and cause them to crawl away from the ocean.
"Interfering with a sea turtle hatchling's trek to the ocean can have fatal consequences. It's very important to leave them undisturbed," FWC sea turtle biologist Robbin Trindell said.
"By keeping beaches dark and giving sea turtles space, we can make sure that our children and grandchildren can also enjoy watching them make this amazing journey."
Don't drive drowsy
The Florida Department of Highway Safety and Motor Vehicles is reminding drivers to get adequate rest before hitting the road with its Drowsy Driving Prevention Week campaign.
The campaign — in partnership with the Department of Transportation, Florida Sheriffs Association, Florida Police Chiefs Association, Florida Trucking Association and AAA — asks motorists to get rest, take breaks and never drive drowsy. The campaign ends Monday.
"Getting adequate rest before getting behind the wheel is the best way to drive safely," said FLHSMV Executive Director Terry Rhodes. "Drowsy Driving Prevention Week is a sobering reminder that falling asleep at the wheel has deadly consequences and is preventable. We urge all motorists to take responsibility and never drive drowsy."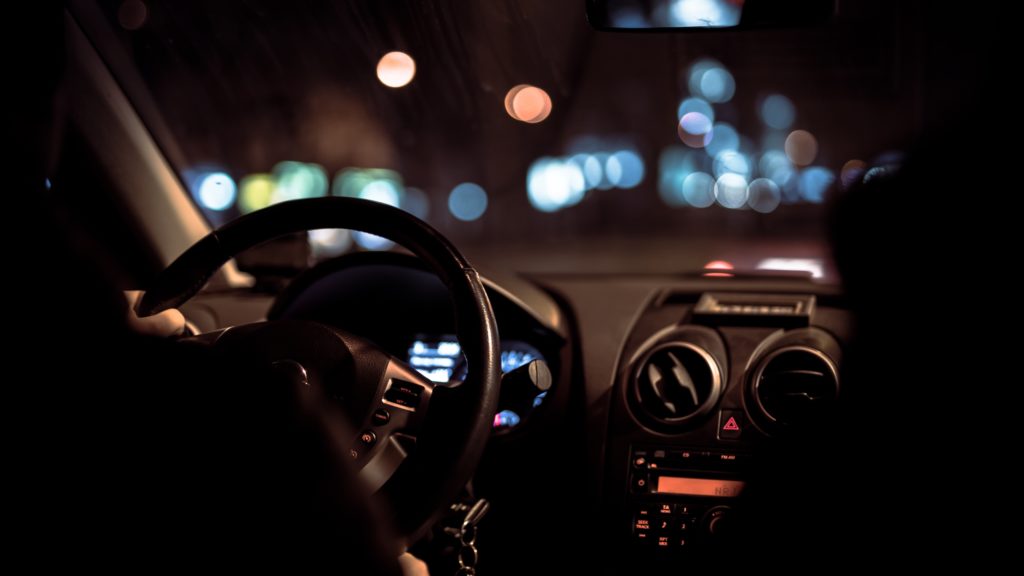 With the campaign, the department is urging drivers to safely pull off the road and take a break if they are having difficulty focusing, yawning repeatedly or drifting into other lanes. Fatigue slows thought processes and reaction time, affects judgment and vision, impairs the senses and abilities. It also can cause drivers to nod off or fall asleep uncontrollably, making it dangerous to drive.
"Drowsy driving can be just as deadly as driving impaired or texting while driving," said Colonel Gene Spaulding, Director of the Florida Highway Patrol. "It is critical to take a break on long trips, pull into a rest area or seek lodging when you feel fatigued, change drivers to ensure you have adequate rest, and allow plenty of time to travel to your destination."
In 2019, there were 3,700 drowsy driving crashes in Florida. Those resulted in 224 injuries and 12 fatalities.
The Legislature created Drowsy Driving Prevention Week in 2008 in honor of Ronshay Dugans, an 8-year-old who lost her life after a cement truck driver fell asleep at the wheel and hit the school bus she was riding in.
K-12 achievement 
Education Week has ranked Florida third in the nation in K-12 achievement, according to the outlet's annual Quality Counts report.
The state earned a C grade last year and was below the national average. This year, Florida improved to a B- and was bested by only Massachusetts and New Jersey, which earned B's.
Former Gov. and Foundation for Florida's Future Founder and Chairman Jeb Bush praised the state for achieving the mark.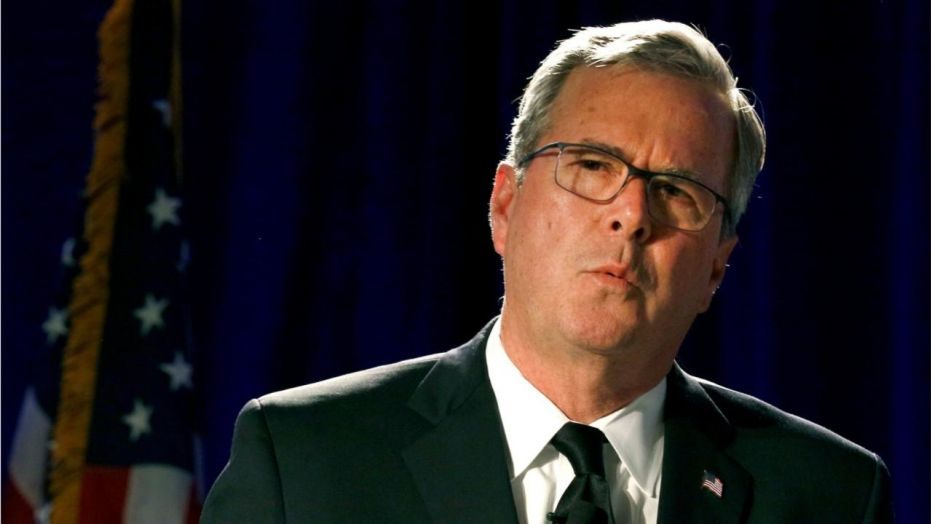 "Florida's educators, families and policymakers can be proud of their hard work and perseverance that keeps our state among the nation's leaders in education achievement and innovation," Bush said.
The former Governor, who made education a focus of his tenure, was particularly proud of Florida's rank in education equity. The Sunshine State earned an A- in that category.
"Regardless of their background, all children deserve the opportunity to learn, dream and succeed in life — and Florida works hard to ensure they do," Bush said.
The Foundation for Florida's Future works with parents, teachers and education advocates across the Sunshine State to improve the quality of education for every student.
"For more than two decades, Florida policymakers have continually shown that maintaining a focus on strong, student-centered policies provides the best opportunities for each and every child in our great state to pursue a fulfilling and rewarding life and career," Bush said.
Talent Strong Florida
On the cusp of Labor Day, with Florida struggling under the highest unemployment in the state's history due to the COVID pandemic, The Florida College Access Network (FCAN) and its local partners launched a statewide campaign to promote post-high school education for learners of all ages.
Known as "Talent Strong Florida," the program aims to raise awareness and build a strong consensus around the need for education beyond high school for all Floridians and knock down the barriers that contribute to educational attainment gaps for lower-income Floridians and people of color.
The program touts the benefits of traditional four-year college degrees as well as associate degrees, high-quality certificate programs and technical training, such as giving Florida workers better job security during economic downturns such as the current coronavirus-induced recession.
"Florida has an opportunity to build a resilient, recession-proof economy that can withstand the current pandemic and any future crisis that Florida might face," said Charleita M. Richardson, FCAN executive director. "Past recessions have taught us that Floridians who only have a high school education are hit harder by job losses than those with more education, and most new jobs require degrees and credentials beyond high school. Creating a path for all Floridians to access higher education and training can accelerate Florida's recovery and put more Florida families on the path to economic mobility."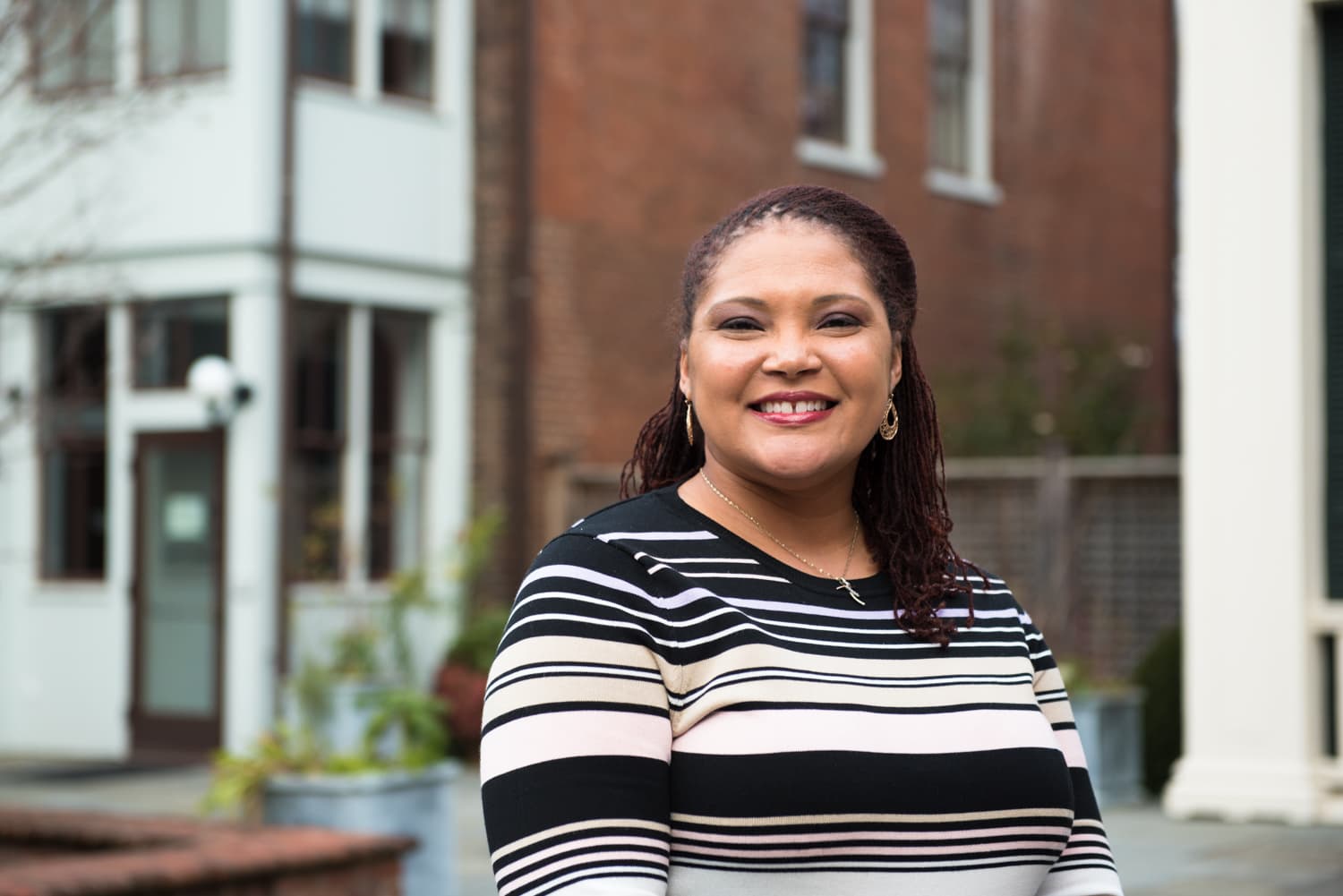 Talent Strong Florida supports the state's SAIL to 60 initiative, a statutory goal to increase the percentage of working-age Floridians with a high-value postsecondary certificate, degree or training experience to 60% by 2030. Currently, 52% of Florida's working-age population holds a college degree or workforce credential.
Floridians with bachelor's degrees earn twice as much or more than those who only have a high school diploma, Richardson said. That's depressed earnings for Black and Hispanic Floridians, who are less likely to earn a degree — nonwhite Floridians make up bigger portions of Florida's low-income population, and only 10% of low-income students complete a degree by age 25.
'Circle of Excellence'
Florida Health Care Association Chief Lobbyist Bob Asztalos was recognized recently with the Walter M. Johnson, Jr. Circle of Excellence Award.
The award is the association's highest honor. It is given annually to an FHCA member who boasts a long history of contributions to the Association.
"Bob has been an invaluable member of our team, doing so much over the years to strengthen FHCA and make sure Florida's nursing homes receive the resources they need," said FHCA Executive Director Emmett Reed. "His determination to solve problems and his unmatched negotiating skills have earned him the highest level of respect from state and national policymakers and leaders throughout the long-term care profession."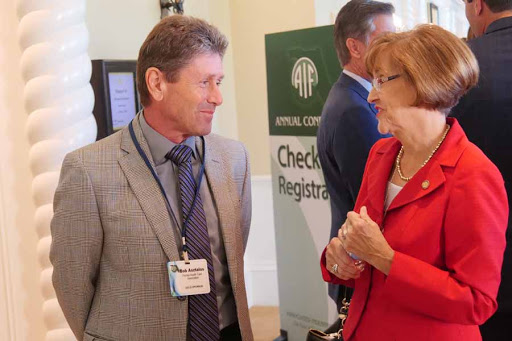 Asztalos has served with the FHCA for 30 years. In his role, the association said he's helped ensure that policies and funding are in place to help nursing homes provide care.
He has also served as the association's emergency response coordinator and he has organized supply trucks to help caregivers.
"Everyone turns to Bob for sound wisdom and advice, especially when it comes to the political landscape. His outstanding commitment to ethics and professionalism makes him trusted and admired by many," said Andrew Weisman, last year's co-recipient of the award.
Asztalos plans to retire later this fall.
Homecoming delay
The Florida State University Alumni Association has postponed 2020 Homecoming events until Spring 2021, the association said in an email.
"We know that we cannot safely gather for Homecoming in the traditional sense this fall and we do not want to do Homecoming without you — all of you," the email reads. "There is nothing like being together with fellow Seminoles recounting our FSU days and fondest memories. Those times will come again and we will be ready to welcome you back to campus when it is safe and when you feel comfortable."
The Spring 2021 lineup will feature traditional events such as the Homecoming Parade and Homecoming Chief and Princess unveiling.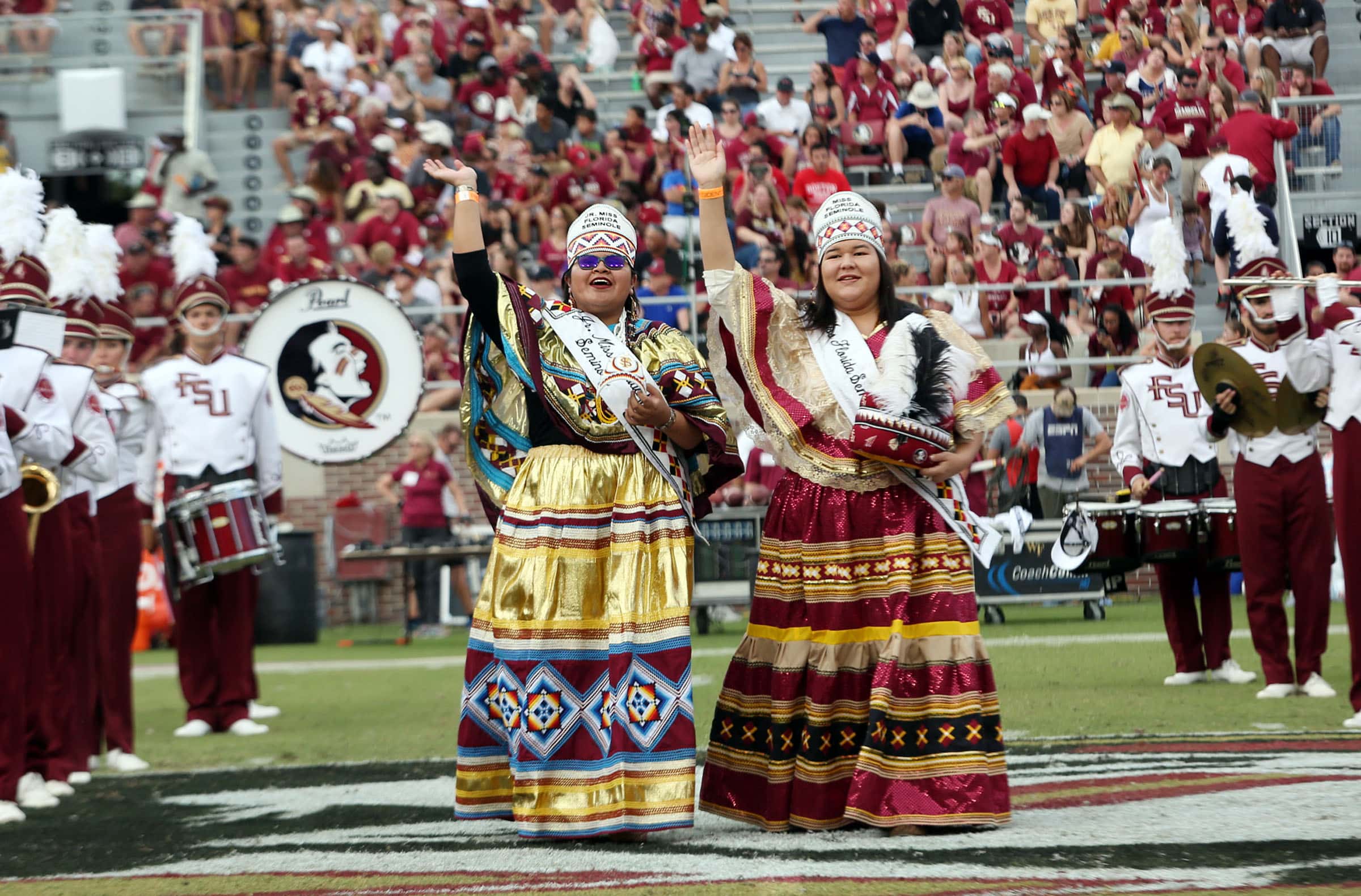 Additionally, the Alumni Association will not host any in-person events for the rest of the year.
"The priority of the FSU Alumni Association continues to be the health of our alumni, students, staff and faculty," the email said.
In lieu of in-person events, the Alumni Association has scheduled 20 virtual events. The events range from the 69th Annual Kickoff Luncheon, mixology nights and networking webinars.
The Kickoff Luncheon is scheduled for Sept. 10 and will feature remarks from FSU President John Thrasher, Head Football Coach Mike Norcell and Voice of the Seminoles Gene Deckerhoff.
A list of alumni events can be found online.
Corona Directions