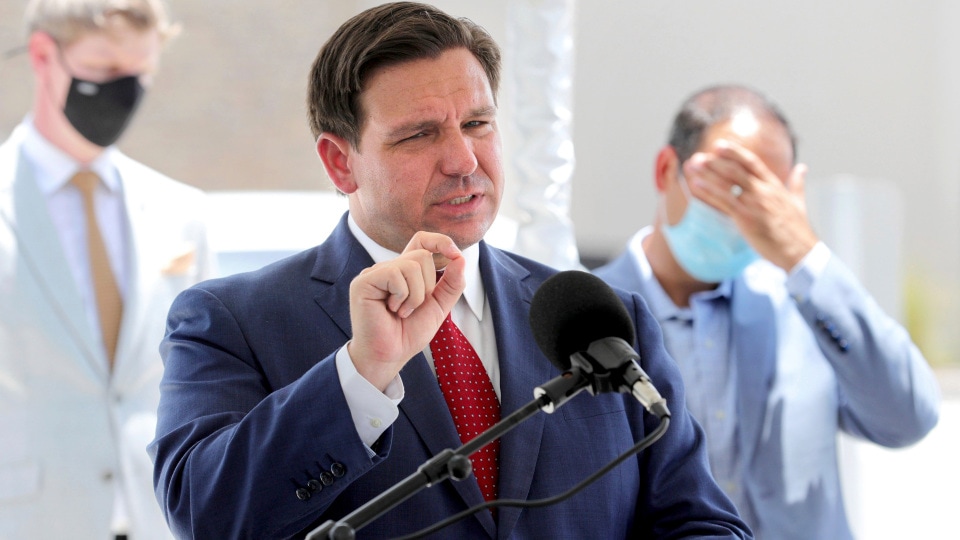 Support for his response improved 8 points from a recent low.
Approval for Gov. Ron DeSantis' COVID-19 response broke even in a poll released Wednesday, a slight recovery after ticking below 50% in recent polling.
That's according to the latest in a series of CNBC and Change Research battleground state polls released twice per month. The latest iteration saw the Governor's approval rating on the issue elevate from 48% to 50% in the last two weeks. Opposition fell from 52% to 50%.
Amid his calls in recent months to reopen schools, support for the Governor's coronavirus fell to 42% in August, the lowest level since the pollsters asked the same question in mid-April. In that first poll, he also recorded 42% support.
DeSantis' recent low appears to have mostly recovered.
The survey took results from likely 2020 voters Sept. 18-20. Between that survey and the previous one Aug. 4-6, the pandemic largely continued to subside in Florida
Wednesday's poll is pollsters' 14th semimonthly survey focusing on six "States of Play" — Arizona, Florida, Michigan, North Carolina, Pennsylvania and Wisconsin — ahead of the presidential election.
Of other battleground state governors, DeSantis has repeatedly performed better than only Arizona Republican Gov. Doug Ducey, who netted 30% support in the latest poll, a decline of 7 percentage points. But for the first time in the poll's history, DeSantis snatched a spot above a second Governor, Roy Cooper of North Carolina. The Democrat recorded a 49%-51% split.
Across all six battlegrounds states, 45% of likely voters found opening schools unsafe a decline of 5 percentage points. Meanwhile, support for reopening schools increased from 36% to 42%.
However, 41% of likely voters said they would likely or probably not get a COVID-19 vaccine and 57% say they are concerned that President Donald Trump is pushing too quickly for a vaccine in order to help his reelection bid.
The pollsters also found former Vice President Joe Biden retaining his lead in Florida over Trump. For a third straight poll, Biden kept his 49% to 46% lead in Florida, but nationally increased his lead to 51%-42%
The online survey received answers from 702 likely voters in Florida and 3,018 nationally.