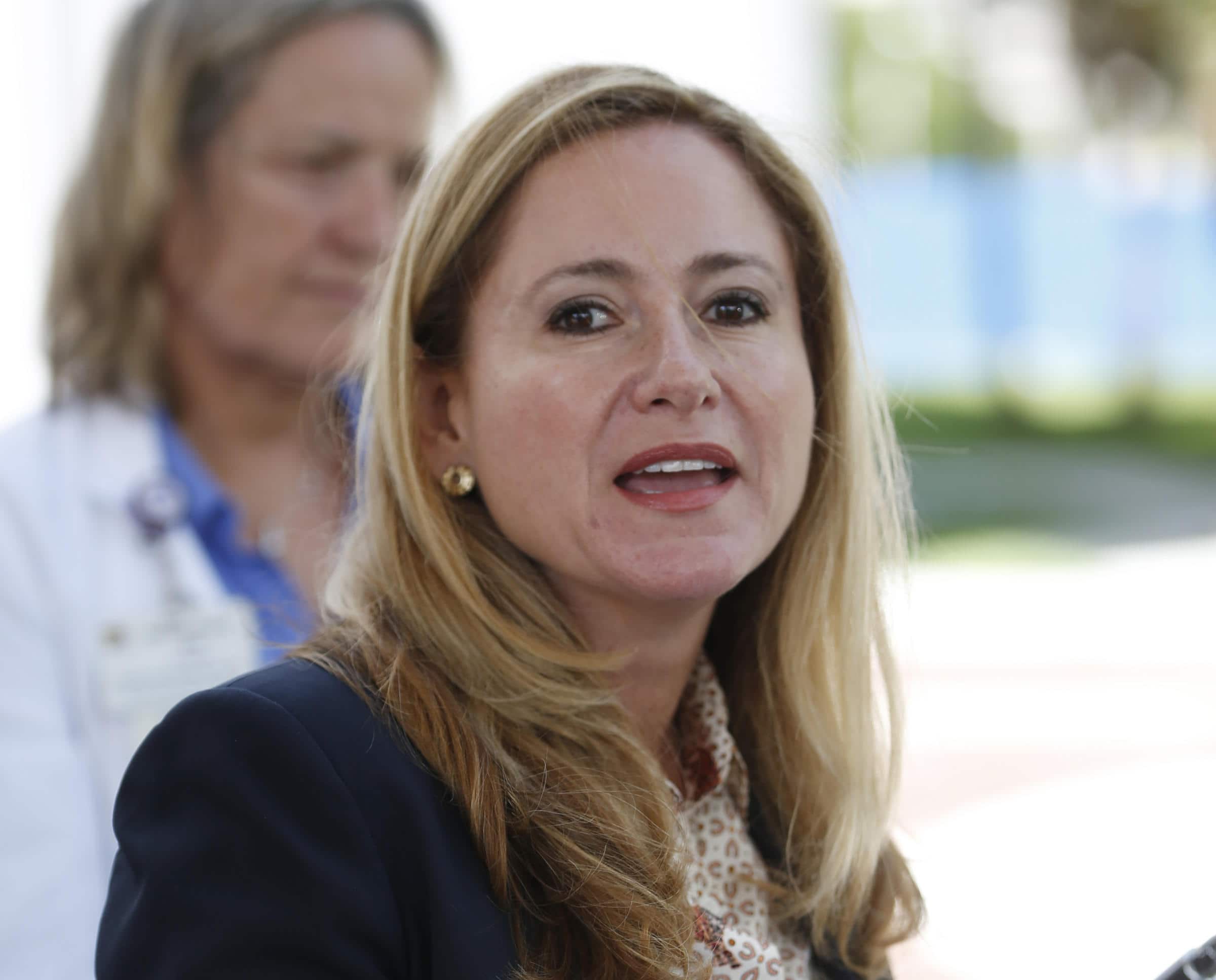 Mucarsel-Powell is defending her seat against Miami-Dade County Mayor Carlos Giménez.
The League of Conservation Voters (LCV) Victory Fund is making a big play in Florida's 26th Congressional District, committing $720,000 for ads backing Debbie Mucarsel-Powell in the election's final stretch.
The group is putting the money toward Spanish-language ads backing Mucarsel-Powell, the Democratic incumbent. She's defending her seat against Miami-Dade County Mayor Carlos Giménez, a Republican.
One of those ads began running in the Miami-Dade media market Tuesday and hits Mayor Giménez over his handling of the COVID-19 outbreak. CD 26 covers parts of Miami-Dade County as well as Monroe County.
"Our communities, infected. Our city, crumbling," the ad's narrator begins in Spanish.
"Under Carlos Giménez we have lost thousands of lives to COVID. But he gave himself a 67% pay raise and a multi-million dollar contract to a company with family ties despite its role in the tragic bridge collapse. The corrupt Carlos Giménez is harmful to Miami."
The LCV Victory Fund ad repeats a few misleading claims that have been parroted by the Mucarsel-Powell campaign and Democratic groups in previous advertisements.
The ad transitions from claims about lives lost to COVID-19 into Giménez securing a pay raise. But the Mayor negotiated that pay raise in 2018, well before the outbreak.
That raise brought his salary from $150,000 per year to $250,000 per year, though that stat alone leaves out another important detail. Upon taking office in 2012, Giménez followed through with a promise to cut the Mayor's salary in half. His predecessor earned $300,000 annually.
So while Giménez did secure a pay raise later into his tenure — and well before the coronavirus outbreak — it's still a net reduction of where the Mayor's salary sat prior to taking office.
The ad also claims Giménez gave a "multi-million dollar contract" to one of the companies behind the FIU bridge which collapsed and killed six people. That company is Munilla Construction Management (MCM). Pedro Munilla is a partner at MCM. Munilla is the cousin of the Mayor's wife, Lourdes.
Giménez did sign off on an extension of an existing contract, allowing MCM to complete work on a separate project at Miami International Airport. The extension was separately approved by the Miami-Dade County Commission as well.
The LCV's investment in the CD 26 race comes as the group announces its investment in five high-profile House races across the country. The $720,000 buy is the highest by the group in any of those races, save $1 million being poured into the race for Texas' 24th Congressional District. In that contest, however, the LCV is being assisted by the House Majority PAC.
It's not surprising the CD 26 contest has caught the LCV Victory Fund's attention. Mucarsel-Powell has called her 2020 reelection bid "one of the toughest" congressional contests in the country. Election forecasters currently see the race as a toss-up. Mucarsel-Powell won the seat in 2018 by 2 percentage points.
"Women of color are leading the fight for a more just and equitable clean energy future and our country needs to follow," said Pete Maysmith, LCV Victory Fund SVP of Campaigns.
The organization has endorsed Mucarsel-Powell after giving her a 97% approval score on environmental issues.