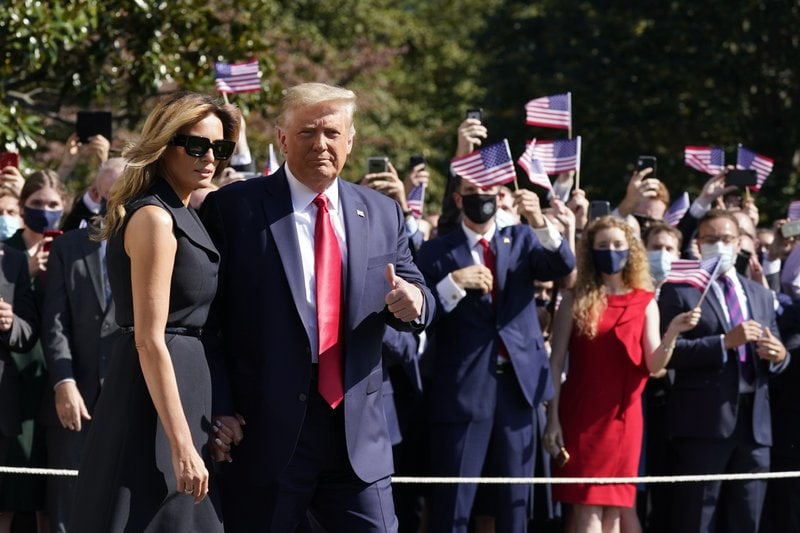 The test comes after Trump's bout with the virus, which put him in the hospital for three nights.
The White House chief of staff says President Donald Trump has tested negative for the coronavirus ahead of Thursday night's second and final presidential debate.
Mark Meadows says Trump was tested onboard Air Force One while en route to Nashville, Tennessee, and tested negative.
Biden's campaign said Thursday that he, too, was tested Thursday and tested negative.
The test comes after Trump's bout with the virus, which put him in the hospital for three nights.
Both campaigns had been required to certify that their candidates and VIP guests have tested negative ahead of the debates. But Trump and the White House have repeatedly refused to say whether Trump actually was tested before participating in the first.
Trump was diagnosed with the virus two days later.
After last month's chaotic debate, President Trump and his Democratic challenger, Joe Biden, will take the stage Thursday in Nashville, Tennessee, to give it another go.
Biden is bringing the owners of a small North Carolina restaurant to Thursday night's debate to underscore the impact President Donald Trump's handling of the coronavirus pandemic has had on average Americans.
Zweli and Leonardo Williams are set to attend the debate in Nashville, Tennessee. Campaign adviser Symone Sanders said on a press call Thursday that they are "two of the many small-business owners who have felt the economic impact of this administration's failed response" to the pandemic.
The choice highlights the significance of North Carolina, a heavily contested battleground state that could help deliver Biden a win.
Sanders also said that the "debate is a test of presidential temperament" and that regardless of whether Trump comes "for a serious discussion of this record and plans for the future, or more antics and distraction" like the first debate, Biden "will be prepared either way."
____
Republished with permission from AP News.