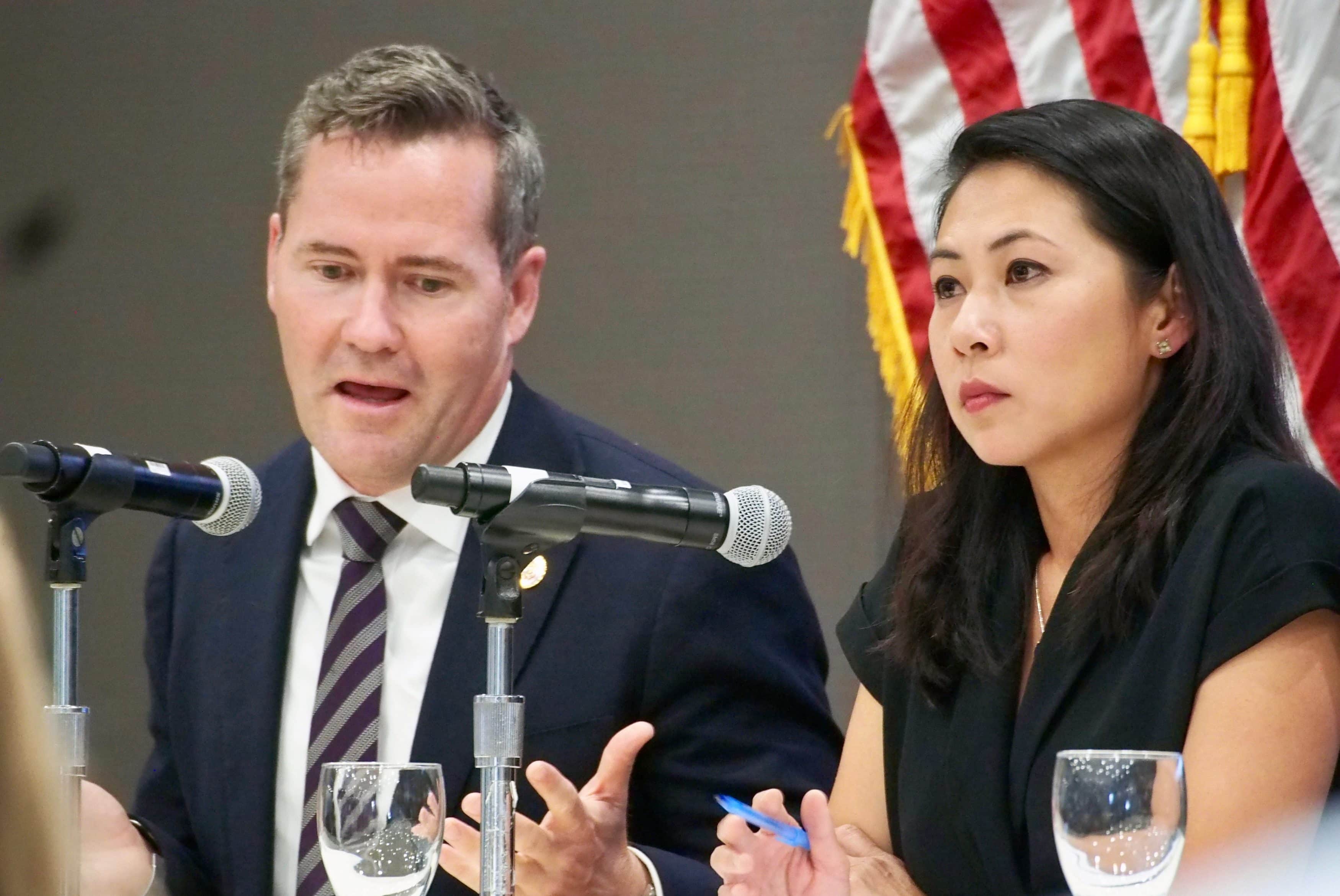 The Republican and the Democrat continue a joint effort.
Republican U.S. Rep. Michael Waltz and Democratic U.S. Rep. Stephanie Murphy are back with their bipartisan quest for national security briefings on foreign interference campaigns in American elections.
This time the duo from adjacent Central Florida districts are doing so just days before the next election, in which both are favored to win reelection.
This time they're raising alarm and wanting information after fresh FBI reports that Russia and Iran are both playing dirty in American campaigns as the Nov. 3 election already is underway in early and vote-by-mail voting. Voters in Waltz's district received threatening emails, masquerading as threats from the alt-right Proud Boys group, which the FBI indicated had originated in Iran.
The pair cosigned a letter to FBI Director Christopher Wray, National Intelligence Director John Ratcliffe, and Attorney General Bill Barr requesting an official, classified briefing on Russian and Iranian interference in the 2020 election for Florida's congressional delegation.
Murphy and Waltz both have national security backgrounds. They previously teamed up on elections security issues after Russian hackers accessed two Florida counties' voter information in 2016. Their bipartisan ALERTS Act would require public notification when voters' information is hacked.

Murphy and Waltz led an effort in May 2019 to get Florida's congressional delegation briefed on the interference by Russia.  Both of them have remained active in pursuing elections safeguards and pursuing follow-up concerns about the potentials for foreign interference.
On Nov. 3, Waltz faces Democratic challenger Clint Curtis for Florida's 6th Congressional District covering northeast Central Florida. Murphy faces Republican challenger Leo Valentin for Florida's 7th Congressional District just south of there.
"This request is in direct response to reporting from your offices yesterday, October 21, 2020, that Iran and Russia have targeted voter registration data, including in the State of Florida. According to multiple County Supervisor of Elections in Florida, 'spoofing,' or threatening emails have been sent to registered voters in Flagler County, Brevard County and Alachua County," they state in the letter.
"We understand the U.S. intelligence community believes foreign adversaries will take additional steps in the coming days to interfere in the election," their letter continues. "It is well-established that a favored tactic of autocratic governments is to use cyber-tools to chisel away at the foundation of a democracy, the free and fair election. It is also clear that Florida is a target of these efforts. Florida's election infrastructure was specifically — and successfully — targeted by Russia in connection with the 2016 election."