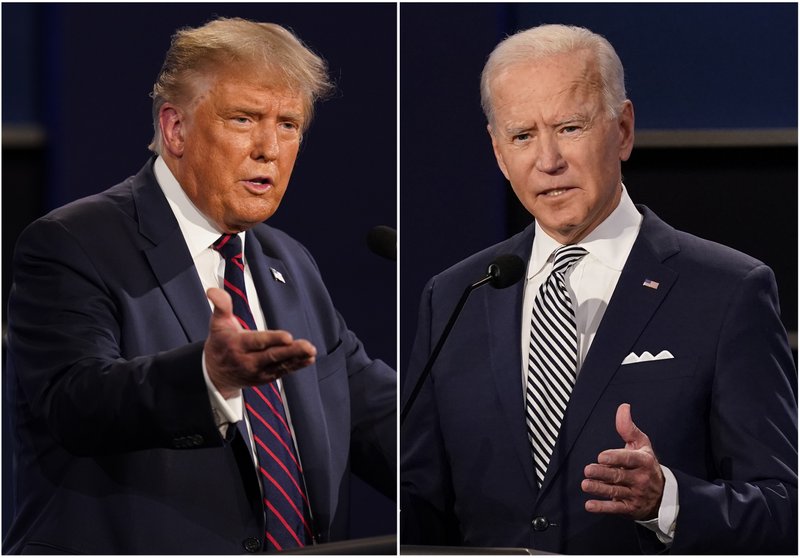 At least Donald Trump and Joe Biden didn't throw chairs at each other in the final debate!
Thursday's presidential debate was praised for its (basically) civil tone, and that's sad. It tells us how low the bar is set because civility is the least we should expect from people who want to lead the nation.
Donald Trump and Joe Biden didn't throw chairs at each other!
Unlike their messy first debate, they actually talked about issues affecting real people, and largely stayed on topic.
Yay!
Moderator Kristen Welker of NBC received deserved praise for keeping the debate on course. Praise also must go to whoever made Trump understand that behaving like a raging lunatic wasn't going to win him any votes. I'm guessing his wife, Melania, had some input there.
I just wanted to get all that out of the way.
The debate was the last, best chance for both candidates to capture uncommitted hearts and minds, although there probably aren't many of those left.
If you supported Trump going in, you still do.
The same goes for Biden.
Voters did hear unfiltered viewpoints on major issues of the day, and that's useful. Let's explore a few of those.
The pandemic
Trump: "It will go away," he said on a day when about 1,000 more Americans died of COVID-19.
He again declared himself "immune" after recovering from the virus and stated – in opposition to data – that infections are dropping in Florida and Texas.
"We're learning to live with it," he said.
Biden: "We're learning to die with it."
He added, "We're about to go into a dark winter, a dark winter, and he has no clear plan."
Race relations
Trump: In response to a question from Welker about his description of Black Lives Matter as a symbol of hate, he said this:
"You have to understand, the first time I ever heard of Black Lives Matter, they were chanting, 'Pigs in a blanket,' talking about police."
CBS News reported that it's unclear what protest he is referring to where this chant was heard because this is not a phrase associated with Black Lives Matter.
Trump continued, "That was my first glimpse of Black Lives Matter. I thought it was a terrible thing. As far as my relationships with all people, I think I have great relationships with all people. I am the least racist person in this room."
Biden: "He pours fuel on every single racist fire … He started off his campaign, coming down the escalator saying he was going to get rid of the Mexican rapists. He's banned Muslims because they are Muslim. He has moved around, and made everything worse, across the board."
And referring to Trump's previous call for the far-right Proud Boys to "stand back and stand by," Biden said: "Come on, this guy is a dog whistle about as big as the foghorn."
Big oil
Biden: Toward the end of the debate, the former Vice President said he would "transition from the oil industry."
He said he would end federal subsidies there because "the oil industry pollutes significantly."
Trump: "Will you remember that Texas? Will you remember that Pennsylvania, Oklahoma?"
Biden did provide the President a clear line of attack there, and he took full advantage. Biden's statement about oil industry pollution might play well in Florida, though.
Leaders here consistently oppose off-shore oil drilling near the Florida coastline because of potential catastrophic spills like the Deepwater Horizon in 2010.
Who won the debate?
Trump won by showing, for once, that he has a degree of self-control, which is something we weren't sure about.
Biden won by avoiding a major gaffe. That was the unspoken fear of his supporters. Trump supporters pounced on the comment about oil, but those planning to vote for Biden still will.
The real winner?
Americans, no matter who they support, because the debates are over and now it's a sprint to the finish line.
A grateful nation offers its heartfelt thanks.