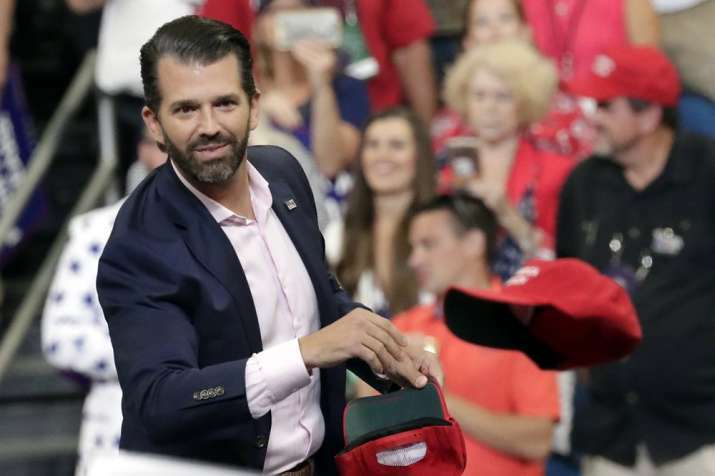 He's rallying voters on Florida's East Coast.
The President's oldest son, Donald Trump, Jr., will rally votes across Florida on Wednesday to come out to reelect Donald Trump. Here's what you need to know about his stops.
Where
A Make America Great Again event will be held at the Diamond D Ranch in Jacksonville.
The presidential surrogate then heads to Volusia Top Gun, a firing range in Daytona Beach.
Finally, he will hit the Indian River Fairgrounds in Vero Beach.
When
Doors for the Jacksonville venue will open at noon on Wednesday, with Trump set to speak at 1:30 p.m.
He'll stump for his father in Daytona Beach at 4 p.m., again with guests able to arrive around 90 minutes ahead of time.
For the Vero Beach event, those who plan to go may arrive as soon as 5 p.m., with the Presidential progeny set to grab the microphone at 6:30.
Sibling rivalry
He's hitting the state a day after sister Ivanka Trump rallied voters at a venue in Sarasota. Regardless of whether President Trump wins reelection on Tuesday, polls have frequently shown both Ivanka and Donald Trump, Jr. as top contenders for the Republican nomination in 2024.
For now, the two are trying to energize complimentary constituencies. Ivanka, long considered a moderating voice within the White House, made her appeal to women voters and has stumped on issues with crossover appeal like school choice. The choice of venues for Donald Trump, Jr. shows a desire to juice up turnout among social conservatives who care about issues like gun rights.
Not in our house
The Florida Democratic Party responded to Trump Jr's. planned visit.
"Another day, another attempt by the Trump family to spin this administration's failures on the issues that matter most to Floridians. Donald Trump has surrendered to the coronavirus pandemic, throwing up his hands instead of helping keep us safe," said FDP Chair Terrie Rizzo. "Even as nearly half a million Floridians remain out of work, Trump similarly gave up on passing additional federal coronavirus relief. Donald Trump has proven he simply can't deliver for Florida, so it is on us to elect someone who will. Don't wait another day — drop off your mail ballots at a drop box or vote early at an early voting site near you."