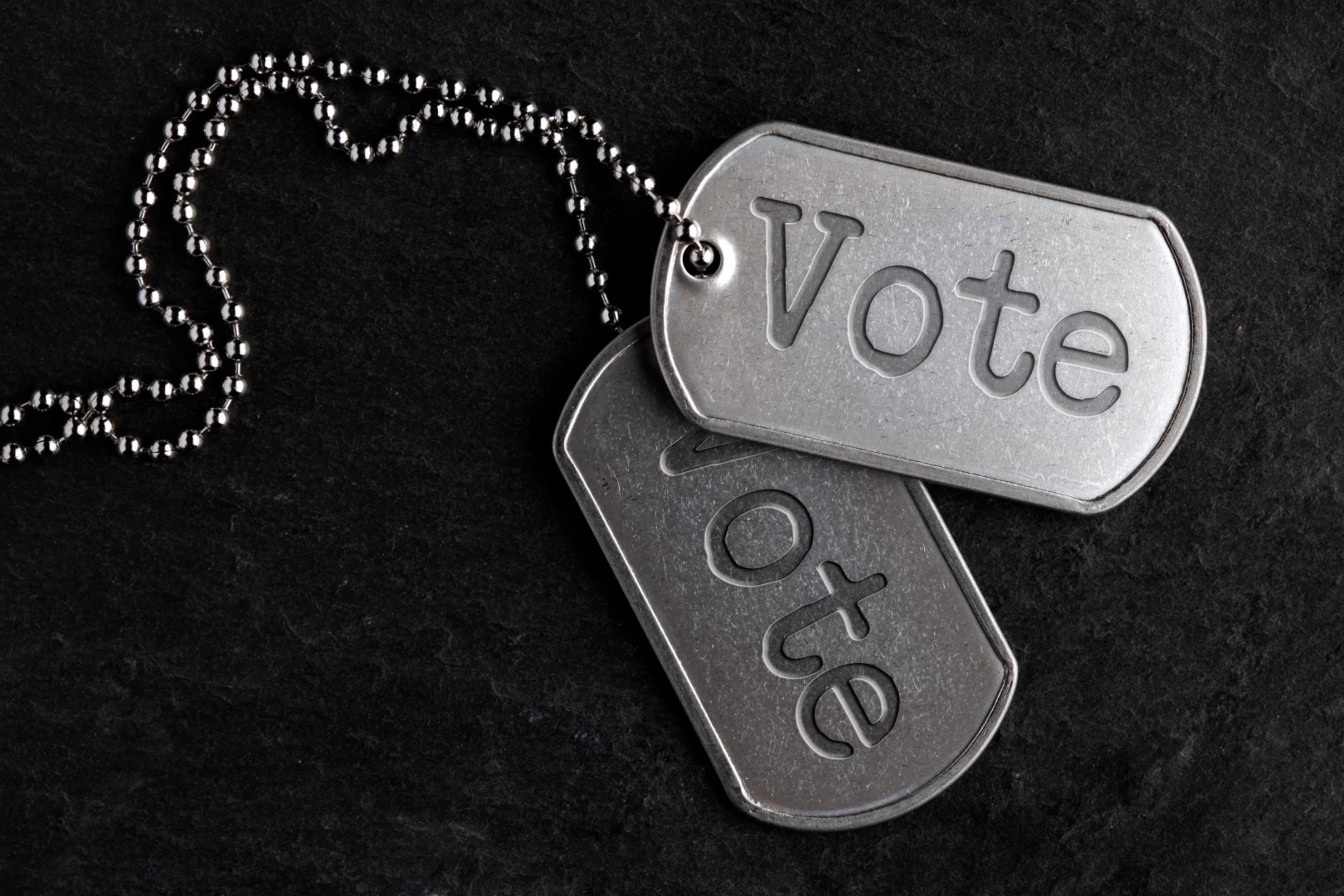 Florida allows a 10-day window for overseas and military votes to arrive, so buckle in.
An anxiety-inducing race for President has many anxious for results on Tuesday evening — some even demanding fast answers. But there's one group of voters ready to fight for their votes to count, a group well versed in the ways of battle.
The vast majority, about 70%, of active military stationed overseas who vote this year will cast their votes by mail. Because of that, veteran advocacy group Count Every Hero issues a preemptive call to ensure every vote submitted by service members makes its way into totals to impact the Nov. 3 elections.
Florida, as it happens, gives about as long a window to receive overseas votes as any in the nation, according to a study released by the organization in October. Some 70% of available electoral votes come from states that allow military ballots to arrive and be counted after Election Day.
In Florida, there's a 10-day window. Among swing states, that's the longest grace period of any battleground.
But despite the fact the Uniformed and Overseas Citizens Absentee Voting Act has been in place since 1986 and requires states have measures in place to protect Americans casting ballots from around the world, application of the federal law remains inconsistent, and protections vary state to state.
"It's still a patchwork of individual state laws on what is required and when ballots are due," said retired Navy Adm. Steve Abbott, a board member with Count Every Vote. "We want to focus on making sure all of those votes do get in and get counted."
Abbott, a Pensacola native with deep roots in the Sunshine State, said he spent most of his career in uniform as a vote-by-mail voter in Florida.
The state requires any votes cast by overseas voters, including active military, to be postmarked no later than Nov. 3. But any votes received as late as Nov. 13 in Florida will be tallied by county Supervisor of Elections' offices.
There are states that allow a longer window. Washington will count votes that come as late as Nov. 23, and California counts mail ballots that reach ballot boxes as late as Nov. 20. New York and Alaska take in votes as late as Nov. 18. Illinois accepts them until Nov. 17 and Utah takes them until Nov. 16. That could impact congressional contests that ultimately determine the makeup of the House and Senate.
But there are also states, including swing states, that allow no late arrivals at all. Michigan, New Hampshire and Wisconsin won't accept any mailed-in ballots after Election Day. Neither will Montana, Maine or Kentucky, states with nationally watched Senate contests. Vermont stops taking mailed votes on Nov. 2, a day before Election Day.
Meanwhile, the study said it takes an average of six days for ballots sent by soldiers stationed overseas to arrive at their destination. It can often take much longer than that. Most ballots get sent through the Military Postal Service, but that's an operation with less of a reputation for swift delivery than the U.S. Post Office. Personal mail must be transported in bulk and often makes stops at various delivery points on its way back to the states.
It's important to remember that it takes just as long for ballot requests from service members to reach elections officials and a similar time frame for those ballots sent out from the states to reach soldiers overseas.
"Having been stationed on ships at sea during elections, I know we'd be on the long side of the six days," Abbott said, stressing that time is simply an average. Some soldiers face worse barriers sending and receiving mail than others, including those stationed on the other side of the world and in remote locations with limited communication of any sort. The simple transport of the envelopes of democracy creates a logistical challenge for the military.
"A lot goes into carrying those votes back by mail," Abbott said. And there could be additional barriers to deliver for ballots that transport through countries devastated by the coronavirus pandemic."
It's why Abbott for years fought to ensure elections don't get certified so quickly servicemen have no say in the outcomes.
"It has certainly been known for some time there needed to be an emphasis on helping military members be able to vote," Abbott said,
President Donald Trump notably has pushed for votes this year to be counted as rapidly as possible. Axios reported this week the President has a plan to declare victory on Election Night if it looks like the early results point to a win.
But different states may favor or challenge that plan. With most Democrats voting early, but many Republicans voting the day of the election, it could hinge on when states start counting. In Michigan, mail-in votes can be sorted early but won't be counted until after polls close. That could skew early results for Republicans, but mail ballots won't all be counted until the end of the week, producing a blue shift.
Florida, however, will likely see a reverse phenomenon. Early voting closed Sunday and most mail-in ballots are already in, state records show. No domestic mail ballots will be accepted after 7 p.m. Tuesday night. Elections officials have already started running those votes through machines to count, but will withhold totals until after polls close. That could skew results Democratic even if day-of voting swings many elections red in the end, including any potentially tight contests for President.
The military vote could loom large in this state — and has before. As a rule, the military vote tends to lean Republican, and some experts credit George W. Bush's historic 537-vote win in Florida in 2000 to his campaign pressing canvassing boards during the 2000 recount to tabulate nearly all military votes. When Florida drafted landmark election reforms after that election, the 10-day window for allowing military and overseas vote became further entrenched in state law.
That makes it somewhat ironic to see Democratic leaders already fighting with the Trump campaign over the matter of when to cut tabulation off.
"To GOP operatives working overtime to disqualify votes from deployed troops because you think it helps your guy: look in the mirror and ask yourself how it came to this," tweeted Pete Buttigieg, a former Presidential candidate and Biden surrogate.
And it may be an open question where the active military vote goes this year. An August poll released by the Military Times showed Democrat Joe Biden leading with 41% of the vote to Trump's 37%, That left a lot of undecideds who could still swing in the President's direction, and Trump feels confident the military vote will go his way.
Trump, for his part, has stressed his support for military spending and the troops as he's campaigned across the country.
"For our military, I just want to let you know there's never been a President that has your back like I do," Trump said in October.
For its part, the Count Every Hero organization wants military votes counted, regardless of who soldiers support in this particular election. The group's study found nearly 40% of military votes in the 2018 midterms were rejected because ballots did not arrive in time for elections officials in any state to count the votes. That's on top of a third of active service members who reported attempting to vote but weren't able to even fill out a ballot on time.
"There is no question that active-duty troops and other overseas voters could make the difference in the 2020 election," said retired Navy Adm. Jon Greenert, a spokesperson for Count Every Vote. "It is crucial we count the votes from our service members and resist any calls to stop the count or declare a winner before these legal ballots have a chance to arrive."
Florida, at least, has provisions guaranteeing votes sent on time will be tabulated if they meet that Nov. 13 deadline.
Abbott said he would like it if the various outside forces like media could hold back from declaring winners until soldiers' votes have the chance to reach home. "We know from recent experience that elections can be close," he said.
In a state where elections have been decided by hundreds of votes or less, hundreds of thousands of soldiers, airmen and Marines defending the nation overseas deserve a say in the nation's elected leadership, Abbott said.
"That makes it even more important for us to be patient," he said, "and for us to get the votes counted."