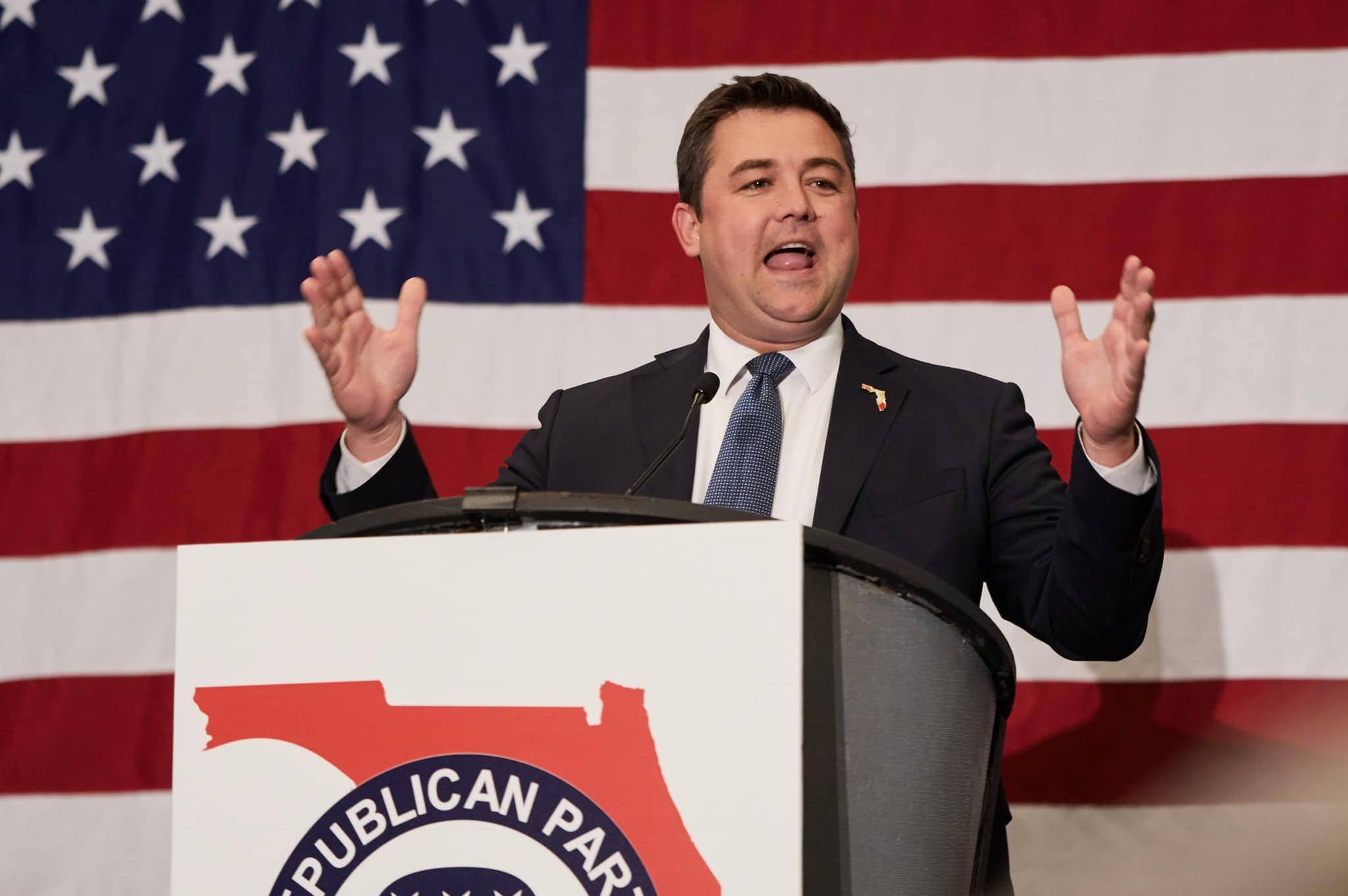 GOP Vice Chair combined digital finesse with an old-fashioned ground game.
Christian Ziegler has developed a national reputation for micro-targeting voters through digital marketing efforts. That's why, in some ways, it's surprising he spent the last months of the 2020 election — at a time when digital took on a whole new significance — sweating through a hot Florida autumn knocking on doors.
"I'm not one of those digital guys who tells you don't do these other things," he said. "Mail. Phones. All that stuff is great. I believe in doing all of the above. But nothing is as powerful as looking a voter in the eye."
That's why the Vice Chair of the Republican Party of Florida rode shotgun with state chair Joe Gruters though 39 Florida counties in 100 days. And when he wasn't on the road, Ziegler was knocking on doors in his own Sarasota County, rallying votes that helped Fiona McFarland flip House District 72 red.
It's a ground game many say contributed to Donald Trump defying polls to win Florida by a solid margin, even though the President appears to have fallen short in many other battleground states.
"He's been a phenomenal vice chair," Gruters said. "He's just been a superstar. He's extremely capable at what he does; he's excellent at it. He's certainly been a tremendous asset and a help to me, and he's just a relentless crusader to causes in which conservatives believe."
It's rare for a state chair and vice chair for a party to hail from the same county. When Ziegler ran for the job, he suggested it could prove valuable. Gruters, godfather to Ziegler's daughter Reagan, could drive a few minutes to Ziegler's home if they needed to discuss digital strategies or chat about ground strategy. The two have worked closely together since Gruters hired Ziegler worked as a field volunteer for U.S. Rep. Vern Buchanan's first congressional campaign in 2006 (oh yeah, that Sarasota area election turned out pretty well for Republicans as well this year, too.)
There turned out to be a star class of rookie staffers in that fledging campaign 14 years ago. Buchanan now serves as Florida Delegation co-chair. Max Goodman, now a prominent political consultant, worked as communications director and others scattered across the country to significant positions in Republican politics.
"We weren't running anything at the time; we were fetching soft drinks for people," Goodman said with a laugh.
How far all have come.
Today, Goodman credits Ziegler as one of the most effective spokespeople for Florida Republicans working in the field this cycle.
"He's been constantly on the lines ready to go and battle the opposition," Goodman said. "His enthusiasm for the cause is unrivaled."
Ziegler walks pretty tall today. While certainly distressed at the state of the presidential election, Tuesday proved a good night for the Florida GOP. That's not to say Ziegler will spend much time basking in glory.
In the past year, he has criss-crossed the state for Trump, closely tracked COVID-19 as a Sarasota County Commissioner, and provided marketing services for hundreds of federal PACs through Microtargeted Media. He even assisted Israeli Prime Minister Benjamin Netanyahu win a reelection campaign overseas.
"He lives and breathes this stuff," said former Sarasota County Commissioner Paul Caragiulo. "And he's a true believer. It's a lot easier to work toward a goal if you believe in it."
When Caragiulo two years ago decided not to run for reelection, he encouraged Ziegler to run for the seat, largely because he knew Ziegler could win without wooing outside financial support thanks his long history of political work in the area.
Ziegler takes pride in the ability to wear many hats. His experience includes working as a policy staffer on the Hill for Buchanan's congressional office, a statehouse staffer in the Florida Capitol and a marketing professional.
That helped him build policy chops and to understand the nitty gritty of government work. While working as an aide to Buchanan, he both advised on strict policy issues — he's an ardent defender of the Second Amendment — and also did much of the gritty work in assembling a deal to bring the Sarasota National Cemetery to the veteran-rich Sarasota region.
He has found ways to overlap all the facets of government and politics to maximum effect.
Take his road trip with Gruters. While knocking on individual doors proved important for mobilizing, most voters aware of his political activity probably saw Ziegler's neighborhood walks on social media, not their own doorstep. He would regularly share short video clips and pictures on Twitter and used his social media finesse to reach as many users as possible.
"All digital does is amplify a platform or a message," he said. "There's no voodoo. it's just capturing a message and what's happening on the ground. I like marrying grassroots with digital."
It certainly has been time-consuming. He also continues to raise three daughters with wife, Bridget Ziegler, who also happens to be an elected official on the Sarasota County School Board. He acknowledged there were tense conversations this year about how much time he spent on the trail with Gruters.
"Joe and I are fortunate our wives are best friends," he said.
At the same time, Gruters pulls a salary as party chair and Ziegler does not as vice. Still, the connections he builds pay dividends in his business, and could potentially lift him in the future. Ziegler has run for party Chair himself in the past, and was widely expected to do so this year before Gruters became a top choice. Certainly, as long as Gruters sticks around another term as state Chair everyone would expect Ziegler to stay in his current role. But there's every reason to believe he could vie for the chance to lead the party again in the future.
Looking back on 2020, Ziegler maintains the strength of Trump as a top-of-ticket candidate who provided the best fuel for the party's successful run. He also felt a willingness to activate a ground game, despite finger-wagging from the media about face-to-face campaigning in the middle of a pandemic, and helped lift the Florida GOP to heights unexpected while Democrats stayed at home campaigning on social media.
"There was a lot of energy behind it this year," he said. "We were organizing people who had never been involved in politics. Enthusiasm and energy made it a record year."