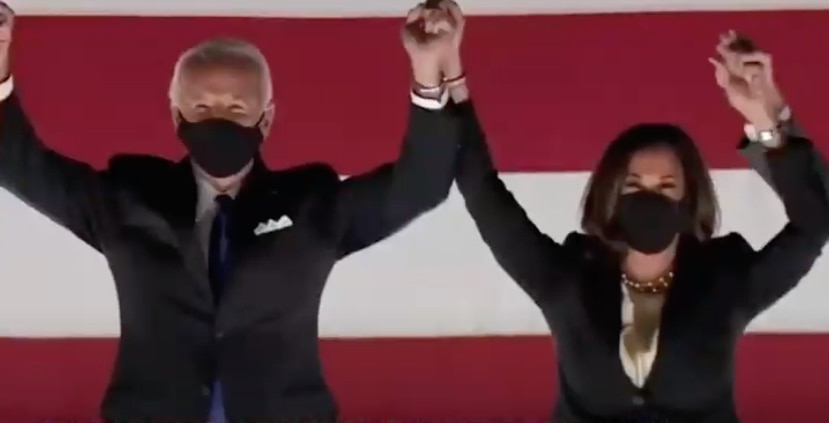 Biden crossed the finish line Saturday with a win in Pennsylvania.
The Lincoln Project congratulated Joe Biden on Saturday after defeating President Donald Trump to become the 46th President of the United States.
The Lincoln Project, a political action committee, was created in 2019 by a group of former Republican political operatives. The group's mission was to "defeat President Trump and Trumpism" at the 2020 ballot box.
"Four years ago the American people made a profound mistake in electing Donald Trump," the group said in a statement. "Last night, America corrected that mistake and voted in record numbers for Joe Biden, a man of empathy, compassion, and integrity, and Kamala Harris, a woman unafraid to challenge inequality and fight to give a voice to the voiceless."
The group continued: "We salute the Biden/Harris campaign, and have been honored to work with allied groups in building a coalition of the decent against Trump and Trumpism."
The Biden and Harris victory comes after election officials nationwide processed a near-historic number of ballots over the course of the week. The vote-counting process has drawn criticism and lawsuits from Trump and his affiliates.
The voter fraud claims have tested the limits of some fellow Republicans while exemplifying devout loyalty among others.
Meanwhile, The Lincoln Project vowed to hold the line.
"We will continue to mount electoral challenges against those who enabled Donald Trump and excused his corruption, malfeasance, and wrongdoing," the group said. "We will hold them, and Donald Trump's Administration enablers to account."
Biden crossed 270 Electoral College votes with a win in Pennsylvania. The 77-year-old's victory also marked a historic milestone for Harris, who will become the first Black woman to serve as Vice President.
What's more, the California Senator will be the highest-ranking woman ever to serve in government.
Throughout the campaign, The Lincoln Project targeted key states with television and social media ads against Trump. Moving forward, the group said it will work to "restore and strengthen" any institutions "corrupted" by Trump and his administration.
"Finally, we wish to offer a note of profound gratitude for the dedication of millions of Lincoln voters," the group said. "They came from every walk of life, every political persuasion, and made all the difference in the election of President-Elect Biden."
Inauguration Day is Jan. 20.