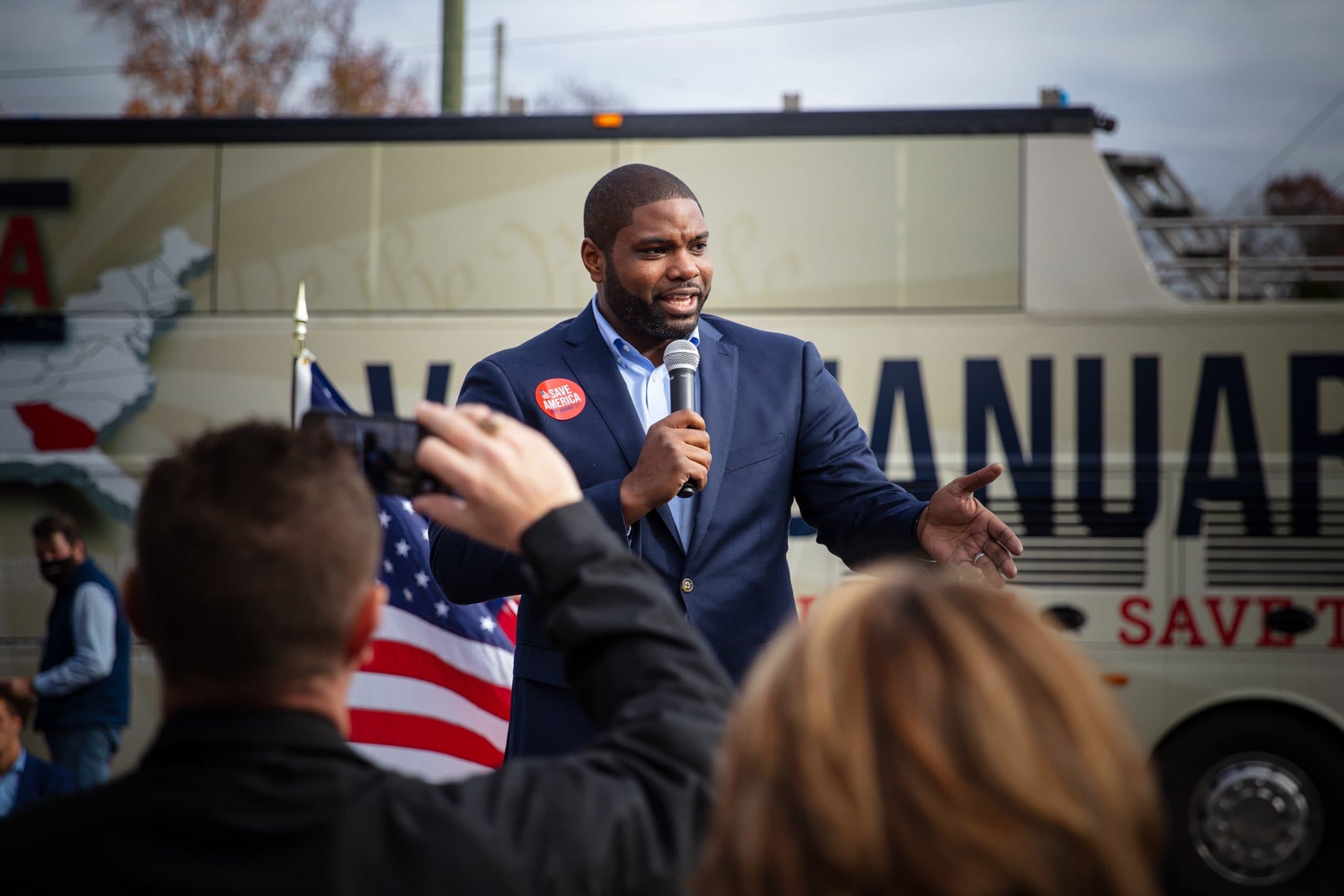 Anna Paulina Luna is also riding with the Save America Tour.
Byron Donalds isn't done with the campaign trail yet this year. As two high-stakes Senate races play out in Georgia, the Naples Republican hopped on a campaign bus through the Peach State.
He's riding the Save America Tour bus with Club For Growth Action, a conservative PAC that played a substantial role in Donalds' own run for Congress this year.
Donalds headed to Georgia because of the must-win nature of two Senate races. Republican Sens. David Perdue and Kelly Loeffler face runoffs in January against Democrats Jon Ossoff and Raphael Warnock, respectively. If Democrats flip both seats, that means a 50-50 Senate, with Vice President-elect Kamala Harris casting a tiebreaking vote so Democrats control the chamber.
Donalds, who will be part of a Republican minority in a narrowly divided House, doesn't want that outcome.
"It is crucial that the GOP keeps control of the Senate to stop the radical agenda of Bernie Sanders and Nancy Pelosi," Donalds said. "I will always fight for freedom and liberty, and the battleground in Georgia."
Of note, the acknowledgement that control of the Senate is at stake offers tacit recognition Joe Biden won the race for President; otherwise Vice President Mike Pence could cast the vote to keep the Senate in GOP control regardless of the Georgia races' outcomes.
Donalds' presence on the bus shows the incoming freshman has already become a rising star on the national stage. Other participants in the Save America Tour include conservative leaders like former Florida Congressman Allen West, now chair of the Republican Party of Texas, and Matt Schlapp, chair of the American Conservative Union. He's also riding with other candidates who this year won seats in the House and Senate like Alabama Sen.-elect Tommy Tuberville and North Carolina Rep.-elect Madison Cawthorn.
It also shows Club For Growth, a powerful force in national Republican politics, remains interested in Donalds' future. The group invested heavily in the primary in Florida's 19th Congressional District, where Donalds emerged from a nine-candidate field as the GOP nominee in August.
Another notable Florida personality on the bus? Anna Paulina Luna, the Republican who challenged Rep. Charlie Crist this year, is also traveling with Club for Growth.
"Anna is campaigning in Georgia because keeping Republicans in control of the Senate will limit the damage left-wing leaders like Pelosi and Schumer can to do our country in service to their globalist financiers and Marxist foot-soldiers," said former campaign manager James Blair. "Anna has served our country and lived the American dream – and she is committed to defending it for the next generation."
Notably, both Luna and Donalds were Republican candidates of color on the ballot in 2020, something Luna has stressed as she campaigned in Georgia. Her presence suggests she holds plans to run for office again in 2022.
"When someone claims Republicans are just old white men, show them this picture," she tweeted with a picture of herself and Catalina Lauf, a Latina candidate in Ohio this cycle, and Kimberly Klacik, a Black candidate who ran in Maryland.
"Republicans are patriots. We come in all colors."
Donalds will be one of two Black Republicans in the House this year, along with Utah's Burgess Owens, who graduated high school and college in Florida.