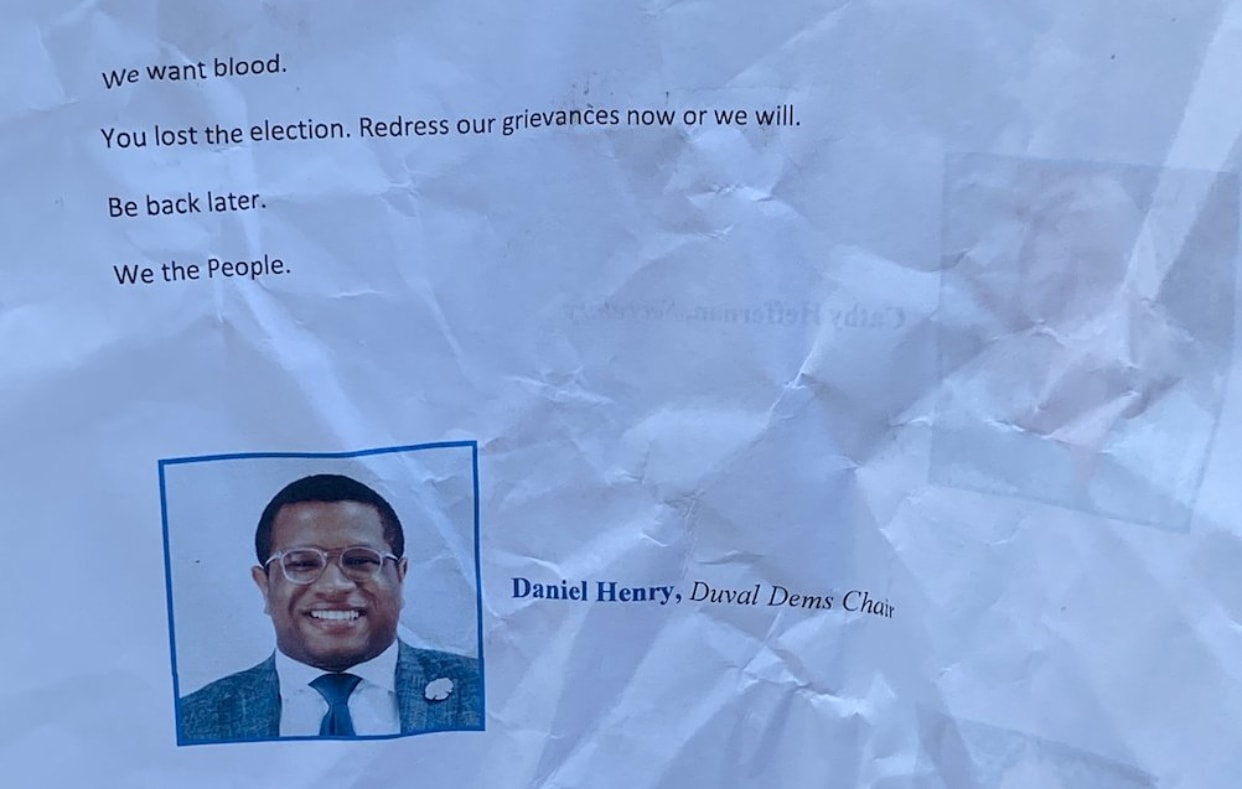 Someone wearing a gas mask left the message.
A threatening note affixed to the back door of the Duval County Democratic Headquarters rattled local partisans this week.
The message, rendered with primitive type and formatting on a standard sheet of paper, was chilling.
"We want blood. You lost the election. Redress our grievances now or we will. Be back later," read the missive found Monday by Daniel Henry, the chair of the local party.
Upon further review, the note containing identifying information for Henry and other party officials was left shortly after Midnight on Saturday, by a man wearing a gas mask and gloves, obscuring traditional identifiers like facial recognition or fingerprints.
"We've seen threats of violence throughout the country about the election results, but I never expected to see it on our doorstep," Henry said.
"It's clear the perpetrator's intent was to inspire fear and perpetuate the false narrative of the election being rigged. We will not be intimidated by cowards that lurk in the shadows in gas masks. When political leaders publicly refuse to accept the results of the election, they embolden bad actors like these," Henry said.
The incident got national coverage via the New York Times. Henry notes that a reporter reached out to him as he was on his way to talk to a detective, catching him "off guard."
Thus far, Henry says that the Jacksonville Sheriff's Office is still exploring leads, but it was clear Friday that the chairman is still struggling with the incident.
When Henry first saw the note, he wondered if it was a joke. But upon review of security footage and other investigation, it was clear to him that the malefactor "went to a lot of effort" to figure out his target, including sussing out where the otherwise unmarked back door of the office is.
And it was clear to Henry that it was intended to be a threat.
"He looked directly to the camera," Henry said, as he stuck the note on the door.
"This election cycle has taken on a life of its own," Henry said, with the persistent "rigged election" narrative stopping at least some partisans from "shaking hands and moving on."
Henry says Dean Black, who chairs the Duval County Republicans, has reached out to offer support in the wake of the incident.
The incident caps off a year where rhetoric and action has been more pitched than usual. In February, Duval Republicans were roiled by a car driving dangerously close to volunteers engaged in voter registration.