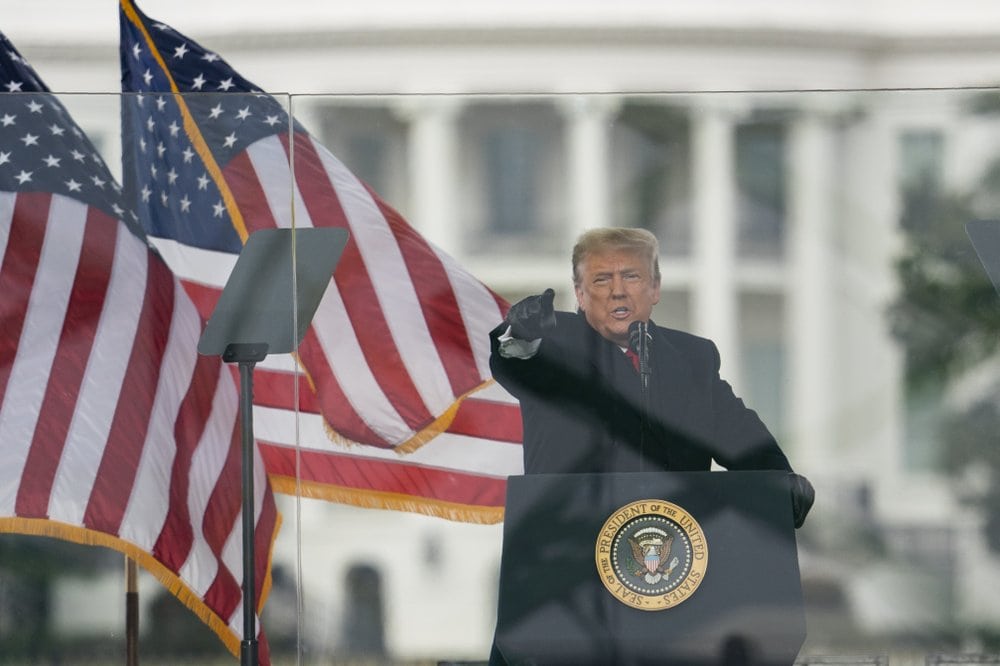 "We love you," Trump told supporters in a video now removed by Twitter and Facebook.
After facing calls from Republicans and Democrats to tell his supporters to leave the U.S. Capitol, President Donald Trump tweeted a video sympathizing with protesters and rioters but telling them to go home.
Officials have declared the U.S. Capitol complex "secure" after a violent mob loyal to the President stormed the building Wednesday. Rioters forced lawmakers into hiding in a stunning attempt to overturn America's presidential election, undercut the nation's democracy and keep Democrat Joe Biden from replacing Trump in the White House.
"I know your pain. I know your hurt. We had an election that was stolen from us. It was a landslide election. Everyone knows it, especially the other side. You have to go home now. We have to have peace. We have to have law and order. We have to respect our great people in law and order," he said.
He also went on to call the supporters "very special." He also said, "we can't play into the hands of these people. We have to have peace. So go home. We love you. You're very special."
That tweet and two others have led Twitter to suspend the President's account for 12 hours. If the President doesn't delete those tweets, his account will remain locked.
"Future violations of the Twitter Rules, including our Civic Integrity or Violent Threats policies, will result in permanent suspension of the @realDonaldTrump account," according to Twitter Safety.
As a result of the unprecedented and ongoing violent situation in Washington, D.C., we have required the removal of three @realDonaldTrump Tweets that were posted earlier today for repeated and severe violations of our Civic Integrity policy. https://t.co/k6OkjNG3bM

— Twitter Safety (@TwitterSafety) January 7, 2021
The video was issued more than two hours after rioters began storming the Capitol as lawmakers convened for an extraordinary joint session to confirm the Electoral College results and Biden's victory. Facebook's Vice President of Integrity, Guy Rosen, tweeted that his platform had removed the President's video because "on balance we believe it contributes to rather than diminishes the risk of ongoing violence."
Minutes after Trump posted the video, Twitter attached a warning that users cannot interact with the video "due to a risk of violence." Twitter has since removed the video.
An announcement saying "the Capitol is secure" rang out Wednesday evening inside a secure location for officials of the House. Lawmakers applauded.
Lawmakers have signaled that they would resume the constitutionally mandated count as soon as it was safe to do so.
After officials declared the Capitol secure, the President tweeted a fourth time, telling his supporters to "remember this day forever."
"These are the things and events that happen when a sacred landslide election victory is so unceremoniously & viciously stripped away from great patriots who have been badly & unfairly treated for so long. Go home with love & in peace. Remember this day forever!" he wrote.
Twitter also removed that tweet.
The Washington police chief says at least five weapons have been recovered and at least 13 people have been arrested so far. A woman who was shot was later pronounced dead.
The woman was shot earlier Wednesday as the mob tried to break through a barricaded door in the Capitol where police were armed on the other side. She was hospitalized with a gunshot wound and later died.
Three others also died in "medical emergencies."
As darkness began to set in, law enforcement officials were working their way toward the protesters, using percussion grenades to try to clear the area around the Capitol. Big clouds of tear gas were visible.
Police were in full riot gear. They moved down the west steps, clashing with demonstrators.
In the hour after Trump tweeted his statement, rioters began departing the Capitol. Police were in full riot gear and escorted rioters down the West steps.
Police Chief Robert Contee called the attack a riot.
The District of Columbia's Mayor, Muriel Bowser, issued a curfew for 6 p.m. Speaking on CNN, she would not confirm whether D.C. police would begin arresting the remaining protesters when the curfew takes effect.
Before Trump's address, Biden demanded Trump immediately make a televised address calling on his supporters to cease the violence that he described as an "unprecedented assault" as pro-Trump rioters violently occupy the U.S. Capitol. Biden has called the violent protests on the U.S. Capitol "an assault on the most sacred of American undertakings: the doing of the people's business."
The violent clashes forced a delay in the constitutional process to affirm Biden's victory in the November election.
Multiple reports have surfaced that armed guards have drawn their guns while dealing with the breach. Both chambers abruptly recessed as dozens of people breached security perimeters at the Capitol and lawmakers inside the House chamber were told to put on gas masks as tear gas was fired in the Rotunda.
The Department of Homeland Security is sending additional federal agents to the U.S. Capitol to help quell violence on Capitol Hill. A spokesperson told The Associated Press on Wednesday that officers from the Federal Protective Service and U.S. Secret Service agents are being sent to the scene. He says they were requested to assist by U.S. Capitol Police.
Both chambers abruptly went into recess.
Law enforcement instructed lawmakers to retrieve masks from under their seats amid the clashes. The Capitol building was placed on lockdown, as Trump supporters marched through evacuated public spaces in the building.
A chaplain prayed as police guarded the doors to the chamber and lawmakers tried to gather information about what was happening.
An announcement was played inside the Capitol as lawmakers were meeting and expected to vote to affirm Biden's victory. Due to an "external security threat," no one could enter or exit the Capitol complex, the recording said.
Trump had urged his supporters to come to Washington to protest Congress' formal approval of Biden's win. Several Republican lawmakers have backed his calls, despite there being no evidence of fraud or wrongdoing in the election.
The skirmishes occurred outside the very spot where President-elect Biden will be inaugurated in just two weeks.
In a raucous, out-of-control scene, a mob fought past police and breached the building, shouting and waving Trump and American flags as they marched through the halls. One person was reported shot at the Capitol, according to a person familiar with the situation. NBC News reports that she has died, citing multiple law enforcement officials.
Rioters tore down metal barricades at the bottom of the Capitol's steps and were met by officers in riot gear. Some tried to push past the officers who held shields and officers could be seen firing pepper spray into the crowd to keep them back. Some in the crowd were shouting "traitors" as officers tried to keep them back.
Wednesday's ordinarily mundane procedure of Congress certifying a new President was always going to be extraordinary, with Republican supporters of Trump vowing to protest results of an election that they have baselessly insisted was reversed by fraud. But even the unusual deliberations, which included the Republican Vice President and Senate majority leader defying Trump's demands, were quickly overtaken.
The protesters abruptly interrupted the congressional proceedings in an eerie scene that featured official warnings directing people to duck under their seats for cover and put on gas masks after tear gas was used in the Capitol Rotunda.
There was confusion in the House chamber as the Capitol doors were locked and the debate over the electoral count was suspended. Reporters and others outside the chamber were told to go their seats inside and not leave.
A suspicious package was also reported in the area, Capitol Police said.
D.C. police officials also say two pipe bombs were recovered, one outside the Democratic National Committee and one outside the Republican National Committee. Police found a cooler from a vehicle that had a long gun and Molotov cocktail on Capitol grounds.
Pressure mounted on the President to condemn supporters who are violently clashing with law enforcement on Capitol Hill.
Among those urging Trump to act: his former communications director, Alyssa Farah, who tweeted that Trump should "condemn this now."
"You are the only one they will listen to. For our country!," she wrote.
Trump had initially offered a single tweet asking his supporters to "please support our Capitol Police and Law Enforcement. They are truly on the side of our Country. Stay peaceful!"
His former chief of staff Mick Mulvaney tweeted: "The President's tweet is not enough. He can stop this now and needs to do exactly that. Tell these folks to go home."
His lawyer, Rudy Giuliani, also addressed Trump supporters in a tweet, calling them the "patriots challenging the fraudulent election" and telling them that "POTUS wants you to EXPRESS YOUR OPINION PEACEFULLY."
After rioters breached into the Capitol, the President tweeted support for the Capitol Police. He also tweeted to his supporters to "stay peaceful" as they violently clashed with law enforcement.
https://twitter.com/realDonaldTrump/status/1346904110969315332
A subsequent tweet insisted that the Republican Party is the party of law and order as he asked everyone to remain peaceful.
https://twitter.com/realDonaldTrump/status/1346912780700577792?s=20
The skirmishes came just shortly after Trump addressed thousands of his supporters, riling up the crowd with his baseless claims of election fraud.
"We will not let them silence your voices," Trump told the protesters, who had lined up before sunrise to get a prime position to hear the president.
___
The Associated Press contributed to this report.