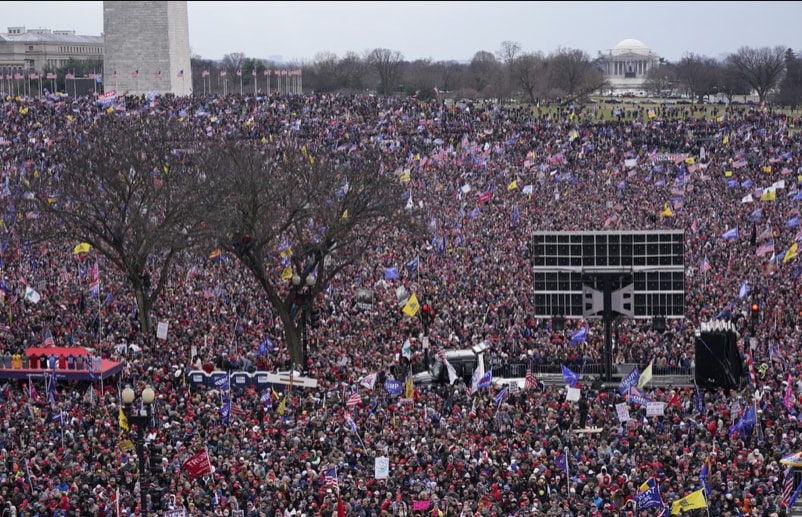 Marco Rubio demands Donald Trump "ask those doing this to stand down."
Florida's congressional delegation universally condemned violence in the U.S. Capitol.
Protesters in Washington, D.C. objecting to today's scheduled certification of President-elect Joe Biden's victory over President Donald Trump. But even those House members who said they would join in objection to electors from several Biden states said the protests seen in Washington, D.C. are unacceptable.
Sen. Marco Rubio strongly called on Trump to restore order: "There is nothing patriotic about what is occurring on Capitol Hill. This is 3rd world style anti-American anarchy. Mr. President Donald Trump, the men and women of law enforcement, are under assault. It is crucial you help restore order by sending resources to assist the police and ask those doing this to stand down."
Sen. Rick Scott tweeted: "Thank you to the Capitol Police officers who protect us and our institutions every day. And thank you to all law enforcement working to keep people safe in DC. Everyone has a right to peacefully protest. No one has a right to commit violence. What happened today at the Capitol is disgraceful and un-American. It is not what our country stands for."
Rep. Gus Bilirakis, a Clearwater Republican, issued a statement: "My staff has been told to shelter in place for their safety, and I am watching the scene at the Capitol unfold. While I support the Constitutionally-protected right for peaceful protest, some of the images I am seeing on the news do not constitute a peaceful demonstration. These unruly behaviors are completely unacceptable and place law enforcement and countless individuals in harm's way."
Rep. Vern Buchanan, a Sarasota Republican, tweeted: "What's happening now in the U.S. Capitol is sickening and unacceptable. Guns drawn inside the House chamber and reports of shots fired and one woman in critical condition make this a dark day in the history of our nation."
Rep. Kat Cammack, a Gainesville Republican, tweeted: "Everyone outside the U.S. Capitol Building needs to calm down. We are a Republic of laws, but attacking our law enforcement is not an example of peaceful assembly. We are locked in the House Chamber. They have suspended debate. We have just been briefed the Capitol has been breached. They are asking us to put on masks for tear gas. Violence has no place in our politics. This needs to stop now! Protesters have broken into the Capitol Building. My colleagues and I are safe and following the instructions of Capitol Police and security authorities."
Rep. Kathy Castor, a Tampa Democrat, tweeted: "It's entirely outrageous that the defeated president is egging on racist White supremacists for violent action, disrupting a peaceful transfer of power. Have no doubt: Joe Biden will be sworn in as President in 2 weeks."
Rep. Charlie Crist, a Tampa Democrat, tweeted: "I am shocked at the heartbreaking, anti-American events we have witnessed in our United States Capitol today. The dissemination of violent rhetoric and dangerous misinformation before and after President-elect Joe Biden's win in November laid the groundwork for this attack on our democracy. I am praying for the safety of the Capitol police, Congressional staff, fellow lawmakers, journalists, and all who call Washington, D.C. home as our law enforcement works to bring order to this chaos. I urge my fellow Americans to reject this false, unpatriotic, and harmful misinformation, cease the violence, and honor the will of the voters. Peaceful protest is a sacred right enshrined in our Constitution, but this is not peace, it's insurrection. Congress will reconvene and do the work of the people. The election will be certified."
Rep. Val Demings, an Orlando Democrat, tweeted: "A mob storming the U.S. Capitol to overturn an election. A coup in progress. A dark day for America. But this is what they always wanted. Don't let them deny it. They will lose. We will not be intimidated. Democracy will win. 'Stand back and stand by?' 'Stop the steal?' We have a criminal president who has incited violence. He wanted this. Our country cannot heal until he and his spineless enablers are held criminally accountable for their actions. Justice demands it."
Rep. Ted Deutch, a Boca Raton Democrat, tweeted: "This is a violent insurrection. An attempted coup by Trump supporters at his encouragement. They're attacking the building that represents our democracy and threatening those who work in it. History will remember this dark day as a seditious attack by Americans against America. Everyone keeps saying, 'There are only 14 days until Trump leaves office.' He told us he wouldn't commit to a peaceful transfer of power. Today confirms that he meant it. Think about what he could do over the next 14 days. Trump must shut this down or be removed from office."
Rep. Mario Diaz-Balart, a Miami Republican, tweeted: "We must protect and revere law our enforcement officers who put their lives on the line each day for our safety. While peaceful protests are an integral part of our democracy, lawlessness and violence are NOT acceptable. The Capitol building is the center and sacred symbol of democracy. Today's violent actions undermine the principles and values that our nation was founded on. Individuals who broke into the US Capitol or assaulted our law enforcement should face the full consequences of the law."
Rep. Byron Donalds, a Naples Republican, tweeted: "Americans have the right to peacefully protest & demand their government works for them — that doesn't mean we resort to violence. Rule of law must stand during our nation's brightest & darkest hours & that includes right now. We are better than this. There is no place for anarchy."
Rep. Neal Dunn, a Panhandle Republican, tweeted: "The violent behavior we're currently seeing is abhorrent and unacceptable. Our Constitution protects the right to peacefully assemble; however, it does not excuse breaking into the Capitol or assaulting law enforcement officers. I absolutely do not condone the behavior of the protesters who have breached security and broken the law. While I will still contest the electoral college results today, I will do so in a peaceful and lawful way. Thank you to the Capitol Police and other law enforcement who have worked to protect me, my colleagues, and the Hill staff. Your selflessness and courage are invaluable."
Rep. Scott Franklin, a Lakeland Republican, released a statement: "Today will go down as a very dark day in America's history. Make no mistake, the violence demonstrated in the Capitol today is inexcusable and cannot be tolerated. It is un-American and counter to everything that has made our country a shining city on a hill for the past 244 years. We will not be goaded into any course of action under threat by anarchists. That said, I have sworn an oath to defend the Constitution and will do so. I think Arizona, Georgia, Pennsylvania and Wisconsin have presented Electoral College slates that were elected illegally because they were not done in accordance with the laws enacted by their legislatures. It's not within the scope of Congress' authority to assess fraud or simply decree another slate of electors (nor should we), but it is our sworn duty to ensure the names presented to us were done so legally. That's the basis of my objection and I stand by it, irrespective of who occupies the Oval Office."
Rep. Matt Gaetz retweeted a message from the President calling for law and order and tweeted: "Remain Peaceful! America is not a country where political violence is acceptable."
Rep. Carlos Gimenez, a Miami Republican, tweeted: "This lawlessness is abhorrent and disgusting. This is not who we are as a nation and does not represent our values. All engaging in violence must be apprehended and punished. I pray for the safety of our Capitol Police who are working tirelessly to ensure everyone is kept safe."
Rep. Alcee Hastings, a Fort Lauderdale Democrat, tweeted: "Today's violence on Capitol Hill was outrageous, shameful, and a complete assault on our democracy. The 25th Amendment allows for the removal of a President Donald Trump must be removed from office immediately!
Rep. Al Lawson, a Tallahassee Democrat, tweeted: "Today is a sad day for our democracy. This mob was incited by the president & his four years of disgraceful rhetoric. Never in the history of our nation have we seen anything like this. This has gone too far. Order has to be restored. These rioters should be arrested & prosecuted. My Republican colleagues who sat back and watched as the president instigated this anarchy are a part of the problem. They have been complicit and should be ashamed of themselves."
Rep. Brian Mast, a Stuart Republican, tweeted: "Attacking our Capitol and the selfless law enforcement officers defending it is as unpatriotic and appalling as it gets. The people who are doing that must stop so we can return to our democratic process!"
Rep. Stephanie Murphy, a Winter Park Democrat, tweeted: "The U.S. saved my family from tyranny. I love it beyond words. Violent rioters desecrating the symbol of our great Republic & obstructing democracy is a seditious assault on our nation. Congress should immediately resume work. I for one will never back down in defending America."
Rep. Bill Posey, a Melbourne Republican, released a statement: ""America has always been first, and foremost, about the rule of law, and that must be respected. I'm disappointed that today's Congressional proceedings over counting and challenging electoral votes were disrupted by a small number of individuals who breached Capitol security. I'm grateful to our law enforcement for their courage in protecting the Capitol Building, and the public, and urge everyone to respect their authority. I share the frustration of many Americans who do not feel they are being treated fairly, but we can and should do better."
Rep. John Rutherford, a Jacksonville Republican, tweeted: "The lawlessness taking place here in our nation's capital is unacceptable and un-American. You cannot say you stand for law and order and then act this way. Pray for our law enforcement as they secure the area and keep us safe."
Rep. Maria Elvira Salazar, a Miami Republican, tweeted: "While I am in Miami recovering from COVID-19, I'm deeply troubled by what is happening in Washington. I am praying for the safety of my colleagues & our law enforcement. There is absolutely no place for violence and rioting in the U.S. Capitol!"
Rep. Greg Steube, a Sarasota Republican, released a statement: "I condemn the actions of those today who broke through security, U.S. Capitol Police and law enforcement to force themselves into the Capitol. I witnessed our law enforcement officers being injured, gassed from their own tear gas and afraid for their lives as they attempted to hold the line. I and 3 other members were barricaded in a room surrounded by demonstrators until the hallway was clear for us to get out. I want to personally thank Kim Campbell with Sergeant-at-arms, Officer Reginald Cleveland and the 2 other officers who were barricaded in the room with us for their professionalism. The violence and lawlessness we saw today was completely unacceptable, and as a nation, we must do better. As I condemned the violence we saw in our nation's capital from BLM and Antifa, I condemn violence and rioting of any kind, by any group or organization."
Rep. Darren Soto, an Orlando Democrat, tweeted: "I was in the House Chamber. Then we were on lockdown, then evacuated and now we are safe. We remain steadfast in our resolve to defend our democracy today. This was a historically dangerous attack on our democracy incited by the violent rhetoric of a treacherous President. We will protect your vote, uphold our Constitution and certify the election of Pres-elect Biden."
Rep. Michael Waltz, a St. Augustine Republican, tweeted: "This is not who we are as a people or as a country. This is wrong and condemnable. God bless the Capitol police and keep them safe. This is despicable. This is not who we are as a country. In America, we solve our disputes through debate, discussion, courts and judges. There is no place for violence."
Rep. Debbie Wasserman Schultz, a Sunrise Democrat, tweeted to Trump: "This is how we make America great? Violence, storming the Capitol, attempting to block your duly elected successor by encouraging armed insurrection? The blood spilled today is on your hands. Tell your supporters to STAND DOWN."
Rep. Dan Webster, a Clermont Republican, tweeted: "Thank you Capitol Police for protecting Congress. Attacks on law enforcement doing their jobs is wrong. Protesting is a constitutional right, but violence is wrong."
Rep. Frederica Wilson, a Miami Gardens Democrat, tweeted: "How differently would the day have turned out if, instead of the President's supporters, it was Black Lives Matter protesters who violently stormed the Capitol? The Republican party should denounce Donald Trump for what he is: a petulant, fearmongering tyrant. More than anyone else, he is responsible for what happened today! Today's shocking images of the president's supporters destroying 'the people's house' perfectly capture Donald Trump's legacy. He has torn this nation apart, and now it falls to President-elect Biden and Vice President-elect Harris to pick up the pieces."