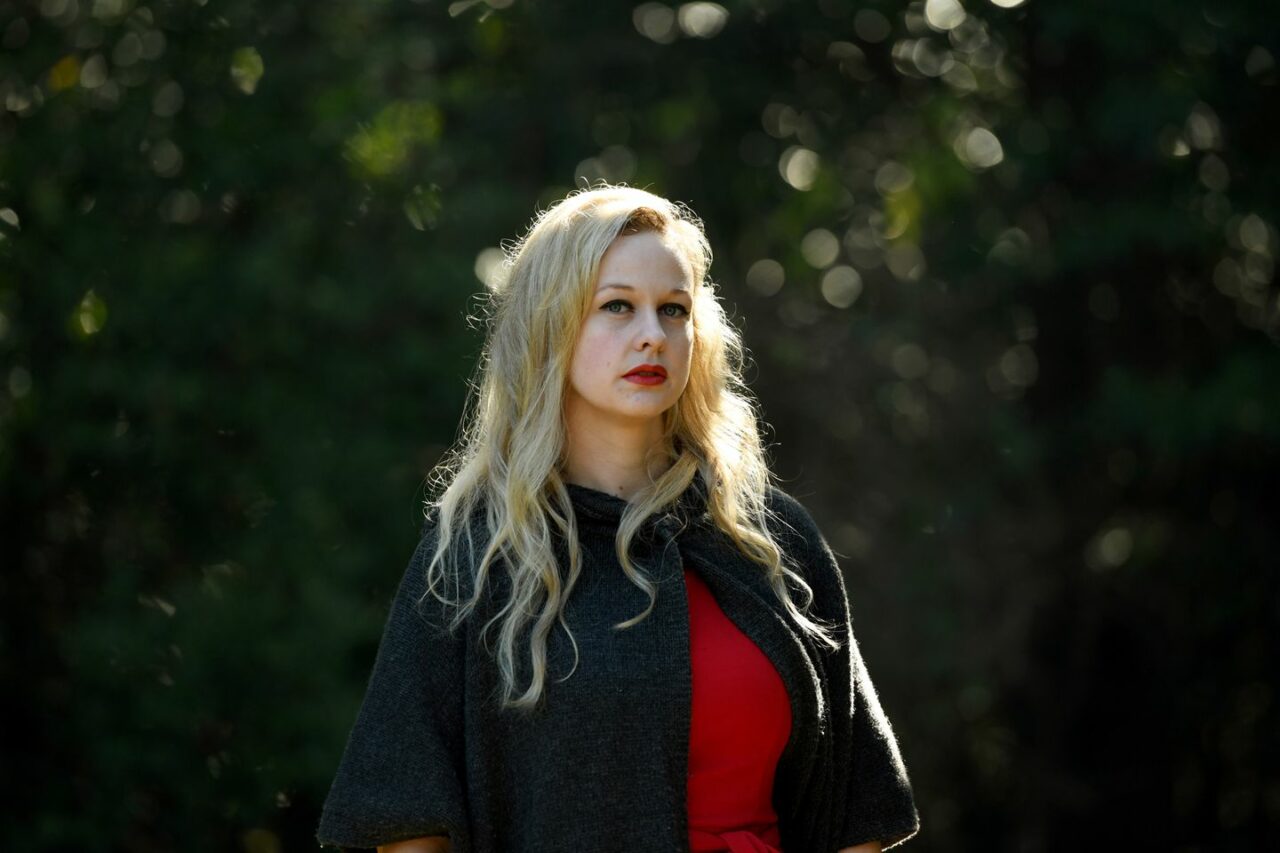 Jones said saying goodbye to her family was "the hardest thing" she's ever had to do.
Rebekah Jones, the former Florida Department of Health data scientist turned whistleblower, turned herself in Sunday to the Leon County Sheriff's Office after the Florida Department of Law Enforcement issued a warrant for her arrest.
A judge on Monday set bail at $2,500 for Jones and declined the Florida Department of Law Enforcement's request to require electronic monitoring or prohibit Jones' use of the internet as a condition for her release. Jones has notably relocated to Washington, D.C.
Jones was charged "with one count of offenses against users of computers, computer systems, computer networks and electronic devices," according to FDLE.
In a prebuttal to her arrest made via Twitter, Jones said the FDLE found no evidence of her sending messages to FDOH staff telling them to "speak out."
Jones said police officers found documents that she received and downloaded from state sources, but it is unclear the role those play in the charge brought against her.
A criminal complaint since made public confirms the Tallahassee Police Department seized a desktop computer from Jones' home after serving a search warrant on Dec. 7.  Jones released video she recorded in the home of the raid.
Jones indicated to police she was the only person in the home who used the HP computer that was seized, the complaint states.
The FDLE obtained the search warrant after an investigation allegedly linked her address to a Nov. 10 message sent on an internal Department of Health multi-user messaging account.
"It's time to speak up before another 17,000 people are dead. You know this is wrong. You don't have to be part of this. Be a hero. Speak out before it's too late," the message from an unidentified sender said.
Jones has repeatedly denied sending the message. Her lawyers have also said the user name and password for the messaging platform was publicly available.
Analysts conducted a forensic investigation of data and found cookies in Jones' browser indicating that at 2:20 p.m. on Nov. 10, there was unauthorized data access on the Department of Health's ReadyOp system.
Police say the user downloaded a 2.9-megabyte data file, with information containing around 600 to 700 pages worth of state records. The file included personal contact information for 19,182 people across the state of Florida, according to the complaint, including names, personal email addresses and phone numbers, along with organizations, titles and counties where the individuals worked or lived. Several individuals on the list were contacted by police and indicated the file was likely an emergency contact list for people working with or within the Department of Health.
Jones saved copies of the file on her hard drive and her Microsoft OneDrive cloud. Investigators say they subpoenaed and received evidence from Microsoft in December indicating Jones had downloaded the data.
Department of Health user logs also revealed the data had been separately accessed on Nov. 12. Police say after subpoenaing Comcast, they found evidence the information was accessed through an IP address associated with Jones' personal account.
The evidence "proved that Rebekah Jones was responsible for unauthorized access and several unauthorized access attempts to FDOH systems," the complaint states. "The evidence further proves that during the unauthorized access, Jones exfiltrated FDOH intellectual property."
The law enforcement agency asked that Jones be banned from computer access, internet access and "contact with the witnesses or those people whose personal information was acquired through the download."
But Leon County Circuit Judge John Cooper denied the state's request for a blanket computer ban during an appearance Monday morning, according to Stephen Dobson, a Tallahassee criminal defense attorney who represents Jones.
Dobson told The News Service of Florida that Cooper also rejected the state's request for GPS monitoring of Jones, but the judge sided with the state and prohibited Jones from accessing the state Department of Health website.
Jones filed a civil lawsuit against FDLE Commissioner Rick Swearingen, FDLE special agent Noel Pratts and an agent identified as "John Doe" last month and filed a motion seeking to force law enforcement officials to return her equipment.
The arrest warrant comes after Cooper told police he could not make a decision on whether Jones could receive her belongings taken under the warrant unless he knew whether the police were investigating a crime.
The arrest warrant was issued the day after the hearing.
Court records show that Jones, who was fired by the Department of Health last year, was released from jail Monday morning after posting a bail bond, which was set at $2,500. She turned herself in Sunday.
Dobson said Cooper has allowed Jones to return to her home in Chevy Chase, Md., and that she plans on heading back as quickly as possible.
Jones' lawyers asked the FDLE if she could turn herself in later in the week, because she was sick.
But the agency threatened to arrest her in Maryland if she did not turn herself in by Monday night, Dobson said. Jones tested positive for COVID-19 before being released from jail, he said.
The state's actions regarding Jones have been "overreach, completely," Dobson said in a phone interview Monday afternoon.
"There really are serious crimes out there they could be investigating. I think we've seen that in the last few weeks. But they seem to be spending an extraordinary amount of time, effort and resources on Rebekah Jones,' he said. "It is really quite remarkable."
___
Previous reporting
Jones called the move by law enforcement "retaliation."
"If they're not investigating a crime, they had to return my equipment," Jones said in a Twitter thread Saturday. "They didn't find proof of anything related to the warrant, so they invented something new to come after me for in retaliation."
Jones is only facing one charge, she said.
A spokesperson for the FDLE confirmed an active arrest warrant on Jones. The department will be able to provide information after Jones is in custody, the spokesperson said.
Jones plans to turn herself in Sunday, saying that telling her family goodbye is "the hardest thing I've ever done in my life."
"To protect my family from continued police violence, and to show that I'm ready to fight whatever they throw at me, I'm turning myself into police in Florida Sunday night," Jones said in the thread. "The Governor will not win his war on science and free speech. He will not silence those who speak out."
According to Jones, possible conditions of her release could include prohibited access to computers, internet or electronic devices.
Jones, who was fired last year from her job at the DOH, drew national attention because of her allegations that Gov. Ron DeSantis' administration manipulated data about the COVID-19 pandemic.
The FDLE conducted a search at Jones' house after an investigation allegedly linked her address to a message sent on Nov. 10 on an internal DOH multi-user account.
"It's time to speak up before another 17,000 people are dead. You know this is wrong. You don't have to be part of this. Be a hero. Speak out before it's too late," the message from an unidentified sender said.
Jones filed a civil lawsuit on Dec. 20 against FDLE Commissioner Rick Swearingen, Agent Noel Pratts and an unidentified agent listed as John Doe.
___
The News Service of Florida contributed to this post. Republished with permission.