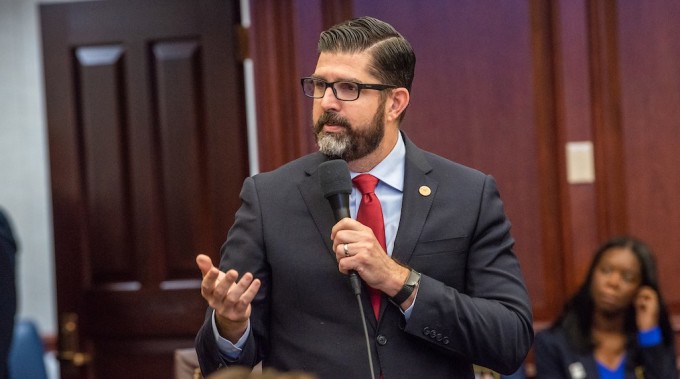 Democrats called the resolution offensive.
A Senate panel has given the first OK to a resolution denouncing democratic socialism and reaffirming liberty and democracy as "true American values."
By a 4-2 party-line vote Wednesday, the Senate Accountability and Oversight Committee advanced Republican Sen. Manny Díaz's resolution (SR 150), which Democrats said paints progressive policies as communistic and anti-democratic.
On its way to declaring "that democratic socialism is denounced in favor of the true American values of individual liberty and democracy," the resolution touts the rule of law, liberty, capitalism and the United States' economic prowess.
Orlando Democratic Sen. Victor Torres said the resolution effectively denounces popular "progressive" policies and services like Social Security, Medicare, unemployment insurance benefits, the postal service, public education and transportation. Sen. Linda Stewart, another Orlando Democrat, called some of the language in the resolution "offensive to a lot of people."
But Díaz, a Hialeah native who is a first generation American of Cuban descent, told the committee his resolution isn't targeted at any individual policy.
"It is simply a message from the Florida Senate to say that we stand by our system of economic progress, by our system of government," he said, adding that his family has experienced the perils of socialism firsthand.
The Senator later told reporters he was motivated by the current political climate, self-proclaimed Democratic Socialism and "cancel culture."
"It's a push back to some of that and a push back to the idea that our system doesn't work in America, and it clearly has worked for over 200 years and despite our differences," Díaz said.
He filed the resolution early last month, just over a month after voters elected Joe Biden as the next President of the United States. In Miami-Dade County, Republicans made gains targeting liberals and progressives, helping to improve former President Donald Trump's margin in Florida over his 2016 results.
Emotions have boiled over across the country into protests by both ends of the spectrum. The insurrection at the U.S. Capitol this month by Trump supporters accentuated the nation's internal political battle.
"This is not the first time in our history where we have tumultuous times where we disagree and there's even been incidents," Díaz said. "It's not the first time, it's just, obviously, 24 hour news cycle, social media and all of that."
The American system works added Díaz, who one witness in committee asked if he had ever been to Norway. Díaz did not answer.
"Some people try to point out where there's these countries, these small, little countries where they have some form of socialism," the Senator said. "The problem is those are homogeneous countries that are very small, and obviously, the United States, we're a very diverse country founded on these principles, and we want to make sure that we maintain those principles."
The resolution next heads to the Senate Judiciary Committee. Its companion resolution in the House (HR 145), filed by Miramar Republican Rep. Tom Fabricio, awaits its first hearing.