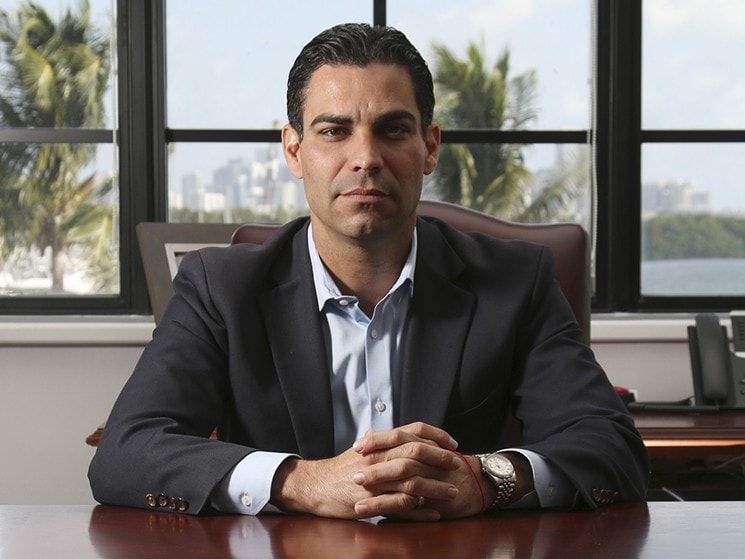 Locals can't enforce mask orders, and even Republicans aren't thrilled.
Roughly 24 hours after the Republican Mayor of Miami blasted Gov. Ron DeSantis for blocking "common sense" virus mitigation measures, the state GOP put him on blast.
In a tweet Monday, the Republican Party of Florida said Miami Mayor Francis Suarez was "another 'good for me, not for thee'" politician when it came to mask mandates.
Suarez "complains on Face the Nation that he wants a mask mandate. Yet he himself violated his own mask mandate in the Summer of 2020," the GOP tweet read along with a photo of a maskless Suarez and a link to an article about him dining at a crowded restaurant.
Suarez, during an appearance on the CBS network the previous morning, expressed frustration with the Governor, who has blocked local governments from issuing "commonsense" mask mandates with enforcement components.
"I've tried to reach him on multiple occasions to tell him 'give us the opportunity not just here in the city but in the county to institute things that we think are commonsense, that we think are backed up by science, and we can demonstrate are backed up by science'," Suarez said on Face the Nation.
Asked by host Margaret Brennan about how the city is tackling its emergence as a hotspot for the British mutation of COVID-19, Suarez said DeSantis had blocked Miami from being able to institute a mask mandate with teeth.
This is a recurring concern for South Florida lawmakers, but this time rehearsed by a Republican on a national broadcast stage.
"We've been restricted from being able to put in mitigation measures," Suarez said. "I had implemented a masks in public order back when we were allowed to do it during the summer, and it drove down cases by 90%."
"Now we're not allowed to implement a masks in public order," Suarez continued. "I had been speaking to the coronavirus task force about it."
That may have been the wrong approach as the Governor previously disregarded guidance from the White House Coronavirus Task Force to take stronger measures.
The Mayor then said that despite the lack of state leadership, citizens are masking up of their own accord.
"They're concerned about their health," Suarez said, "and we've been hammering home the point in PSAs."
"I'm very thankful that our residents are listening," the Miami Mayor added, "despite the fact that it's something we can't mandate."
Suarez also distanced from potential issues with open bars and gyms, disclaiming responsibility by saying regarding such restrictions that "unfortunately, those are not in our purview" and that they were "something the Governor has decided."