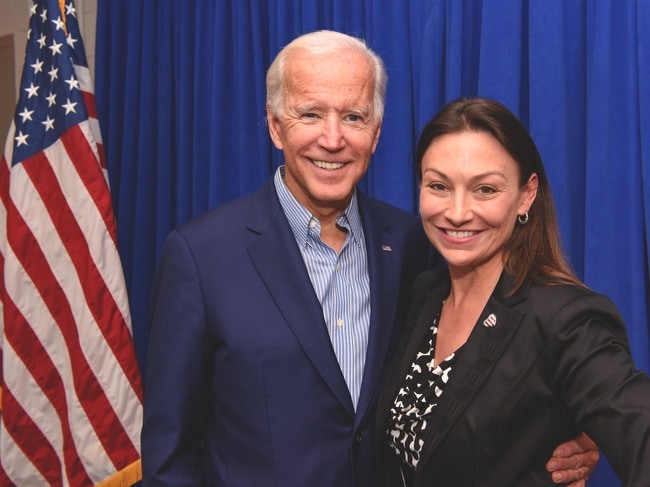 The plan marks Florida's first major coordination effort with the White House.
Agriculture Commissioner Nikki Fried unveiled an expansive plan Tuesday that would address a spectrum of issues through a partnership with President Joe Biden's White House.
The 30-page plan, FDACS Biden-Harris Administration Partnership Plan: Keeping Florida & America Growing, marks Florida's first large-scale coordination attempt with Biden's new administration. 
The plan outlines 40 areas where the Florida Department of Agriculture and Consumer Services can collaborate with the White House and federal agencies such as the U.S. departments of Agriculture, Energy and Commerce. 
The plan also involves the Environmental Protection Agency, Food and Drug Administration, the Federal Trade Commission and others.
Policy suggestions range from water and rural broadband issues to cannabis, diversity and more.
"This historically difficult past year has exposed so many challenges for our state and nation, as well as opportunities for partnership with this new Administration," said Fried, Florida's top-elected Democrat. "From promoting Florida-grown products and protecting consumers to increasing renewable energy and fighting chronic hunger, today's federal partnership plan outlines nearly 40 policies and initiatives for increased state-federal collaboration.
Fried added: "Our department and the state of Florida look forward to working closely with President Biden, Vice President (Kamala) Harris, and their Administration to benefit Florida's farmers, consumers, and families."
WATER
The plan requests that Biden work with Congress to ban oil drilling off Florida shores permanently. 
It further calls for federal partnerships on water research and funding opportunities for water conservation. 
Fried is also seeking more funding opportunities to help agriculture producers bolster water conservation efforts.
CANNABIS
The plan asks Biden to federally legalize cannabis for adults, expand the USDA hemp crop insurance pilot program to Florida and establish clear Food and Drug Administration regulation for CBD.
ENERGY AND CLIMATE
Fried asked the administration to expand the FDACS's Office of Energy's Electric Vehicle (EV) Roadmap. 
The plan also requests block grants for energy equity, farm energy and water programs. 
The plan further seeks to identify federal and state-owned lands prime for carbon sequestration.
FOOD AND NUTRITION
Fried asked the administration to make online Supplemental Nutrition Assistance Program purchasing permanent. That program allows food stamp recipients to use SNAP benefits for online food purchases, an allowance made amid COVID-19 to allow beneficiaries to limit in-person interactions. 
She also called for a universal school meals program that offers all children meals at no charge.
Fried noted that one in five Floridians are facing food insecurity.
DIVERSITY, EQUITY, AND INCLUSION
Fried asked Biden to establish grant matching for historically Black colleges and universities. 
She further called for a "joint-equity advisory commission" with other state agriculture departments and more funding for military veterans in agriculture.
"As a member of the Senate Agriculture Committee, I find it inspiring that Commissioner Fried has a desire to help minorities become more engaged in an industry that has a history of blocking and excluding them from prospering," Sen. Perry Thurston said. "I am encouraged that we have a friend in the new administration who is of the same mindset. This plan has the ability to provide not just access, but opportunity for all communities."
Fried encouraged the administration to take up several provisions within U.S. Sen. Cory Booker's Justice for Black Farmers Act. 
Among them, Fried highlighted the plan's increased USDA funding for socially disadvantaged farmers and ranchers. 
She also called for creating a Farm Conservation Corps, a proposed USDA program that would provide resources to support entry into agriculture for socially disadvantaged young adults. 
RURAL COMMUNITIES
Fried is also seeking more funding for rural broadband access, which is currently lacking. Poor broadband service in rural communities was punctuated over the last year as students sought online learning amid COVID-19 school closures. 
The plan also considers expanded access to rural mental health, telehealth and rural health care facilities. 
Moreover, it seeks to invest in rural community colleges and technical schools and requests more block grant funding to combat food insecurity in rural, underserved communities. 
"I appreciate Commissioner Fried's innovative and aggressive approach to addressing food insecurity and climate change, and to a number of critical issues facing Senate District 3 including rural broadband deployment, continued support to timber farmers and others impacted by Hurricane Michael, payment for environmental services and cost-saving innovations in agricultural practices," Senate District 3 Sen. Loranne Ausley said.
TRADE AND CONSUMER SERVICES
Other areas addressed in the plan include tackling illegal telemarketing and creating a national Automatic Voter Registration policy.
Fried also called on the Biden administration to "level the playing field" with improved trade agreements impacting Florida agriculture.