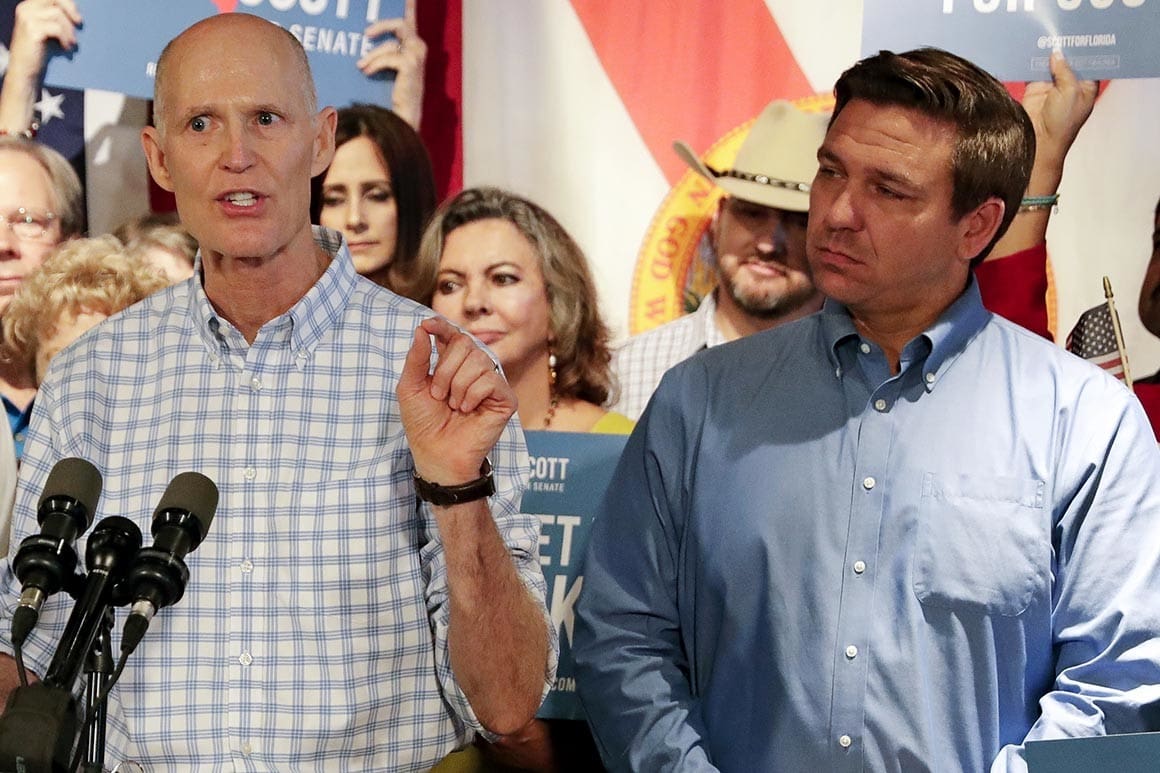 The rift between current and former Governor appears alive and well.
When given an opportunity to endorse a Gov. Ron DeSantis backed crackdown on the so-called "Big Tech cartel," his immediate predecessor as Governor punted Wednesday on two separate occasions.
Despite having long-standing concerns about Google, Facebook, and other tech giants that conservatives see as slanting left, U.S. Sen. Rick Scott would not endorse or even offer specific comment on the Transparency in Technology Act. The measure could, at least in theory, position Florida as a leader in attempted regulation of social media companies.
But Scott remains non-committal on one of the signature initiatives of the 2021 Legislative Session in his former stomping ground.
The Senator, appearing on the Fox Business Network in the morning and the Fox News Channel in the afternoon, continued his longstanding policy of not mentioning DeSantis' name on a live mic. And he did not offer the specific attaboy the interviewers seemed to expect, preferring instead to traffic in aspirational language.
"What you want is for Big Tech to be fair, to follow their own rules," Scott said. "They're not being platforms, they're being publishers."
"That's what Twitter and Facebook are saying. If you're a conservative, you don't get to talk anymore. That's not right," Scott said Wednesday morning.
Scott said that repealing Section 230, which offers technology companies immunity from legal action made on their open source platforms, was "an option" and an "approach" that could be used to curb the industry. He also endorsed a cause of action, another component of the bill.
"Let people sue them if they're not applying the rules. They have to say 'these are my rules. If I don't follow these rules, the consumer has the right to sue me.'"
In the afternoon on FNC, Scott was also tepid when asked to weigh in on the proposal from "your Governor, Rick DeSantis" for $100,000 daily fines for deplatforming.
"You've got to follow the rules. You've got to be consistent with everybody," Scott said.
Scott's rhetoric and presentation were mild, compared to previous comparisons of Twitter and Facebook to "the communist regime in China,"
"If you're going to be in that position, be a publisher and pick, I don't know how you're going to keep your Section 230 exemption," Scott predicted last fall, calling Twitter a "platform for dictators and thugs."
However, when presented an opportunity to endorse specific actions from the current Governor to address perceived social-media overreach, Scott refused to offer any quarter, a seeming indication that the long standing tensions between the past and present governors are not appreciably resolved.
For his part, DeSantis offered no shortage of red meat defenses of the legislation Tuesday in Tallahassee.
"Big Tech looks more like Big Brother every year," DeSantis said, adding that this is "real life, not George Orwell's fiction."
The Governor attacked Twitter for burying reporting on Hunter Biden, for canceling former President Donald Trump's account, and for what he perceives to be a pattern of "coordinated, calculated efforts … undertaken to advance an increasingly evident political agenda of the Big Tech companies."
Among the proposals the Governor outlined were the following: requiring notice of change of terms of services; preventing platforms from rapidly changing standards; allowing people to opt out of content algorithms; $100,000 daily fines for "deplatforming" candidates for office; and creating a "cause of action" pathway for legal action, either from the Attorney General or private citizens under the guise of deceptive and unfair practices.