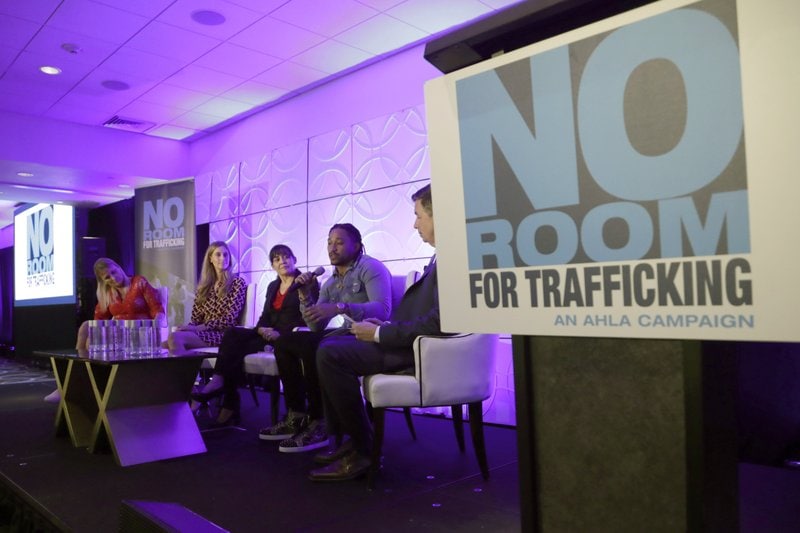 Officials are putting safeguards in place to combat during a marquee event.
The Hillsborough County Human Trafficking Commission met Thursday afternoon to discuss efforts to mitigate human trafficking ahead of Super Bowl LV. 
Hillsborough County Commissioner Kimberly Overman, who chairs the committee, reviewed several campaigns incorporated in Tampa to spread awareness as the Super Bowl approaches. 
These include Public Service Announcements featuring professional football players, educational partnerships with companies like Uber and Airbnb and informative resources displayed in public places like the Tampa International Airport.
"We've had great star power that's helped us in getting that message out there," Overman said. "It seems like the last couple of days I've done more interviews about human trafficking than I've ever done in my life — so, we're getting that information out."
Overman reported on the Tampa Bay Human Trafficking Task Force App launched back in December to help people recognize and report trafficking activity. The app allows users to submit locations, photos and tips.
The commissioner was also able to speak on the Super Bowl LV podcast to further educate on human trafficking.
"There's a variety of leaders in our community that are speaking about the various different elements of the Super Bowl, but my topic was primarily at highlighting how critically important the NFL's efforts to tackle human trafficking as one of their social social justice issues," she said.
During the meeting, the commission recognized bills being brought to this year's legislative session that tackle issues related to human trafficking. 
Overman discussed HB 523, filed by Rep. Jackie Toledo, which would provide the Attorney General's Office tools to develop a human trafficking victim advocacy program, making the state's resources for victims more consistent. Broward Democrat Sen. Lauren Book is sponsoring the Senate version of the bill, SB 812.
Tampa Police Deputy Chief Lee Bercaw provided a task force update at the meeting, highlighting the efforts of the detectives and officers as they prepare for the Super Bowl. 
Preparation by the task force for the Super Bowl began almost a year ago with phase one, which implemented education and awareness. Phase two focuses on the operation, "killing two birds with one stone, so to speak."
"While we're fine tuning our efforts for this week, we're also making a difference, in many victims' lives," Bercaw said.
"While we're fine tuning our efforts for this week, we're also making a difference in many victims' lives," he said. 
Bercaw emphasized that since last Thursday, officers and detectives have been working nonstop.
"Some of these days are going 20 plus hours a day," he said. "These detectives and officers that are working are dedicated."
Susan Bradford, a manager of regulatory compliance under code enforcement in the county, provided several updates with ordinances related to trafficking at the meeting.
One such ordinance put in effect last year requires adult entertainment businesses to display informational signage in multiple languages at the front entrance and every bathroom stall. This applied to more than 300 business locations.
In August of 2020, Bradford said the department conducted compliance checks for the whole county, and found only 10 places not in compliance. Each citation comes with a fine of $265. 
The county also regulates taxi cabs and limos with specialized stickers for safety. Currently, investigators are all around Super Bowl locations to ensure that the vehicles are in compliance. 
"We want to make sure that we don't have any people getting into taxi cabs and limos that are not taxi cabs and limos," she said. "We want to make sure that young people, or anyone, doesn't get into an unsafe limo or taxi cab."