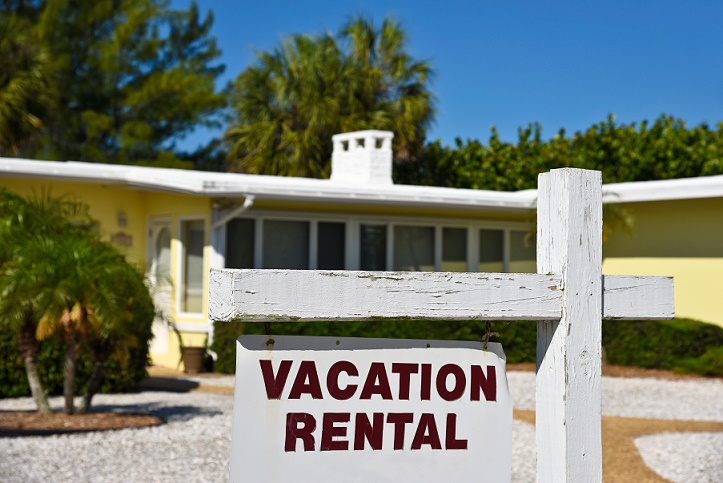 Jason Fischer warns of local socialism. Jason Steele warns of nasty campaign mailers.
The annual legislative attempt to strip local limits on vacation rental homes cleared the House Regulatory Reform Subcommittee Wednesday with the usual debate over clashing property rights and the need for state oversight of the rapidly growing sector.
This time, however, the House measure offered by Rep. Jason Fischer, the Jacksonville Republican, drew a couple of new, more provocative arguments.
Fischer suggested the local authority that cities, counties, and their allies contend is beloved home rule power, may now be a manifestation of socialism.
And former Brevard County Republican Party leader and former state Rep. Jason Steele gave warning that sounded to some members like a political threat if they voted to support what Steele called "this terrible bill." He warned someone like hardball political adviser Anthony Pedicini would make them pay for approving it.
The committee approved the bill largely along party lines, a predictable outcome that had Steele charging in advance that the committee's Democrats looked, in his eyes, to be the real conservatives. The Senate companion bill, SB 522, is sponsored by Republican Sen. Manny Diaz Jr.
HB 219 goes further than many previous attempts in the Florida Legislature to take regulation of vacation rentals out of the hands of cities and counties and place it with the state. And for those new provisions, even some of its strongest opponents on the subcommittee said there were things they liked, and ways they might ultimately be enticed to support the bill.
HB 219 would require the homes to be licensed as lodging businesses by the state Department of Business and Professional Regulation and taxed as such. It also would place regulations on the companies that market them worldwide on internet platforms, such as Airbnb and HomeAway, to discourage them from listing non-licensed homes in Florida.
Florida already bans local governments from passing ordinances to outlaw vacation rentals.
While acknowledging that his bill faces opposition, Fischer argued that the changes are necessary.
"The current way vacation rentals are handled isn't working. Nobody's, I think, really happy about the current state of things," he said, adding that his proposal would "fix the dysfunction of the regulatory scheme across the state of Florida."
But cities and counties that have written their own regulatory frameworks since the state allowed them to do so in 2014 would see those local ordinances nullified, preempted by state control. This has been a primary stumbling block to similar bills for several years running. Last year this concern also drew in Gov. Ron DeSantis, who said he believed the decisions "should be determined locally."
This year, the Florida League of Cities is again issuing words of caution.
"The Florida League of Cities supports safe and responsible short-term rentals, but today's unfortunate decision by the House Regulatory Reform Subcommittee to approve legislation that doesn't protect tenants from unsafe units or those who live next door to dangerous rentals is concerning and potentially putting residents at risk," the group wrote in a statement.
"Florida's cities have shown the ability to appropriately manage short-term rentals based on the unique needs of their communities and protect residents' property rights from out-of-state, unrestricted corporations, but this legislation also proposes a statewide preemption of registering and inspecting short-term rentals to a state agency that simply doesn't have the resources to manage the tens of thousands of rentals in this state."
Added the group: "Florida's 411 cities are incredibly diverse and need the tools and flexibility to implement smart, targeted solutions to public safety problems caused by short-term rentals. We look forward to continuing to discuss these concerns with House members as well as members of the Senate Regulated Industries Committee that will hear a similar bill next week."
Indian River County Commissioner Peter O'Bryan echoed FLC in comments delivered to the House panel, saying that the bill was "like déjà vu all over again."
"I'm sure you all are just as tired of us coming up here as we are. The problem with vacation rentals is, it's not the activity. It's the frequency and duration of it," O'Bryan said. "If you preempt us back to 2011, you're going to wipe out all of these communities where we have sat down with the industry, we have done the right thing, and we have an ordinance that's working."
Fischer offered another perspective on the local decisions Wednesday.
"Why are you proposing to eliminate locally vetted solutions that are working? We like to say that government closest to the people is sometimes the best government," asked Democratic Rep. Dan Daley of Coral Springs.
"I think I've also heard people say that socialism is starting to invade America through local government," Fischer said.
That led to the crux of the argument. Both sides argued property rights. Fischer and other HB 219 supporters focused their case largely on the rights of the owners of the properties to rent them out to vacationers to make a few dollars. Opponents contended they wanted to protect the property rights of the neighbors who feel infringed when someone's house becomes a permanent mini-hotel, sometimes loud, unruly, and trashy, causing police problems in previously quiet neighborhoods.
Then came Steele, who served in the House from 1980 to '82, held leadership roles in the Brevard Republican Party, and on Wednesday appeared representing the cities of Satellite Beach and Indialantic. He contended HB 219 is a very unpopular bill for Floridians.
"This is not an invisible issue. This is an issue you need to be very, very careful about. It's political suicide for you," Steele said.
"A guy like Anthony Pedicini will grab this thing and you'll get the ugliest mailers you've ever seen. I'm telling you right now, you're jeopardizing your political career," Steele warned.
Pedicini later tweeted that he wouldn't be putting out any mailers on the bill.
Fischer and several committee members took offense to Steele's assertions.
"I gotta say the aggressive, sometimes offensive threats are not helpful and former Representatives should know better," said Republican Rep. Tommy Gregory of Sarasota.
Committee Chair Bob Rommel told members they should not to swayed by "political threats" when voting on the bill.
Democrats, notably Daley and Reps. Anna V. Eskamani of Orlando and Angie Nixon of Jacksonville, raised other concerns, notably that the option of turning houses and apartments into potentially high-profit vacation rentals is exacerbating the affordable housing shortage in many cities, and that the state might not have the resources to properly regulate and inspect tens of thousands of properties all at once, with cost estimates starting at $1.4 million.
Arguing against the proposal, Rep. Mike Grieco called short-term rentals a "commercial operation" that should be regulated differently than residences.
"You're essentially turning, a lot of times, a single-family home into a perpetual kind of mini-hotel," Grieco, a Miami Beach Democrat who is an attorney, said.
The hotel industry, which for years sought to have vacation rentals governed in the same manner as other lodging establishments, is split on the proposal.
Lisa Lombardi, chief people and culture officer of HDG Hotels, told House members Wednesday that the bill "has a lot of potential to make sure that we can all recognize who is in our state providing lodging of any form."
But Lombardi said her group, which operates 19 hotels in Florida, wants fines for non-compliance and auditing requirements added to the measure.
"As it currently stands, there's room for improvement," said Lombardi, who serves on the board of the Florida Restaurant & Lodging Association.
Carol Dover, president and CEO of the association, told The News Service of Florida that her organization supports the plan. But Chip Rogers, president and CEO of the American Hotel and Lodging Association, said his group isn't behind the proposal.
"Florida is unique in how it regulates hotels, and we're appreciative of that and in no way are we suggesting that that should be changed," Rogers said in a recent phone interview. "The dividing issue that we have … is the preemption of what really amounts to zoning. No other business gets this type of preemption. It's unheard of anywhere else in the country where a local city can't enforce its own zoning on properties."
Fischer's bill was amended Wednesday to include a provision that would limit sex offenders from staying in vacation rentals for more than 24 hours. Florida law restricts sex offenders from staying at hotels for more than three days. The amended proposal also included a carve-out for the Florida Keys.
It passed the committee with a 10-7 vote.
___
The News Service of Florida contributed to this post. Republished with permission.