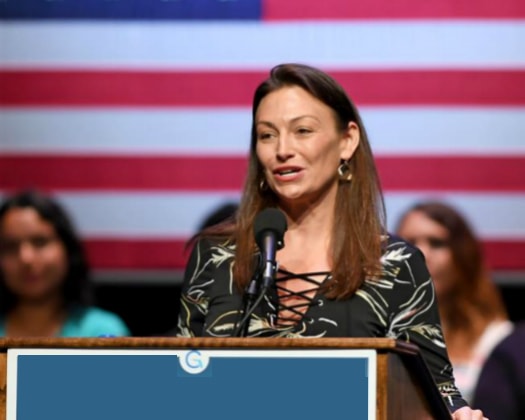 She says DeSantis needs to be a one-term Governor.
Florida's Agriculture Commissioner blasted Gov. Ron DeSantis during a cable news appearance Tuesday morning. But despite offering assurances that he needed to be a "one-term Governor," Commissioner Nikki Fried isn't ready to launch her own 2022 campaign yet.
Fried appeared on CNN's New Day Tuesday morning, and she told host John Berman that her team is "not there yet" when it comes to making the announcement, even as pressure to run is intensifying.
"Every single day it is becoming more clear that we have to get rid of Gov. DeSantis," Fried said. "And as the only statewide elected Democrat, there are a lot of people coming up to me and telling me that I am one of our best shots. So we're certainly looking into it, but again it's becoming clearer every single day that we need to make sure that Gov. DeSantis is a one term Governor, and that we end this hatred in our state in 2022."
When advised that sounded close to a yes, Fried said not quite.
"We're not there yet," she reiterated.
Fried's appearance on a national cable news program speaks to her increased profile and the seeming narrative inevitability of her challenging DeSantis next year. In addition to setting up as a DeSantis alternative in friendly media hits, she is also advancing her own creative.
Fried's political committee released a video Twitter this week that many are seeing as the message of a pre-candidate.
"So let me say this to all Floridians: You're loved. We feel your hurt. Florida can and will do better. As the Biden administration puts science first and we turn the corner on this pandemic, I promise, I will continue to fight for you and hold the Governor accountable," Fried said.
Beyond the still-hypothetical but seemingly-inevitable Fried/DeSantis race, the commissioner offered strong criticisms in the same segment of DeSantis' decision to honor fallen radio host Rush Limbaugh by lowering flags to half-staff.
Fried's office will resist that gubernatorial decision. She said DeSantis was "bending over backwards" to honor a purveyor of division, "conspiracy theories," and "hate speech," by using the flag as a "political prop."
"When the Governor uses the flag as a prop," Fried counseled, "it sends a message to the rest of the state about what he idolizes."