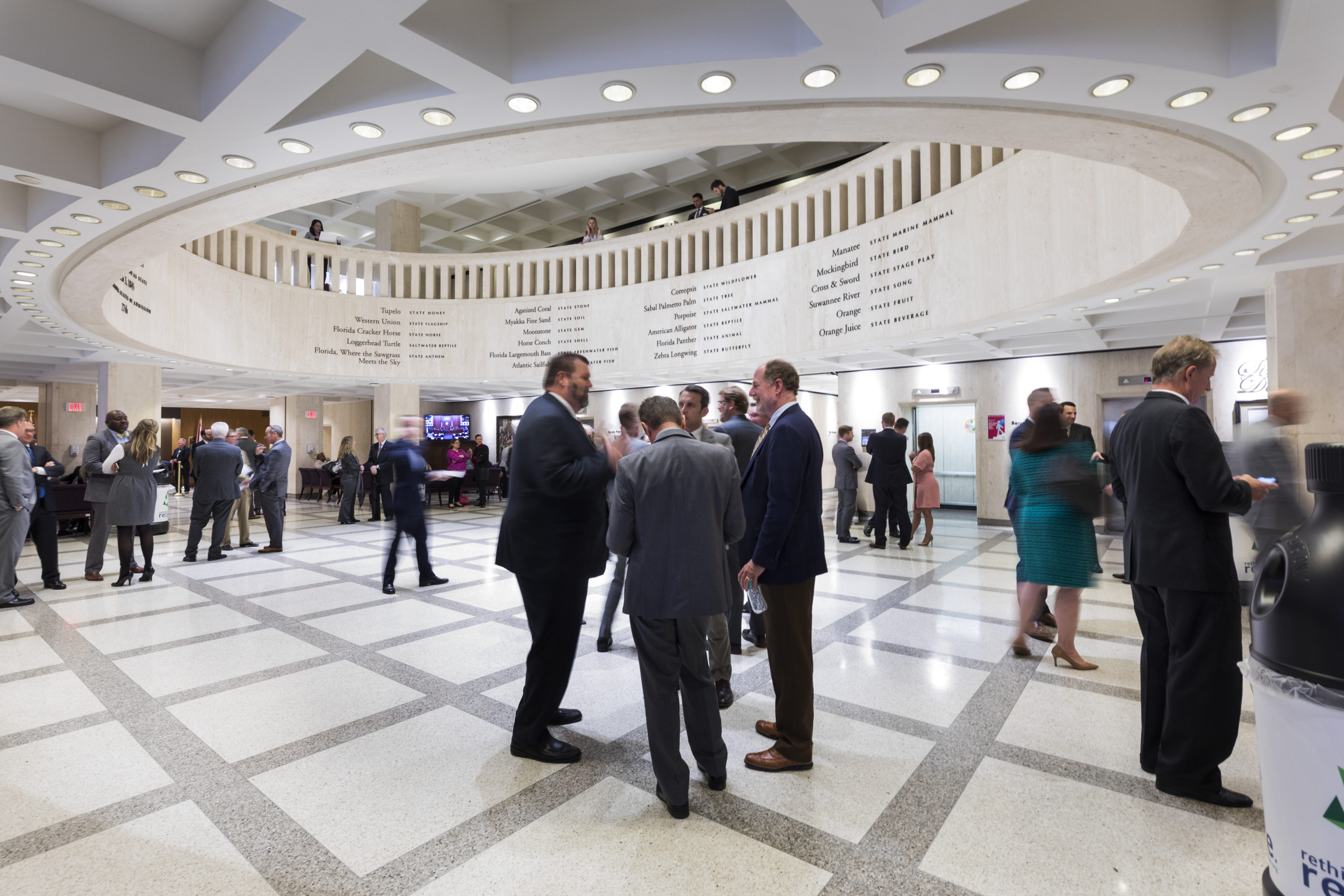 Firms are chosen at random.
Joint Legislative Auditing Committee staff members on Tuesday selected the 23 lobbying firms whose compensation reports the committee will audit this year.
The random selection comes from the pool of 390 legislative branch lobbying firms and 344 executive branch lobbying firms. Committee staff randomly selected 12 legislative branch firms and 11 executive branch firms, in order to meet the 3% audit requirement for each branch. Six alternates were selected from each category in case a firm can't be audited.
The committee's selections include former Senate President Mike Haridopolos, Meenan PA, and Strategos Public Affairs LLC on the legislative side and Buchanan Ingersoll & Rooney PC on the executive side.
Haridopolos served as Senate President from 2010 to 2012 and has been working as a lobbyist since shortly after his officeholder ban expired. He made between $400,000 and $1 million in compensation last year for his legislative branch lobbying.
The four-person lobbying crew at Meenan PA reported as much as $200,000 in pay for its legislative lobbying last year. However, Meenan PA pulls in most of its pay lobbying the Governor and Cabinet.
Strategos Public Affairs raked in between $550,000 and $1.3 million for its legislative branch work last year. ScanStat Technologies paid the five-person firm $120,000 for legislative work, making them the top client on that half of the ledger. Flagler Hospital was second with $100,000 in payments, followed by ChanceLight Behavioral Health & Education at $70,000.
Buchanan Ingersoll & Rooney made between $300,000 and $700,000 for work on the executive branch side last year.
Audits are scheduled to begin by May 3 and wrap by June 30.
The following are the firms selected:
LEGISLATIVE BRANCH
— Mike Haridopolos
— Arnold Law Firm
— Wexford Strategies
— Nabors Giblin & Nickerson P.A.
— Strategos Public Affairs LLC
— Paul W. Wharton Ph.D. Consulting Inc.
— Fraser Solutions
— Meenan P.A.
— Thomas L. Singleton Consulting Inc.
— Black Consulting LLC
— McConnaughhay, Coonrod, Pope, Weaver & Stern P.A.
— Mang & Santurri P.A.
EXECUTIVE BRANCH
— Buchanan Ingersoll & Rooney PC
— Deborah Lawson Governmental Affairs (Retired)
— Marin and Sons Inc.
— ML Bowen Advisors LLC
— The Peeple's Group
— Smith & Associates
— Acclaim Strategies Inc.
— Capitol Strategy Group
— CLD & Associates LLC
— People Who Think
— Kurkin Forehand Brandes LLP
Legislative branch alternates
— Beth Kirkland Consulting LLC
— Arena Public Affairs LLC
— Calhoun Management & Consulting LLC
— Maury Rawlins Brown
— Screven Watson & Associates LLC
— Donald G. Ray & Associates
Executive branch alternates
— Melaney Cordell and Associates
— J. D. Hicks & Associates Inc.
— Travel Green Florida Inc.
— Prutsman & Associates PA
— Nabors Giblin & Nickerson P.A.
— Johnston & Stewart Government Strategies LLC
___
Florida Politics reporter Drew Wilson contributed to this report.