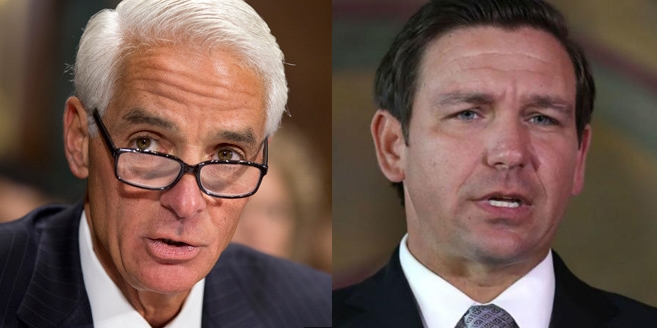 Other governors' policies have killed seniors, DeSantis said.
Gov. Ron DeSantis was again asked about U.S. Rep. Charlie Crist's call for an investigation against him, this time calling attacks like that a joke.
DeSantis made national headlines last week for suggesting the state could divert vaccines to more grateful counties as the state looks to vaccinate seniors. Crist, a Pinellas County Democrat, on Sunday called for a federal investigation into the vaccine rollout in Manatee County.
Crist also said earlier this month that he was considering a bid to retake the Governor's Mansion, which he occupied from 2007 to 2011.
Like on Tuesday, when DeSantis suggested the investigation request was an ineffective political attack, the question drew a titter from the Governor before he gave his brief response.
"There're some people who are more upset at me for vaccinating seniors than they are for other governors whose policies have killed seniors, and that is a joke," he said.
DeSantis was speaking in Brooksville on Wednesday to announce another pop-up vaccination site.
Critics say the Governor has prioritized making vaccines available in Republican-heavy counties. Others have pointed out that the Governor quickly went all-in on Publix vaccination sites after donations from the grocery chain and pharmacy company rolled in.
But on Tuesday, the Governor said he doesn't consider "who you vote for or any of that" when allocating doses. According to him, Broward County, a Democratic stronghold, has had the most senior community vaccination visits of any county.
The community pod in Manatee County controversially served only residents of two wealthy, largely White ZIP codes, providing about 3,000 vaccines for COVID-19 to residents in the area age 65 and older.
The site, set up through Lakewood Ranch developer Rex Jensen with help from Manatee County Commissioner Vanessa Baugh, has generated uproar even in the heavily Republican county. That has worsened amid reports Baugh asked vaccines to be reserved for herself, Jensen and three others.
"In several cases, these sites seem to be targeted to wealthy communities with whom Governor DeSantis has clear political connections, allowing some to skip to the front of the line in counties with existing waitlists," Crist wrote in his letter. "Lakewood Ranch's parent company is owned by one of the largest Republican donors in the country, including contributing over $900,000 to the Governor."
DeSantis defended the community pod program, saying the state is aggressively vaccinating seniors. The pods, he explained, are intended to target communities in counties that lag behind the rest of the state in vaccinating their senior populations. Pods skip around the state, spending a few days at a time vaccinating a few thousand seniors before moving on to another community.
Manatee County is one of several counties in Southwest Florida that lags behind the state.
Vaccinations offered through the pods come on top of county allocations. That helps reduce the strain on existing programs, like pharmacy vaccination sites, DeSantis said, rather than spreading the 3,000 vaccines across the board.
As of Tuesday morning, Florida has vaccinated more than 2 million people 65 years old and older. Nearly 4.5 million Floridians are in that age group.
The complaints over the Manatee County pod are the latest attacks against Florida's vaccine rollout.
Some counties initially struggled with how to distribute vaccines. And the reliance on Publix, which diverts vaccines that would go to the county instead of directly to pharmacies, has also drawn criticism.
In an interview this month with CBS Miami, Crist said he wasn't ruling out a gubernatorial bid in part because of DeSantis' vaccine rollout.
"It's as if there was no plan in place, and I don't believe that there was," he said.
Crist was elected Governor in 2006 as a Republican. After leaving the party and forgoing a reelection bid, he came back as a Democrat in 2014 and made an unsuccessful attempt to unseat his successor, then-Gov. Rick Scott.