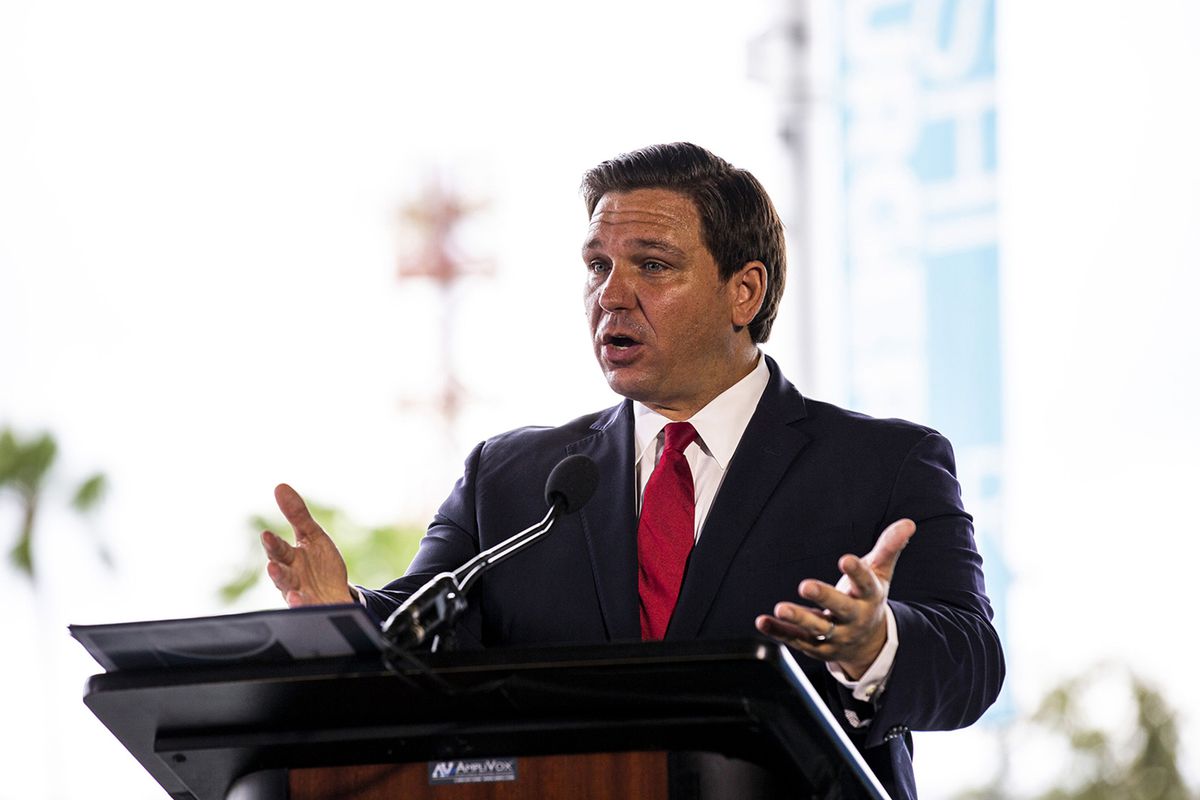 Red meat language excites the donors.
Florida's Governor offers the first meaningful speech of the Conservative Political Action Conference Friday in Orlando. Ahead of that slot, the voice of Ron DeSantis served up a red-meat appetizer to the Republican Party of Florida mailing list.
The RPOF sent out a sizzler Thursday morning from "Team DeSantis," with the provocative subject-header: "Fake News Attacks Florida's Governor for Helping Seniors."
"The Fake News media is trying to distract you. With media-darling Governor [Andrew] Cuomo coming under hot water for essentially sentencing New York's seniors in nursing homes to death, it seems that partisan journalists are hopelessly trying to turn the tide by spreading lies," asserts the fundraising email.
DeSantis, widely touted as a potential 2024 Republican Presidential candidate, hasn't lost sight of next year's reelection battle. The email asserted "the liberal media and political opportunists like Nikki Fried are trying to use this serious moment as a chance to further their own faulty narratives and spew divisive smears at their opponents."
Team DeSantis contends that these leaders and journalists simply "don't care that their attacks are just plain wrong, and that our Governor has actually been making concerted efforts to get vaccines to Black communities, underserved communities, and homebound seniors, including Holocaust survivors, and World War II and Korean War veterans."
In fact, just as this email was sent out, the Governor was highlighting those concerted efforts at a Jacksonville press conference with bipartisan messaging and attendance. But most of those reading the email and potentially donating aren't responding to those appeals, but to strong statements like those that fill out the balance of the email.
"For them, it isn't about the truth — it's about duping the American people into falling for their narrative so that they can manipulate and control the masses," the email contends. "Governor DeSantis isn't going to let the Fake News pressure stop him from having the most successful COVID response in the entire country. But with their giant platforms, we could use your help to counter this smear campaign so that more Americans don't fall for it."
Going back to his stint in Congress, the Governor has pushed stentorian, aggressive fundraising pitches akin to those of many Florida Republicans. But as he positions himself as a potential 2024 candidate, the missives have become more pointed, positioning the Governor as one of the few Republicans willing to fight for common people against the Democratic establishment.
"When I see selfish politicians locking down their states, forcing businesses to close, and keeping children locked inside for 10+ months, I can't sit back and watch," read a pitch earlier this month in DeSantis' voice. "I am a fighter — a fighter for my family, your family, our state, and our country."