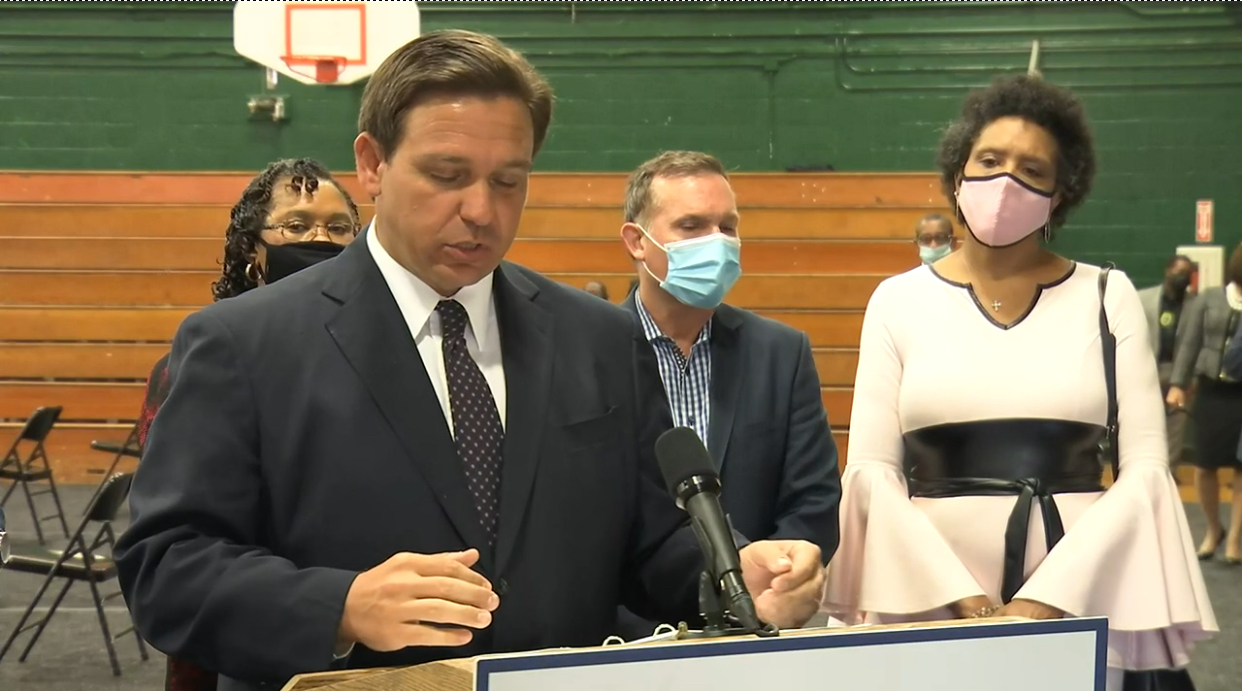 DeSantis pushes a bipartisan message in Duval.
Gov. Ron DeSantis continued Thursday to expand the state's COVID-19 vaccination program, rolling out a permanent community vaccination site at the gym at a Jacksonville college.
The Governor was at Edward Waters College, a historically Black college, spotlighting availability of the vaccine in the New Town neighborhood. This is in Health Zone 1, an area of Duval County that deals with the greatest structural challenges, which invariably impact health as well.
DeSantis was under fire last week for rolling out vaccinations at Lakewood Ranch in Sarasota, with critics saying that it benefited predominately rich and White donors.
The Jacksonville appearance, timed less than 24 hours before the Governor is set to welcome the nation's conservative movement to Orlando at the Conservative Political Action Conference, offered the counter-narrative, proof that DeSantis' ultimate goal for vaccine distribution is universal offering.
Republicans and Democrats from both the Jacksonville City Council and the state Legislature were on hand.
"The goal here is to reach out to anyone who may have fallen through the cracks," DeSantis said, noting that EWC, along with sites at FAMU, Broward College, Oak Park, and Overton Youth Center all will offer at least 200 shots a day.
The EWC site is in conjunction with Agape Health Services, with which former state Rep. Mia Jones has a prominent role.
DeSantis extolled Northeast Florida as a "bright spot," estimating that 60% of seniors in Duval have had their vaccines.
"When you have a big county with a million people, it's just more challenging," DeSantis said.
Others on hand had their own takes.
"Trust is a factor in the African American community regarding vaccinations that must be acknowledged. Today is about our community, equitable access, and doing more than just enough; it is bigger than politics," asserted Rep. Tracie Davis, a Jacksonville Democrat, in a statement after the event.
"I am confident with Edward Waters College and other community partners working together to provide a permanent vaccination site in this community that will increase the trust and more African Americans will have access to the coronavirus vaccination in an effort to save lives."
Jacksonville Mayor Lenny Curry, a Republican who backed DeSantis since it was clear he would win the 2018 primary, extolled the Governor for his "accessibility" and "for always taking my call." While some mayors may have access issues to the office, Curry does not.
"Hope is alive," Curry enthused, saying a "sense of normalcy" was around the corner.
A. Zachary Faison Jr., the President of Edward Waters College, said that his college sought to "assauge fears" of the vaccine, and lauded DeSantis for helping provide "equitable access" to the vaccine.
But even as DeSantis pushed a bipartisan message, a fundraising appeal from his political committee attacked the "fake news" for distorting his COVID-19 response, a reminder of political reality beyond the press conference.
"Governor DeSantis isn't going to let the Fake News pressure stop him from having the most successful COVID response in the entire country. But with their giant platforms, we could use your help to counter this smear campaign so that more Americans don't fall for it," a fundraising missive sent during the press conference added, appealing for funds and offering a reminder of the Governor's ultimate ambition.