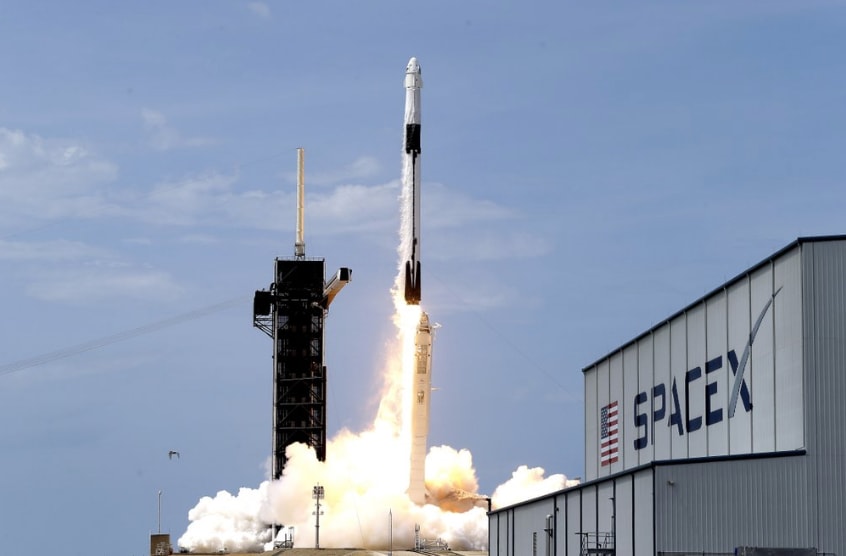 Found a piece of a space ship? You better return it.
A bill that would make it a crime for someone to possess pieces of space vehicles that fall to Earth received unanimous approval Monday from the Senate Committee on Military and Veterans Affairs, Space, and Domestic Security.
Republican Sen. Tom Wright's Senate Bill 936 would make it theft, and possibly grand theft, for someone to possess parts of space vehicles without notifying law enforcement and arranging for the parts' return to the rocket company.
The bill is primarily aimed at parts that rockets jettison on their way to orbit or that rocket stages and capsules drop on their way down, such as a bay door that allows for the release of parachutes. Some of those have on occasion been grabbed by boaters eager to possess or sell them, said Wright, of Port Orange.
There are concerns regarding trade secrets on parts, Wright said. And there are safety and security issues, as the potential recovery of such parts at sea could attract scavengers into restricted recovery area waters.
If the parts are expensive enough to warrant grand theft, the penalty would be as high as 30 years in prison and a $10,000 fine.
"Some of the parts, when they come back in for descent of the capsule, they have to jettison a door for the parachutes to deploy. … What's happened is they have been picked up by boaters that have unfortunately went out in the area of recovery and really caused an issue. And they've attempted to sell that item on eBay," Wright said. "Yeah, it has happened."
The bill also would cover parts that would fall to Earth should there be a space vehicle disaster. After the Columbia Space Shuttle disaster over Texas in 2003, thousands of parts of the shuttle sprinkled across hundreds of square miles of east Texas. In that case, everything belonged to NASA. Now, most launches from Cape Canaveral and Kennedy Space Center involve commercial rocket companies like SpaceX. And Florida is seeking to woo other such companies to launch from Florida.
The bill would apply if someone takes possession of a fallen part for purposes other than returning it.
"It also, in my estimation, makes us more friendly and desirable by other space companies," Wright said. "And that's one of the things that we are trying to do is to attract other space companies and remain the space port to the world. And this just helps to allow those companies that are here and others to feel more comfortable that we're protecting them."
SB 936 heads next to the Senate Criminal Justice Committee.
Republican Rep. Tyler Sirois of Merritt Island has the companion measure, House Bill 221.