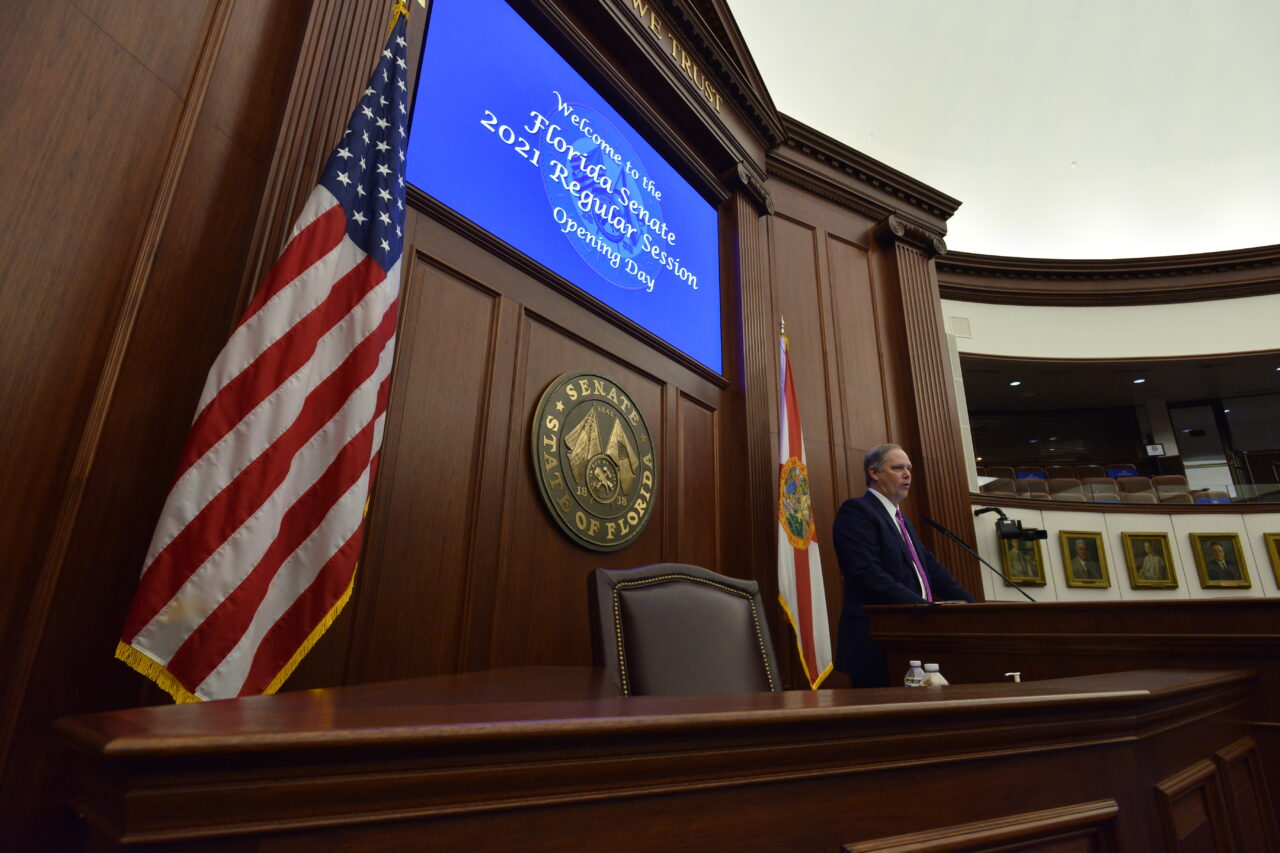 Simpson highlighted various legislative priorities, while Sprowls took aim at the left.
Senate President Wilton Simpson and House Speaker Chris Sprowls ushered in the 2021 Legislative Session Tuesday, marking the Legislature's official kickoff to the 60-day Session. 
Speaking to lawmakers from atop the Senate dais, Simpson acknowledged Florida's exigent circumstances and led with an homage to Floridians "struggling and succeeding against all odds."
"We all recognize that the minor inconveniences we face here in Tallahassee pale in comparison to the sacrifices of so many who have endured so much as a result of this pandemic," Simpson said. "It is their sacrifices which give us motivation to make the most out of this Legislative Session."
Simpson's speech highlighted several legislative priorities.
The Tribly Republican stressed the need for COVID-19 liability protections and highlighted the Legislature's new Pandemic Select Committee.
"We are going to learn from this pandemic," Simpson said. "We are going to get better prepared. We are going to prevent shutdowns. We are going to improve our unemployment system."
Simpson also addressed Florida's COVID-19 ravaged budget. 
While he acknowledged federal help may arrive soon, he warned lawmakers against funding "ongoing needs with nonrecurring funds."
Simpson said federal funds should be used to "reinvigorate" the economy. 
"We can do that with dynamic, one-time investments in our shovel-ready road projects, our water infrastructure, and we ought to replenish our unemployment trust fund, which would be a major tax cut for our Florida businesses," Simpson said. 
Notably, Simpson described the Florida Retirement System as the "single largest threat to Florida's balance sheet." 
He noted that unfunded liability — a measure used to assess the state's future pension obligations – is roughly $36 billion. 
Simpson called on the Senate to take action. 
"We have seen other states' pension plans go bankrupt," Simpson said. "People were made promises that their states could not keep. Our current retirees and every state employee should be very concerned."
The first-year Senate President also championed moves to address Florida's child welfare system, vocational training and low wages.
He noted the recent constitutional amendment that will gradually raise Florida's minimum wage to $15 an hour.
Simpson urged lawmakers not to drag their feet.
"Senators, let's get on our way," Simpson concluded.
Sprowls, meanwhile, kept his remarks brief, limiting himself to four minutes. But in the concise address, he hit on the pandemic, unemployment, education and health care, with all of it shaped by the effects of COVID-19.
"As we begin this new decade, I see fresh ideas in the bills that have been filed and the beginnings of a new conservative vision that empowers individuals, holds government to account and prepares Florida today for the problems of tomorrow," Sprowls said.
The Speaker, a Palm Harbor Republican, also took swings at the left. Florida must defend itself against rising sea levels and "intolerance created by the rising woke agenda," he said.
That fight extended to "taking on a higher education establishment that seems more worried about social justice than they are about social mobility," he said.
Sprowls also dismissed the narrative of the House, Senate and Governor locking horns over individual priorities. Moreover, lobbyists and "self-righteous" reporters are already driving the narrative on the issues they care about, he added.
Each person involved in the process will experience their own Session, he promised.
"The issues they and you will work on will feel like they are at the center of Session, and for all intents and purposes, they are," Sprowls said.
_____
Florida Politics Reporter Renzo Downey contributed to the report.