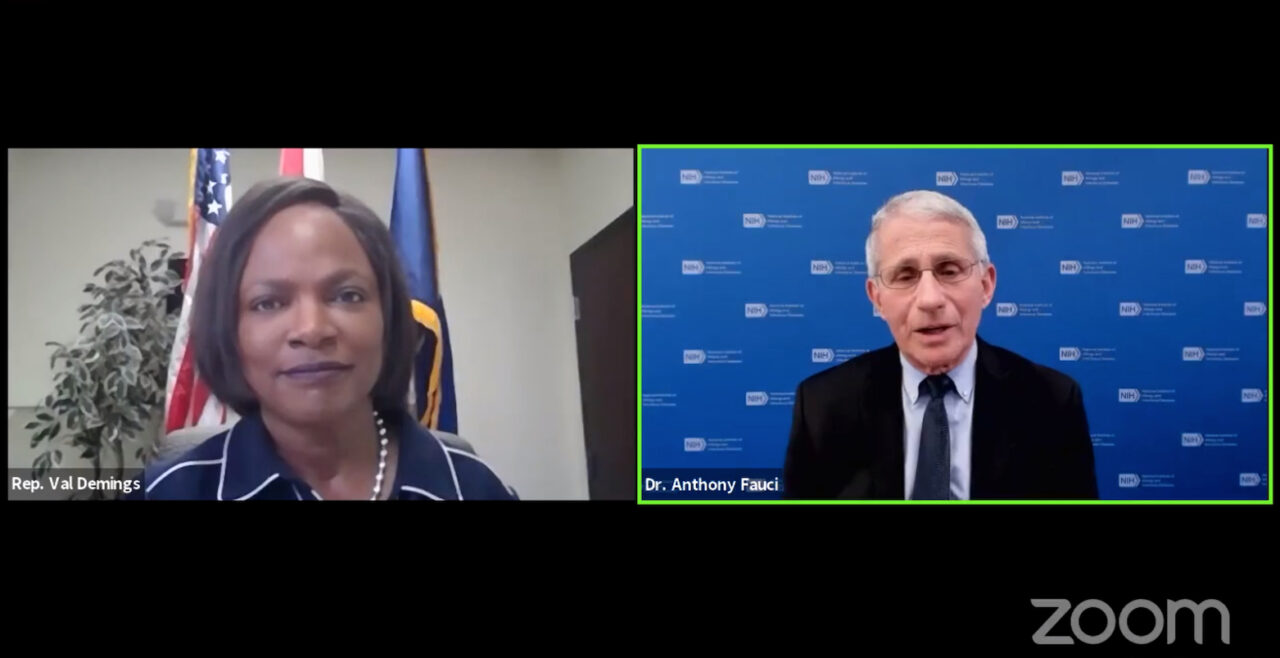 'Hang in there a bit longer,' with coronavirus precautions, Fauci advised.
America can avoid another COVID-19 surge if it continues social distancing rules, but some cities and states may be "pulling back" too soon, White House medical advisor Dr. Anthony Fauci told a Central Florida virtual town hall Wednesday.
"It is too premature for us to declare victory right now," Fauci said. "We're on our way. We're getting there. Every day that goes by at least 3 million additional people get vaccinated. The more people that get vaccinated the closer and closer you are to a control of the outbreak.
"So rather than prematurely declaring victory and pulling back on all preventive measures, hang in there a bit longer," Fauci advised. "We're going to be able to pull back on that soon, but not quite yet."
Fauci, now chief medical advisor to President Joe Biden after a sometimes rocky tenure advising former President Donald Trump, did not explicitly cite Florida Wednesday.
Yet his comments, in a town hall organized by Orlando Democratic Rep. Val Demings, were presented to residents of the state where Gov. Ron DeSantis has seemingly sought to be a national leader on pulling back from coronavirus precautions, in favor of opening the economy.
Fauci said he expects COVID-19 vaccinations to be expanded to teenagers before the end of the summer, and to younger children by the end of the year.
"I believe that by the time we get to the end of this year we'll be looking at this in he rear view mirror," he said.
But that came with an "if." His qualifier assumed widespread vaccinations. Fauci's prediction also assumed the protocols that he and other public health officials have been preaching since last spring, sometimes against political tides, would be followed. That includes continued universal wearing of masks, avoidance of crowds, particularly indoors, physical distancing, and frequent hand washing.
"If we did those simple things, we would be able to prevent any further surges of outbreaks. Because right now, you know, although we're doing well, the number of cases per day has plateaued at around 60,000. And it's starting to creep up. That's a very worrisome sign," Fauci said.
"That's the reason why we're concerned when we hear that certain states and certain cities are puling back on the mandates for masks, and pulling back on the recommendations for public heath measures," he continued.
Demings' virtual town hall, set up for Florida's 10th Congressional District in Orange County, also included Dr. Raul Pino, Florida Department of Health director for Orange County; Gracia Szczech, Region 4 administrator for the Federal Emergency Management Agency; and representatives of Walmart and Winn-Dixie.
Demings introduced Fauci as "America's doctor."
Fauci covered a wide array of COVID-19 matters, but did not stray from orthodox Biden messaging on the disease.
He said there is uncertainty whether vaccinated people may carry the virus in their nasal passages and therefore spread it to others, so his advice was that even vaccinated people should continue wearing masks.
He said the development of therapeutics to treat people sick with COVID-19 has lagged the development of vaccines but that major investments now are being made in that research.
He said he himself suffered some mild symptoms for about 24 hours after receiving his second vaccination, but there have been "no really, really serious side effects."
He also expressed strong concern about "long-hauler" illness, affecting what he estimated was about 20-25% of people who contract COVID-19, including people with mild initial symptoms.
"For several months following their biological recovery — in other words they've cleared the virus from their body, so they should start feeling really well — they have a lingering, sometimes as long as several months, of very difficult to explain symptomatology," Fauci said. "It's profound fatigue, muscle aches, temperature disregulation, sleep disorder, fast heartbeat, which is called tachycardia, and a thing called 'brain fog,' which means they have real difficulty focusing, or concentrating.
"Again, we're making a major investment, $1.15 billion to do research on this syndrome," he said.