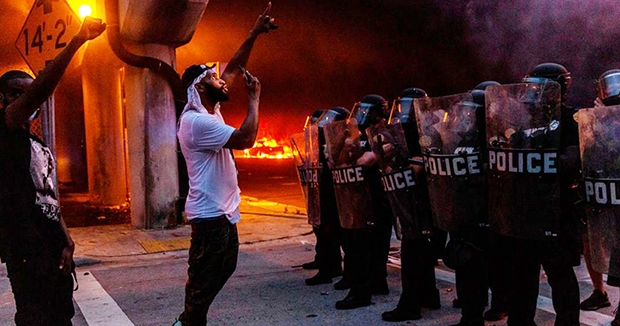 The potential law's fiscal impacts could have far-reaching implications.
Gov. Ron DeSantis' anti-riot bill (HB 1 & SB 484) could burden taxpayers and exacerbate Florida's prison system, a newly released economic report suggests.
Released Friday, the report sheds light on the Republican proposal, which, thus far, has so far motored through the House with a nondescript fiscal impact.
Dr.  Rick Harper, an economist and former director of the University of West Florida Haas Center for Business Research and Economic Development, conducted the study.
"The bill, if passed and signed into law, will impose costs to the taxpayer and to those arrested that far exceed the possible benefits of the increased sanctions," Harper wrote.
Among the findings, the report estimates roughly 270 to 720 additional prison beds will be occupied under the bill's new and enhanced charges at any given time.
Those incarceration costs can range between $6.6 to $17.5 million per year, according to the study.
"HB 1 would put upward pressure on capacity utilization at Florida prison facilities, exacerbating pressures in a system perhaps already in crisis," Harper wrote. "Now is not the time to put additional pressure on that system."
The study also suggests the proposal could have far-reaching fiscal impacts.
With factors such as time outside the workforce and reduced incomes as well as the possibility of diminished job opportunities after incarceration, Harper estimated that Florida households could lose $15.9 to $42.4 million a year.
Outside research cited in the study indicates incarceration, particularly for minority males, can restrict employment by 10 to 30% and reduce incomes by 10 to 40%.
"The annual reductions will result in lower standards of living for Floridians, both for those convicted and for their families, but also for the broader Florida economy due to lower household incomes, lower consumer spending, and lower revenue to state and local coffers," the report says.
The study describes the findings as "likely to be conservative."
A copy of the report is featured below.