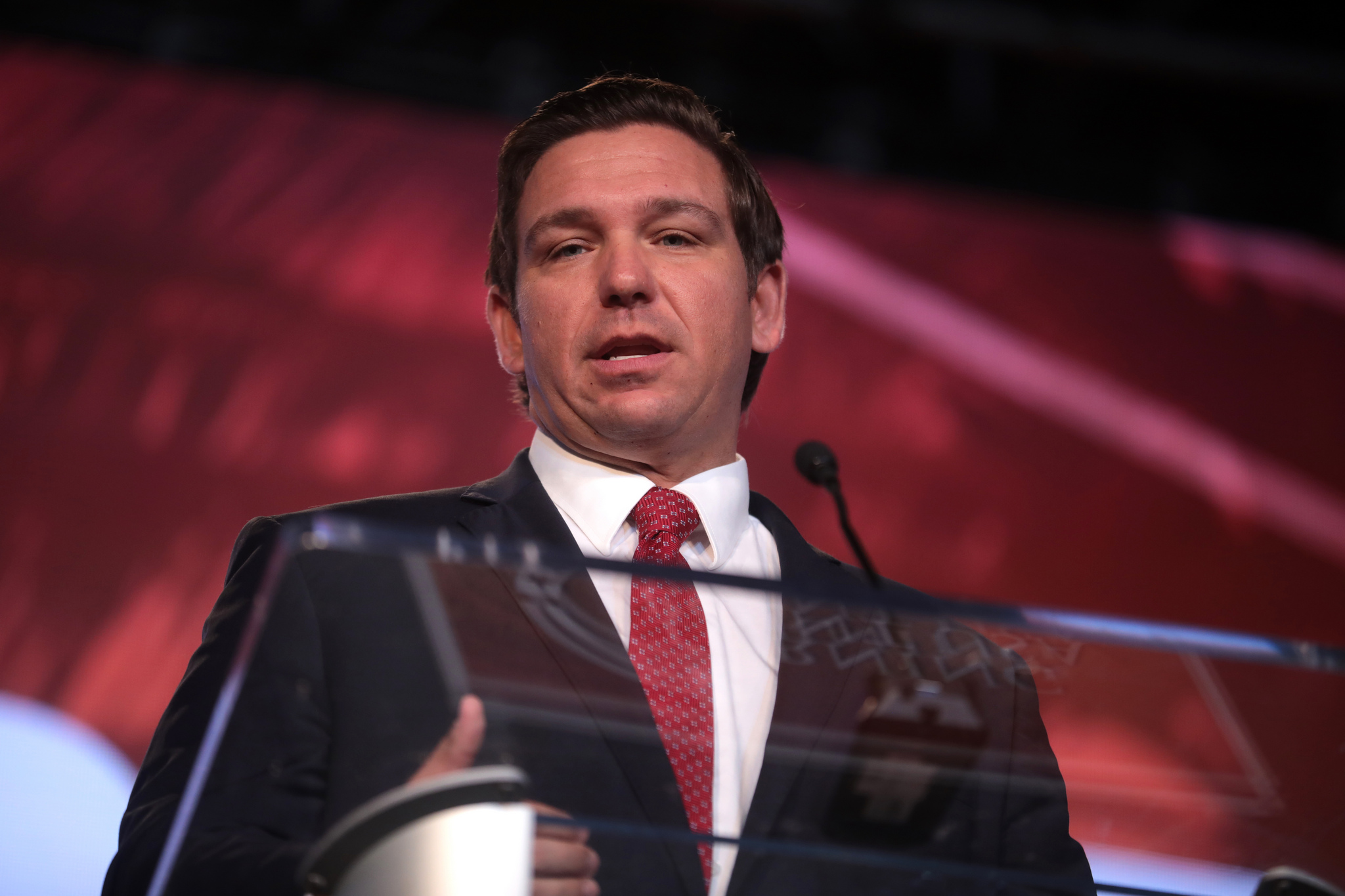 DeSantis gives Donald Trump the credit.
Gov. Ron DeSantis suggested Tuesday that President Joe Biden and Vice President Kamala Harris have contributed to "vaccine hesitancy."
The Governor made those comments on the Mark Levin radio program, contrasting unfavorably the Joe Biden administration with that of former President Donald Trump.
When Levin asked if Biden had any "role" in vaccines being expanded universally by the end of next month (a Trump promise echoed today by Biden), DeSantis downplayed the current administration's contribution to the virus fight.
"No! And to the contrary, back when Trump was saying that, Biden and Harris were saying this was a bad vaccine," DeSantis contended. "They were downplaying it. They were saying it wasn't going to be effective. That it was dangerous! And actually, I think they've contributed to some of the vaccine hesitancy that we've seen throughout, you know, parts of our society."
While polls have found vaccine hesitancy falling overall, opposition among Republicans remains stubbornly strong. A poll last month from The Associated Press-NORC Center for Public Affairs Research found that 42% of Republicans say they probably or definitely will not get the shot, compared with 17% of Democrats — a 25-point split.
While demand for vaccinations still far outstrips the available supply in most parts of the country, there are already signs in some places of slowing registration. And the impact is expected to grow when supply begins to surpass demand by late April or early May, said Ashish Jha, dean of the Brown University School of Public Health.
Republicans have been skeptical of the pandemic all along. AP-NORC polls have shown they worry less than Democrats about infection and voice more opposition to restrictions and mask-wearing.
Some have placed the blame for vaccine hesitancy on Trump, who spent much of the pandemic minimizing the dangers posed by the virus, even after he was hospitalized and had to be given supplemental oxygen and experimental treatments. Trump did receive the vaccine before leaving office, but did so privately and secretly, declining to disclose the fact until this month.
And though he urged Americans to be vaccinated in a recent speech, he has done nothing else to promote the efforts and is notably absent from an ad campaign that features former Presidents Barack Obama, George W. Bush, Bill Clinton and Jimmy Carter, along with their wives.
DeSantis, on the other hand, credits Trump with vaccines even being a reality.
"And I can tell you the distribution has followed the consistent pattern and schedule from December to the present. There has not been anything done that has caused any major difference than what we were expecting. And I think the credit goes to President Trump."
"If we'd had a Biden, or heck, if we'd had some establishment Republican, they would have gotten drowned out in bureaucracy. This would never have gotten done," DeSantis said.
"It would have taken two years to get the vaccine. We would have already gotten natural herd immunity by then," the Governor added.
"If Biden had his way, we'd all be living under some sort of lockdown," DeSantis added, going on to express "fear that they're going to use these variants" to justify that course of action.
DeSantis has not gone out of his way to message with the current administration on the virus fight. When Vice President Kamala Harris came to Jacksonville to tout the American Rescue Plan virus relief package this year, the governor was downstate at a gas station ribbon cutting.
—
Material from the Associated Press was used in this report.