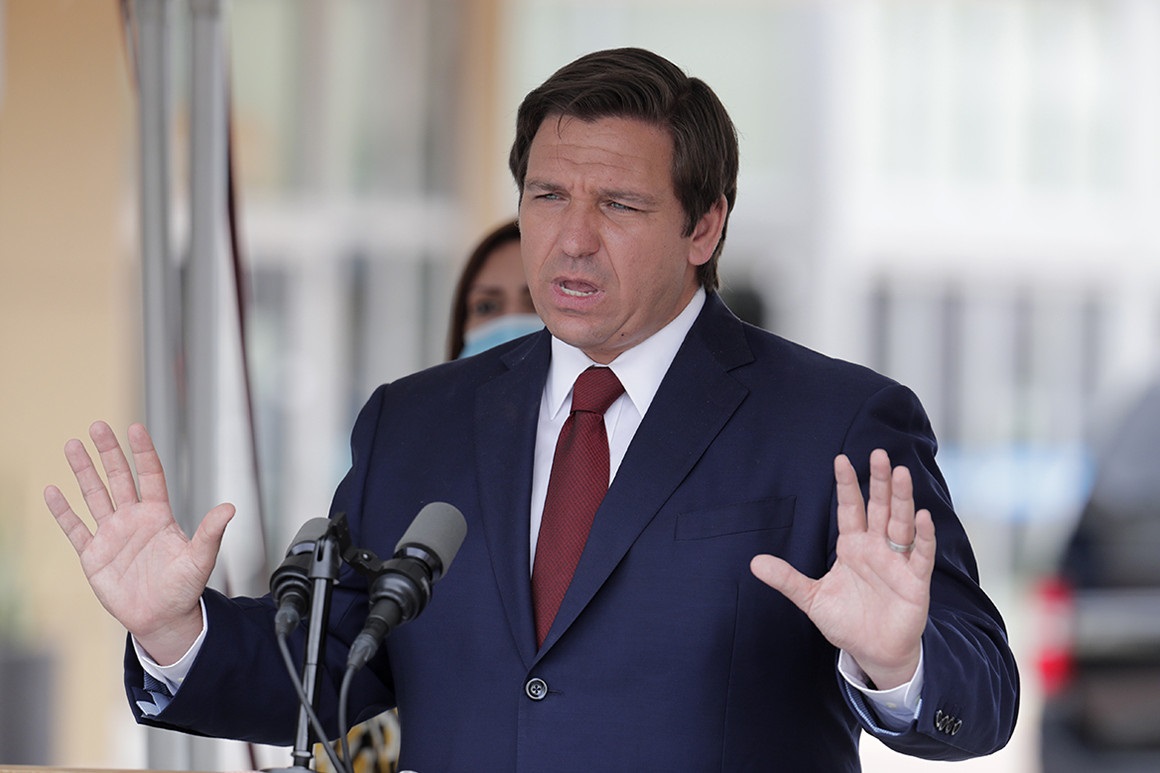 The Governor took a victory lap in Sarasota Friday.
Gov. Ron DeSantis lauded the decision by the Board of Education to make changes to civics and historical teaching standards.
The move to ban educational approaches such as critical race theory and The 1619 Project was a priority of the Governor's, who messaged about it repeatedly even as he was on an out-of-state fundraising trip.
In Sarasota Friday, DeSantis offered an unsolicited defense of the decision, saying advocates of critical race theory teach students to "attack cops" even as schools struggle with students who can't read. He did not specify which schools he meant.
"Some of the nonsense that you see in some of these places around the country. I mean, they will attack cops with this type of ideology in schools, and meanwhile, they have like 87% of the kids that aren't even literate in some of these schools. So it shows you they're not trying to educate; they're trying to indoctrinate," DeSantis said.
"We're not going to let that come to Florida. And so I'm glad that they acted. I think it's the right thing to do. We're going to make sure that we're providing access to education, but solid education, free of some of this ideology that people are trying to shove down everybody's throats."
At the meeting in Jacksonville Thursday, DeSantis touched on comments from the public and backed the move, which was not universally lauded. Indeed, a protest against the impending rule change forced a recess to restore order.
"We had some parents of every background talk about how toxic this is. You see it around the country. It is tearing communities apart. It's wrong. It should not be taught in schools," DeSantis said. "And we need to teach people truth. We need to teach people the history of this country."
DeSantis seemed to suggest that would be an inclusive view after all.
"That includes everything that's happened, but you can't lie, and you can't promote your ideology and false narratives," DeSantis said. "And so I think we have arrived at a very good spot for Florida, and it's going to be something where we're really focused on the basics."
A leading Senate Democrat voiced deep concerns that many have about the new guidelines.
"Black history is much more than Martin Luther King, Rosa Parks and Mary McCloud Bethune, all highlighted by the Governor during Black History Month last February. Critical race theory highlights the uncomfortable truth embedded in the history of our nation and when properly taught, equips students with the academic foundation to identify and analyze the causes of societal inequality in their own lives, their communities and our country," said Sen. Bobby Powell Jr., chair of the Florida Legislative Black Caucus.
"It is meant to break down the walls of division, not build them higher. Unfortunately, unification is a concept Gov. DeSantis has failed to grasp. To him, this well-established academic theory is a means to an end, a way to deepen the distrust and untruths his candidacy rests on. Like the anti-protest bill, the sanctuary cities bill, and the crackdown on voting rights, his critical race theory ban underscores his talent at conjuring 'solutions' to problems that do not exist in Florida. It's a corrosive political agenda meant to distract and divert from the real issues Floridians elected him to tackle, which nearly three years later he's still trying to ignore," Powell added.
Even as Democrats object to the DeSantis agenda, donors flock to him. DeSantis, who reported nearly $40 million cash on hand to his Friends of Ron DeSantis political committee as of the end of May, is fundraising off the critical race theory ban.
"I will NOT allow this Cultural Marxism to Gain a Foothold in Florida Schools," an email solicitation sent Thursday reads.
The new guidance for teachers certainly offers content guardrails.
American history is to be defined "largely on universal principles stated in the Declaration of Independence." Teachers' apparent efforts "to indoctrinate or persuade students to a particular point of view" will also be banned, as is "fiction or theory masquerading as facts."
Introducing the rule change in Jacksonville Thursday, Chancellor Jacob Oliva said sometimes teachers present "false truths as parts of narratives in classrooms." He said the goal was to have lesson design align with state standards and instructional benchmarks that have endured and have been revised periodically since 1996.