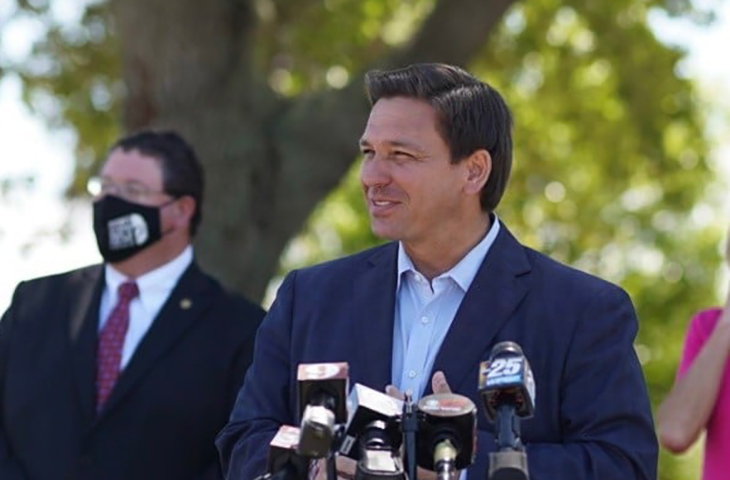 Will donors respond? They have so far.
Florida's state Board of Education banned "critical race theory" from public school classrooms Thursday, adopting new rules it said would shield schoolchildren from curricula that could "distort historical events."
Gov. Ron DeSantis appeared by video at the top of the board's meeting, urging its members, many of whom he appointed, to adopt the new measures he asserted would serve students with the facts rather than "trying to indoctrinate them with ideology."
Within hours of the vote in favor of the new guidelines, DeSantis' political committee attempted to monetize the Governor's latest victory over what an email solicitation calls "cultural Marxism."
"I will NOT allow this Cultural Marxism to Gain a Foothold in Florida Schools," the pitch vows.
The language sizzles off the screen.
"Today, we delivered on a promise to the people of Florida by Banning Critical Race Theory. This 'curriculum' of hate and divisiveness has no place in society, let alone our schools. Critical Race Theory indoctrinates our children and teaches them to judge each other as 'oppressors,' 'inherent racists,' and 'victims,'" the solicitation contends before gliding toward a call to action.
"Woke corporations will no doubt be targeting Florida for retribution because we stood up for the truth. With your help, Florida will continue to stand strong and lead the way for other states," DeSantis said.
The Governor's fundraising appeal comes after another torrid month in May, where $7.5 million in new money put the "Friends of Ron DeSantis" political committee over $39 million cash on hand.
DeSantis has made a major issue of targeting critical race theory, which the new rules say asserts "that racism is not merely the product of prejudice, but that racism is embedded in American society and its legal systems in order to uphold the supremacy of white persons."
"Critical Race Theory teaches kids to hate our country and to hate each other. It is state-sanctioned racism and has no place in Florida schools," DeSantis tweeted before the vote.
He followed that up with a similarly staunch news release from his office that sounds, in many ways, like the fundraising message that closed Thursday's action.
"The woke class wants to teach kids to hate each other, rather than teaching them how to read, but we will not let them bring nonsense ideology into Florida's schools," said DeSantis.
Florida law already requires schools to provide instruction on a host of fundamentals, including the Declaration of Independence, the Holocaust and African American history, but the topics have often been muddled. Current events, including the killings of Black people by police, have intensified debates.
Some have called for a "faithful" interpretation of U.S. history that honors the founding of the country — as a rebellion against oppressive British rule. But some Americans — particularly Blacks, Native Americans, Latinos and Asian Americans — argue that dissenting perspectives are often missing from text books and classroom discussions.
Meanwhile, DeSantis' committee turned a controversial political decision into a play for campaign cash yet again.
DeSantis signed legislation June 2 banning transgender athletes from girls' and women's athletic competitions and quickly flipped that into a fundraising play.
"Gov. DeSantis is doing what is right and has continued to prove that he won't be cowed by corporate and media pressure. Yet again, Gov. DeSantis has established he will hold the line. He will NEVER allow woke corporations to dictate the policies in Florida — not now, not ever," read that email from the political committee.
—
Material from the Associated Press was used in this post.