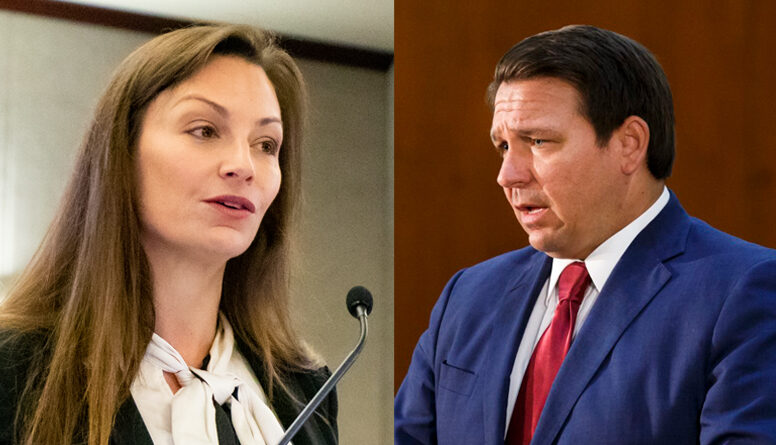 Fried wants the state to give relief payments to farmers and fisherman affected by the disaster at Piney Point.
Agriculture Commissioner Nikki Fried gave Gov. Ron DeSantis another scathing review after the Democrat attended a roundtable with aquaculture farmers to discuss the fallout from the disaster at the Piney Point Reservoir.
"I'm very well aware that the Governor only talks about the environment when it suits his polling and suits his politics, and he doesn't understand what is happening on the ground," Fried said about DeSantis.
Fried, who is running for Governor in the Democratic Primary, expects changes in environmental policy from the Governor's office closer to the election.
"I would not be surprised if we start seeing that pop up. But this is something that we need to be working on year-round, not just when it suits people's political aspirations," Fried said.
Fried said she thinks not enough is being done.
"(What) they're showing me today is that basically the red tide is here, and it's really having a dramatic impact on their everyday operations," Fried explained.
Fried said based on the timeline there is a direct link to the hardships the farmers and fishermen are facing and the leak of polluted waters that occurred in April at the Piney Point Reservoir.
"What you're able to do is look at the times when the red tide started to bloom in this area in previous years, and it's not during these time periods. So, there's a direct correlation to the red tide that is happening today, to what has happened at Piney Point," Fried said.
Scientists thus far haven't directly attributed the current red tide outbreak to Piney Point, though they haven't ruled it out either.
Fried pointed out crop insurance does not cover damages from red tide. The Commissioner suggested using part of the $100 million allocated to the cleanup of Piney Point for direct compensation to affected farmers and fishermen.
"If we've got red tide that is shutting down their ability to do business, we need to do more to not only clean up the water faster, but also compensate them for the losses that they're experiencing," Fried said.
The Department of Environmental Protection and other government agencies are still working out how exactly to deal with the private land that has become a danger to the surrounding community.
The danger from the Piney Point Reservoir reached a peak in April when a significant leak at the large pond of wastewater resulted in a declared emergency after the burst system of polluted water threatened to flood roads and homes in Manatee County.
The cleanup for the private reservoir, formerly a Mulberry Corp. phosphate plant, is estimated to cost $200 million.