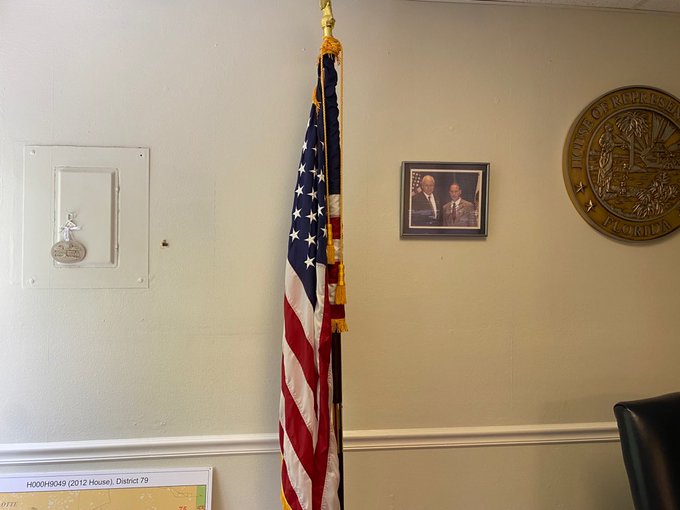 The shot entered the office feet from Roach's desk.
Rep. Spencer Roach's district office staff returned to work Monday to find a bullet hole in the building.
The North Fort Myers Republican had no reason to believe there was any intention to attack his office but notified the Lee County Sheriff's Office of the situation.
"Anytime something happens you are concerned for the safety of staff," he said. "I don't want to call the parent of a staff member and say your son or daughter was hit by a round while they were working for the state of Florida."
An investigation found the bullet wasn't intended for Roach or anyone in his office. Rather, a women's self-defense group holding weekend classes in a unit in the same complex accidentally loaded a weapon with a real bullet. As a participant practiced a quick draw and fire, that bullet blasted into the neighboring unit.
A bullet appears to have passed through the wall of Roach's office about three feet to the left of his desk. Deputies ultimately found it lodged in a wall near a conference table. Roach shutters to think how things might have turned out had there been a meeting happening in the office.
"My staff is still rattled," he said.
A picture shared with Florida Politics showed whatever object broke through the wall perforated the wood exterior of the building and the drywall inside the office.
A representative for Black Dog Defense, the group holding classes, declined to comment on the incident.
Roach early in the day figured the shot most likely an accidental discharge of a firearm, saying if anyone wanted to target himself or a member of his staff, the shot surely would have been fired during business hours and on a weekday.
But he takes any potential deadly violence that could hurt his staff seriously, and staff notified law enforcement after the bullet hole was discovered.
Roach has had encounters with constituents before that prompted him to notify law enforcement. He placed a report on a constituent based on a social media post last year. No charges resulted and that individual later challenged Roach in a 2020 Republican Primary, which the incumbent won.
A strong defender of gun rights, Roach said he appreciates the work the self defense group was offering but said it's never advisable for training with the discharge of firearms to be done outside a gun range.
"I would encourage anyone who wants a firearm to get professional training before using a weapon," he said. "But any use of a firearm that involves inserting a magazine and firing a weapon, do it at a range. Don't do it at a civilian-populated area. If you want to do the classroom portion in an office building that's fine. But if you are handling ammunition, do it at a range."
The second-term Representative first won office in 2018. He's now the chair of the Lee County Legislative Delegation.