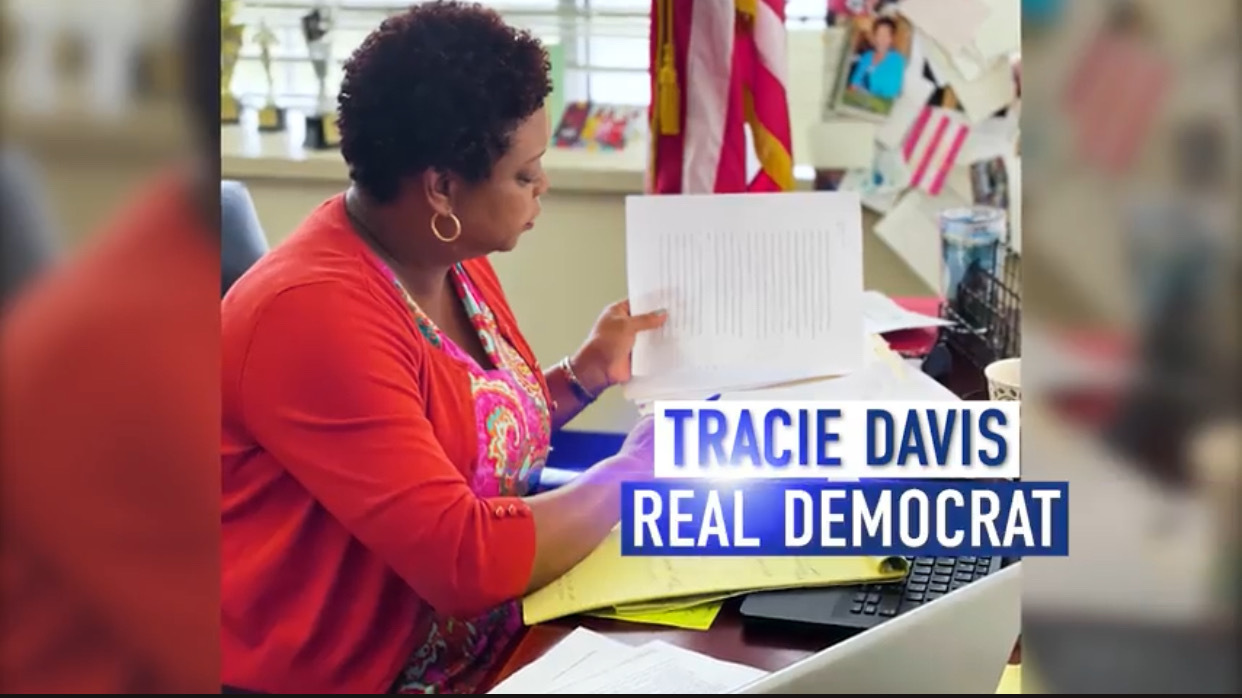 Expect a tough campaign against Reggie Gaffney in the Primary.
The Democratic Primary in Senate District 6 intensified Friday as Rep. Tracie Davis entered the race to succeed term-limited Sen. Audrey Gibson.
Davis, who has represented House District 13 since 2016, is positioning herself as a "real Democrat," ready and willing to stand up to Gov. Ron DeSantis, a not-so-subtle dig at her primary opponent, Jacksonville City Council member Reggie Gaffney, who already enjoys considerable Republican financial backing.
"District 6 needs someone who will deliver jobs and services to Duval County while opposing the dangerous policies and politics of the Governor and the Republicans in Tallahassee," said Davis. "I'm the only candidate in this race who has done that. I'm ready for this fight, and it starts today."
Davis's initial argument centers around her record in the Florida House.
"As State Rep., I've helped pass laws that encourage the hiring of minority teachers, protect victims of sexual abuse, support our local small businesses, increase voter access, bring better jobs and health care services to Duval County," she added. "I want to build on those successes in the state Senate."
She specifically spotlighted her focus on economic development legislation in her news release, a seeming nod to her main opponent, Gaffney, who is backed by much of the business community.
"I am committed to working with all of my colleagues in the Florida Senate to put people first and continue making Florida the best state in the nation to live, work, and play," Davis said.
For Davis, a mother of three, grandmother of six, and a former special education teacher, the move to replace political mentor Sen. Audrey Gibson continues a political career that did not seem initially on the Senate track.
A former deputy Duval County Supervisor of Elections, she lost in a run for the main office in 2015. She lost to embattled Rep. Reggie Fullwood in the 2016 primary in HD 13 but began her campaign anew in October, after Fullwood pleaded guilty to two counts in his federal fraud trial.
Davis went on to win the general election by nearly 20%. She faced no challenge in 2018. In 2020, she rebuffed a primary challenger, drawing over 65% of the vote, and had no general election competition.
Davis has her work cut out for her to catch up with Gaffney, at least in the fundraising department. He started early and has support from outside traditional Democratic circles.
Gaffney has already amassed nearly $300,000 after being in the race for just a month and a half. He has $219,250 in his Friends of Reggie Gaffney political committee and $67,330 in his campaign account.
A host of prominent Duval County Republicans donated to Gaffney's bid in the Democratic Primary.
Two of them were former Jacksonville City Council members, Stephen Joost and Greg Anderson. Other GOP donors include message man Michael Munz, former city official and political veteran Mike Weinstein, and Kent Stermon, who may be the person in Northeast Florida most plugged in with DeSantis.
Two others have filed, but neither Democrat Brooklyn Owen nor Republican Binod Kumar is expected to be factors in the upcoming August brawl.
Senate District 6 is majority Democratic in registration, with 175,091 registered Democrats among its 334,648 registered voters in the 2020 book closing report from the Division of Elections. The district had just 88,518 Republicans.
Meanwhile, the showdown between Gaffney and Davis promises to be more exciting than any election in SD 6 in recent memory.
After winning the 2011 Special Election, Gibson dispatched Republican Cherron Newby in the 2012 General Election, garnering over 63%. That was the last challenge the Senator would face.
Expect Gibson and other establishment Democrats, including Rep. Angie Nixon, to back Davis strongly.
The intrigue will set up Special Elections on the local level also.
Jacksonville City Councilman Garrett Dennis will run for Davis' HD 13 seat. With Dennis and Gaffney running for other offices, Special Elections will be for both City Council seats.
As with all 2022 statewide elections (other than Special Elections), the Primary is Aug. 23, and the General is Nov. 8.