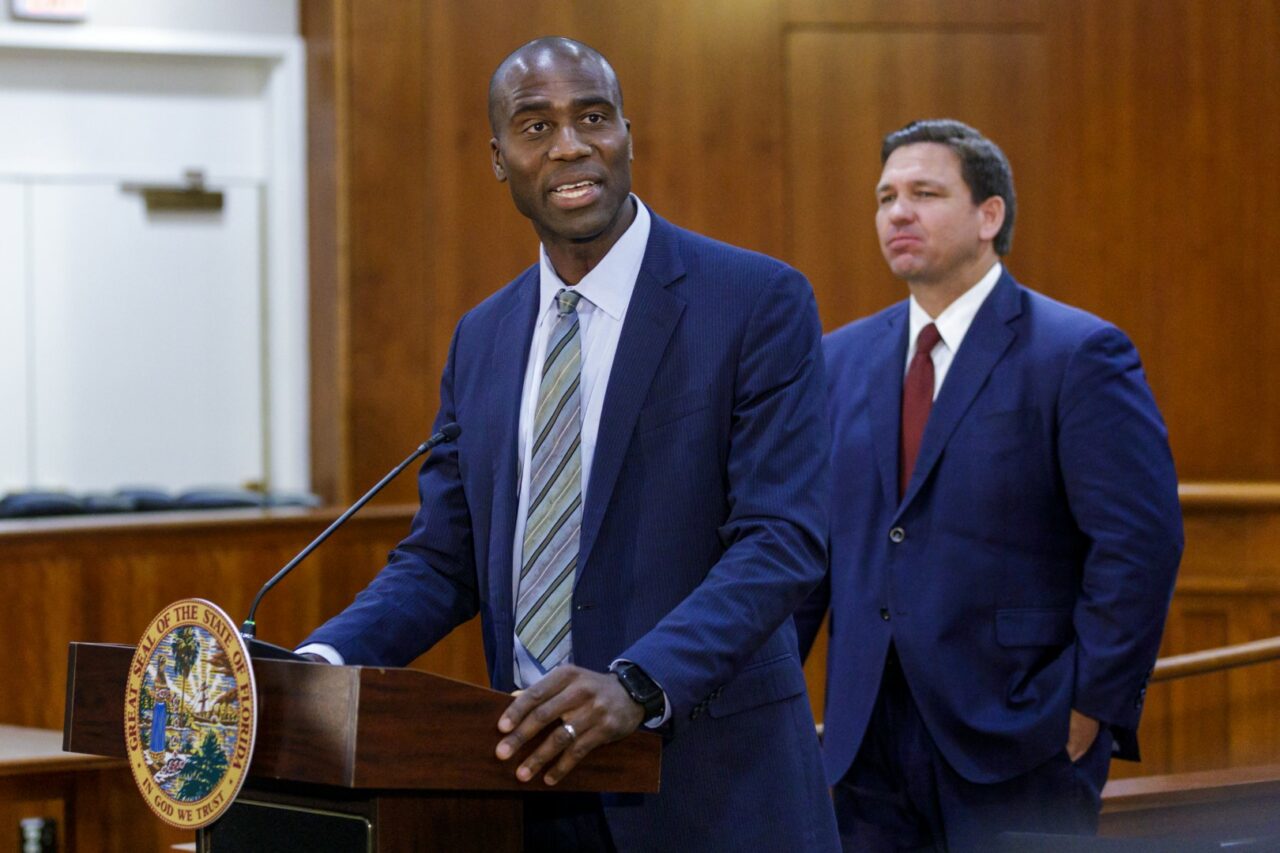 Leon County is the first to draw fines for flouting the state's vaccine passport ban.
The Health Department has fined Leon County $3.57 million for violating the state vaccine passport ban.
Under guidance from Gov. Ron DeSantis, DOH and Surgeon General Joseph Ladapo found 714 instances, each fined at $5,000, in which the department said the county violated the ban on vaccine requirements. The county ultimately fired 14 employees on Oct. 4 after County Administrator Vince Long issued an Oct. 1 deadline for government workers to get a COVID-19 shot.
"It is unacceptable that Leon County violated Florida law, infringed on current and former employees' medical privacy, and fired loyal public servants because of their personal health decisions," DeSantis said Tuesday. "We will continue fighting for Floridians' rights and the Florida Department of Health will continue to enforce the law. We're going to stand up for Floridians' jobs, stand up for Floridians' livelihoods, and stand up for freedom."
Long shot back against the Governor in a statement, calling the move political and hinting at upcoming legal action.
"It's obvious to me that the Governor's position here is political strategy which has nothing to do with the positions we've taken," Long said. "The Governor's response to that is unfortunate, and we plan to assert our legal rights to support the actions we've taken, which we believe are not only completely legally justifiable but are the most responsible thing we could do in this case in keeping with all of the public health guidance."
DeSantis agreed vaccines have become a political issue. However, he pointed blame at the federal government.
"Unfortunately, this has become about politicians wanting to control people," he said.
His administration's position is about individual rights and protecting against discrimination, he continued.
"These are people that have been working on our behalf for the whole dang time, and now, all of a sudden, they're going to get tossed to the curb," DeSantis said.
Lawmakers passed the vaccine passport ban and accompanying $5,000 fines in a broader bill (SB 2006), which DeSantis signed in May, limiting the state and local governments' emergency powers. The DeSantis administration called Leon County's actions a "blatant violation" of that law.
"Firing hard working employees over vaccine passports has real and lasting consequences. It leads to resentment in the workplace, and loss of employment impacts individual and public health," Ladapo said. "Individuals have every right to choose how to best protect themselves and their families, and the Department will continue to enforce this law."
Leon County is not the first local government to draw the state's attention for its vaccine requirements. At a rally in Alachua County last month, DeSantis and other Republican leaders, such as Attorney General Ashley Moody, applied pressure to Gainesville, which had planned a vaccine mandate for city workers. Gainesville ultimately backed down following a temporary ruling from a state court, and the Governor's Office claimed victory.
"I appreciate Governor DeSantis' administration and the Department of Health taking this action against Leon County. People should not be forced to choose between a job and their medical freedom. Leon County's government continues to find ways to waste taxpayer money that serves no purpose for the county," said Leon County Republican Party Chairman Evan Power.
Through Friday, only 60% of people 12 or older in Leon County have received at least one shot, below the state average of 72%. There have been 49,917 cases of COVID-19 in the county, among 303,541 total residents.
Most first responders have already caught and recovered from the virus, DeSantis asserted. Federal guidance on vaccine requirements don't consider prior infection, another point of contention for the Governor.
DeSantis has repeatedly railed against the Biden administration for its vaccine policies and guidance, referring to President Joe Biden by name on Tuesday. "Coercion" is destroying trust in public health, he continued.
"I think you're going to end up driving people away who … may have been willing to do it," DeSantis said. "But instead, the minute you're threatened, I think a lot of people just say, forget about it."
White House Press Secretary Jen Psaki on Tuesday afternoon said policies from DeSantis and Texas Gov. Greg Abbott "fit a familiar pattern of putting politics over public health." Policies in both states and elsewhere targeting vaccine mandates are "out of step with a history of vaccine requirements."
Psaki also doubled down on plans to use the Occupational Safety and Health Administration to require vaccines at large companies across the country. That statement drew comment from DeSantis Press Secretary Christina Pushaw.
"This is downright disturbing. It's as if the Biden administration believes we live in a bio-fascist dictatorship, and the existence of the U.S. Constitution is 'right wing misinformation.' Florida will keep fighting for freedom," she tweeted.