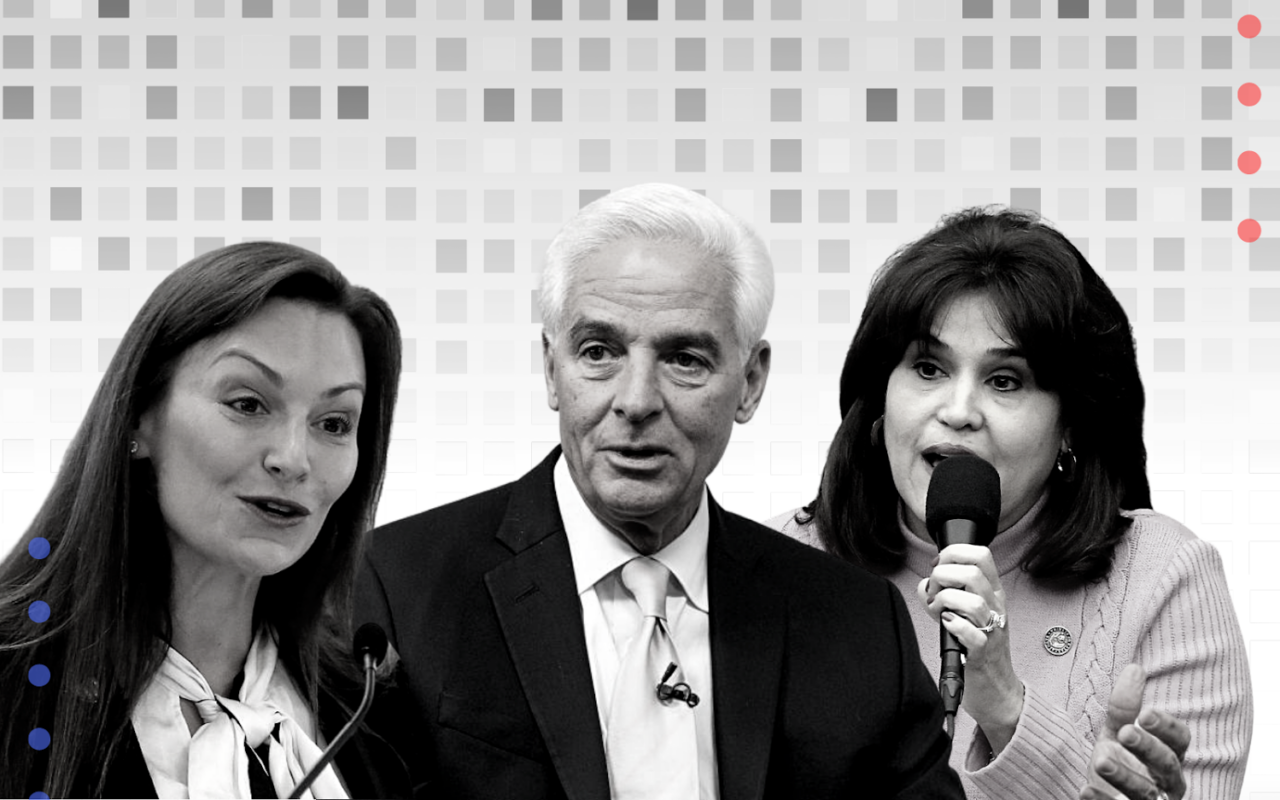 Crist is above 50% support, with big leads on Nikki Fried and Annette Taddeo.
U.S. Rep. Charlie Crist has a commanding lead over Agriculture Commissioner Nikki Fried and state Sen. Annette Taddeo in the Democratic Primary battle for the 2022 Governor's race, according to a new poll.
That's the finding of a GBAO Strategies poll commissioned for Crist's gubernatorial campaign and released Wednesday.
The survey of 800 likely Democratic Primary Election voters in Florida showed Crist favored by 54%, Fried by 28%, and Taddeo by 7%, while 11% of respondents said they were undecided.
The poll found Crist leading virtually every subset, favored over Fried and Taddeo in all regions of the state and winning at least pluralities among men and women. Crist also led among White, Black and Hispanic voters, and among those Democrats who describe themselves liberal or progressive, moderate, or conservative.
GBAO Strategies, a Washington-based Democratic research and strategy firm, conducted the poll by telephone using live interviews from Jan. 26-31. GBAO said the poll has a margin of error of 3.5 points.
The polling may only be an internal strategy tool for Crist's campaign. Yet it is one of the few glimpses of how the Democratic gubernatorial race may be shaping up with seven months to go until the August Democratic Primary.
"Our campaign's vision of a Floridia for all Floridians is continuing to resonate with Floridians across our state and from all walks of life," Crist said in a news release issued by his campaign. "I could not be more humbled or thankful for the support I've received from the Panhandle to the Keys. Together, I know we will change the tide and deliver the leadership our state deserves. Our campaign is gaining momentum every day, and we're ready to fight for all Floridians."
Last August, a Public Policy Polling survey showed Fried with a slight lead — 33% to 31% — over Crist. A St. Pete Polls survey done in May 2021, found Crist holding a commanding lead over Fried, 55% to 22%.
There have been several independent polls comparing Crist and Fried to Republican Gov. Ron DeSantis. Most show the Republican leading Crist by single digits or leading Fried by double digits, in hypothetical matchups.
The GBAO poll may reflect Crist's name recognition as much as anything, though GBAO's release on the poll did not mention any name recognition findings.
Crist has been a fixture in statewide politics for several decades, was elected Governor while he was a Republican, and ran again for Governor as a Democrat. in 2014, losing by less than 2 points. Fried is a relative political newcomer, winning her only election in 2018 to become Agriculture Commissioner. Though Taddeo ran as Crist's Lieutenant Governor running mate in the 2014 election, her career has largely been limited to the lower-profile status of a minority-party legislator from Miami.
Among the GBAO poll findings:
— Crist led the trio with 61% support among Black Democrats, 54% among White Democrats, and 44% among Latino Democrats.
— Crist got 57% of Democrats' support among men and 52% among women.
— Crist got 48% of the support among Democrats who call themselves liberals or progressives, 59% support among those who call themselves moderates, and 61% among those Democrats who call themselves conservatives.
— Crist got 56% support in the I-4 corridor, 52% in the Miami metro area, 50% in the Palm Beach area, 66% in southwest Florida, and 45% in North Florida.
Fried placed second among likely Democratic Primary voters in all those groups and regions. She generally polled in the 21-29% range, though she did better among North Florida Democrats, with 34% support; liberals and progressives, with 33%; Palm Beach Democrats, with 32%; and White Democrats, with 31%.
Taddeo did best among Latino voters, with 21%, and Miami Democrats, with 13%. She drew support measured in the single digits with other groups.